by Brad Ferris
College and university campuses bring people from across the country – and the world – together. Students gather in dormitories, in dining halls, in gyms, at events and throughout campus facilities. Togetherness allows students to learn and grow as adults, but it also allows for illnesses such as the flu to spread rapidly.
As of March 9, 46 states and Puerto Rico continue to report widespread flu activity and 30 states are still experiencing high ILI activity1.  Since October 1, 2018, the CDC estimates that there have been:
25.5 million to 29.3 million with flu illnesses.
327,000 to 394,000 with flu hospitalizations.
21,500 to 35,500 flu deaths.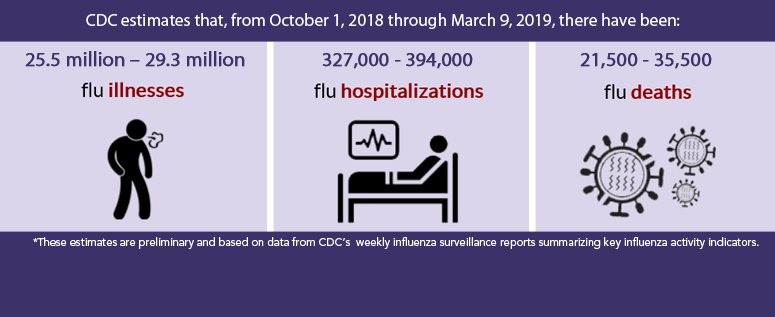 Unfortunately, colleges and universities are all too familiar with the negative effects of the flu. The irregular schedules, increased contact and lack of sleep or nutrition that college students often face make them more vulnerable to coming down with the flu or other illnesses, especially in the winter.
When the flu and other infections spread, absenteeism can run rampant. If students or teachers aren't in the classroom, the education they've invested in becomes compromised. Not to mention the heavy costs that stem from absenteeism in colleges and universities – a school with 1,000 students, for example, could lose $315,000 per year on average².
Getting the flu vaccine each year is the best way to prevent contracting or spreading the seasonal virus, but despite many colleges and universities now offering vaccinations right on campus, students still are not turning out. Although most college students in the U.S. (70 percent) believe it is important to get an annual flu vaccine, the National Foundation for Infectious Diseases (NFID) says vaccination rates on U.S. college campuses hover between 8-39 percent. This amount falls dramatically short of the 70 percent "healthy people" 2020 target recommendation. Common reasons the students surveyed said they do not get an annual flu vaccine was because they were healthy and do not need it (36 percent) and they do not think it works (30 percent)³.
Schools cannot rely on students proactively getting their vaccinations to prevent the spread of the flu or other viruses. That's why a thorough cleaning and disinfecting regimen is crucial for any educational environment to maintain a healthy space for students and faculty alike. In order to maintain a healthy environment, school and cleaning staff should practice the following infection prevention strategies:
Use EPA-registered disinfecting products with an influenza virus kill claim to treat surfaces daily.
Disinfect classrooms, common areas, locker rooms and restrooms daily.
Disinfect high-touch surfaces in between daily cleans. High-touch surfaces include desks and table tops, chairs, door handles, cabinet/drawer handles, light switches, shared classroom equipment, computer keyboards/mice, and walls.
Wash hands often.
Make hand sanitizing products available for all students and staff.
Stay home if sick to avoid spreading any viruses.
Cover coughs and sneezes with a sleeve or a tissue.
It's no secret that classrooms, dorm rooms, restrooms and locker rooms are problem areas for spreading the flu and other harmful infections. For this reason, we recommend implementing an end of day deep-clean for these areas. For example, disinfect these surfaces daily using a product such as the Clorox Total 360 Sprayer to spray Clorox Total 360 Disinfectant Cleaner4.
Lastly, stick to what you know: Education. Educate staff, faculty, and students about the risk of flu and other illnesses and how quickly they spread. Provide the entire campus with best practices for infection prevention so everyone can work together to maintain a healthy environment. Whether that be through factual posters in dorm and facility hallways, an informative presentation during orientation, or handing out cleaning supplies such as Clorox Disinfecting Wipes for everyday use, work with your community to ensure a consistent, continued approach to overcoming cold and flu season.
Brad Ferris is the Brand Engagement Lead and public relations representative for CloroxPro.
NFID survey conducted online by Harris Poll in October 2017 among 1,005 US college students 18-24 years old currently attending a 2-year or 4-year college or university.