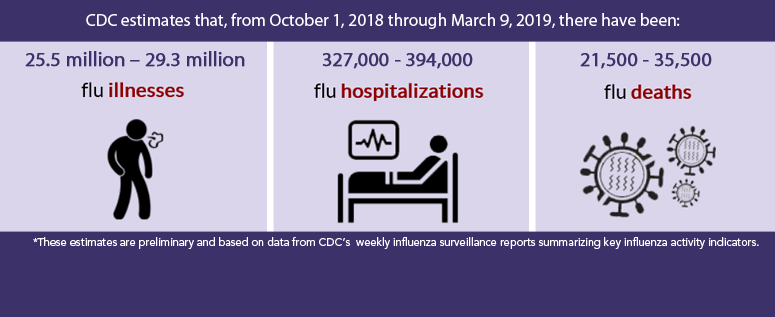 According to this week's FluView report, overall influenza activity decreased slightly but remains high, driven by a wave of H3N2 virus activity. While this week saw small declines in levels of influenza-like-illness (ILI) and the proportion of clinical laboratory specimens testing positive for flu, 46 states and Puerto Rico continue to report widespread flu activity and 30 states are still experiencing high ILI activity. Influenza A(H1N1)pdm09 viruses remain predominant for the flu season nationally, however, during the week ending March 9, influenza A(H3) viruses were reported more frequently that H1N1pdm09 viruses for the second week in a row. Also, another four flu-related pediatric deaths occurring during the 2018-2019 season were reported by CDC, bringing the total to 68 flu-related pediatric deaths this season.
CDC expects flu activity to remain elevated for a number of weeks. While CDC continues to recommend influenza vaccination as long as influenza viruses are circulating, influenza antiviral drugs are an important second line of defense that can be used to treat flu illness. H3N2 viruses are typically associated with more severe illness in older adults, and flu vaccine may protect less well against H3N2 illness in older adults, making prompt treatment with flu antivirals in this age group especially important during the current period of H3N2 predominance.
Below is a summary of the key flu indicators for the week ending March 9, 2019:
Influenza-like Illness Surveillance: For the week ending March 9 (week 10), the proportion of people seeing their health care provider for influenza-like illness (ILI) decreased slightly to 4.5 percent from 4.6 percent, but remains above the national baseline of 2.2 percent. The most recent data indicates that ILI activity for the current season peaked the week ending February 16 (week 7) at 5.1 percent.

All 10 regions reported a proportion of outpatient visits for ILI at or above their region-specific baseline levels.
For comparison purposes, over the past five flu seasons, the peak percent of visits due to ILI has ranged between 3.6 percent (2015-2016) and 7.5 percent (2017-2018).
Additional ILINet data, including national, regional, and select state-level data for the current and previous seasons, can be found at http://gis.cdc.gov/grasp/fluview/fluportaldashboard.html.
Influenza-like Illness (ILI) State Activity Indicator Map: The number of states experiencing high ILI activity decreased from 32 states last week to 30 states this week. Additional data, including data for previous seasons, can be found at https://gis.cdc.gov/grasp/fluview/main.html. https://gis.cdc.gov/grasp/fluview/main.html.
Geographic Spread of Influenza Viruses: The number of jurisdictions reporting widespread influenza activity decreased from Puerto Rico and 48 states last week to Puerto Rico and 46 states this week. Geographic spread data reflect how many areas within a state or territory are seeing flu activity. Additional data are available at: https://gis.cdc.gov/grasp/fluview/FluView8.html.