by Eileen McMorrow
Remember when we did not stop when leaving our homes to think much about personal wellness? We did not consider how many germs we might encounter in a typical day when heading to work, campus, a healthcare experience or workplace, or a restaurant to dine with friends? Thinking about wellness while feeling vulnerable is part of our shared human experience as we endeavor to get back together to achieve our goals and have some fun. In response to the new reality, employers and managers of public facilities have a more nuanced appreciation of customer expectations, too.
Both hospitals and patients are focused on protecting themselves from the variants of Covid-19, even if they are vaccinated. At the same time, hospitals, healthcare facilities, and teaching institutions are eager to have people return to their purpose-built environments. Expectations are high that restrooms will be kept cleaner and checked regularly among people returning to public environments.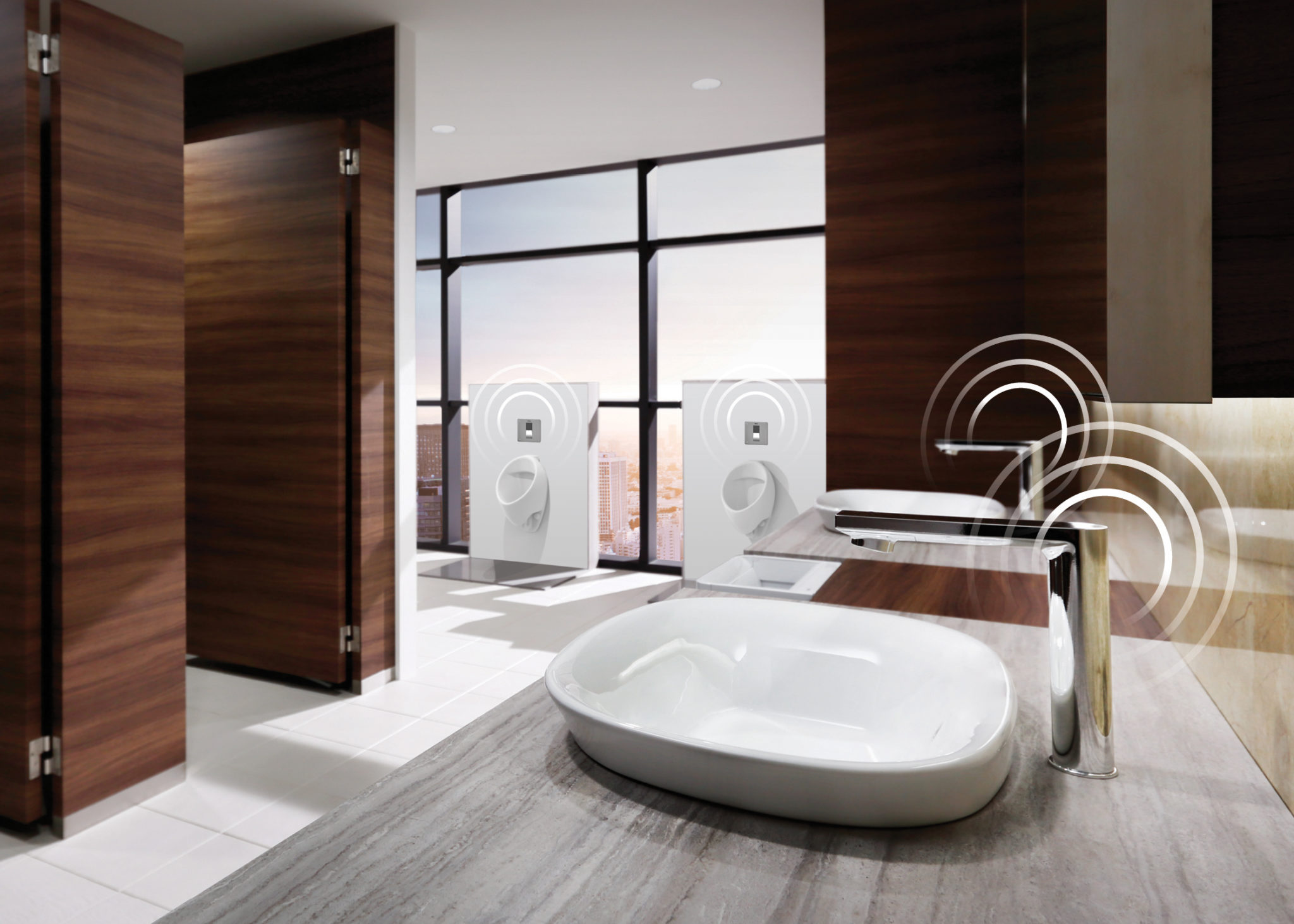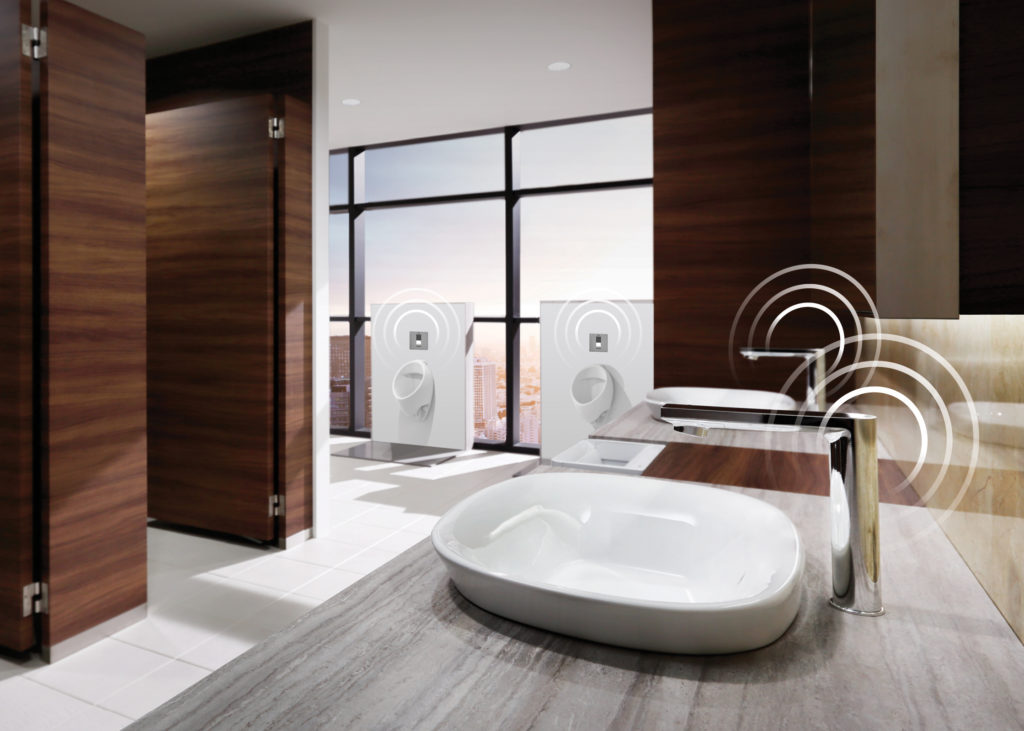 Prepared to improve the sanitary conditions and meet higher expectations for consistent restroom cleanliness throughout North America is TOTO, the world's largest plumbing manufacturer. This past November, TOTO launched a variety of Internet of Things (IoT)-enabled products for smart, fully connected public restrooms.
The key to performance is its ECOPOWER Technology embedded in smart-sensor products designed to connect with IoT tech systems. TOTO IoT-enabled products deliver reliable, customizable, and secure monitoring and analysis of connected restroom fixtures to a dashboard that facility managers and their custodial staff monitor via phone, tablet, or computer.
The power of ECOPOWER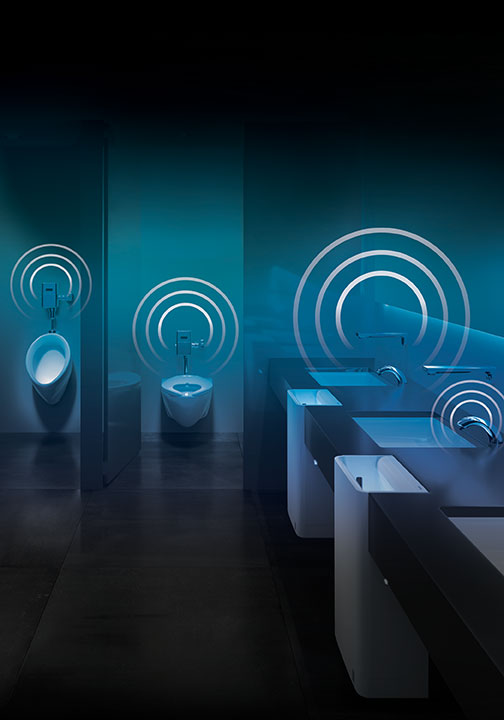 ECOPOWER, TOTO's proven smart-sensor hydropower technology, creates its own electricity. Every time water flows, it spins a small internal turbine. As a result, there's no need for hard-wiring to a building's electrical system or for routine disposable battery replacement. Moreover, there is no minimum daily usage requirement.
"ECOPOWER products keep working if there's a power failure. Our smart-sensor faucets and flush valves keep functioning even when a building goes down as their hydropower turbines continue to spin and store energy in the device for future use. Further, if the building's internet service goes out, too, they continue to collect data on their usage to be transmitted when the internet connection is restored. In these ways, TOTO's IoT-Enabled ECOPOWER system ensures continuity," says Bill Strang, president of Corporate Strategy, eCommerce & Customer Experience at TOTO. "Our smart-sensor faucet and flush valve hydropower technology make this possible." For example, in a hospital, the flush valves must work at all times – whether or not there's a power failure. TOTO ECOPOWER flush valves continue to operate without interruption no matter the building's power status because they are not reliant on external power – hard-wired or battery. They generate their own. "The micro-turbine spins and stores energy in the device which is then used to operate the valve for the next visitor," adds Strang, explaining the differences in aesthetics, quality, durability, and cleanability of the TOTO IoT-enabled products.
"ECOPOWER has been around for some time and originally was seen as expensive, but facilities managers liked that it ran and ran and continued to be in service, reducing the cost ownership," Strang explains. "The self-cleaning piston design and microturbine are useful for high-demand facilities and locations. For example, there's no need for the maintenance crew to focus on flushing problems with IoT-enabled ECOPOWER flush valves in airports, grocery stores, or arenas. Further, if there are ten stalls in a row and one stall is consistently not being used, it indicates that maybe it needs service—IoT-enabled flush valves can tell the staff a lot from their engagement or lack of engagement."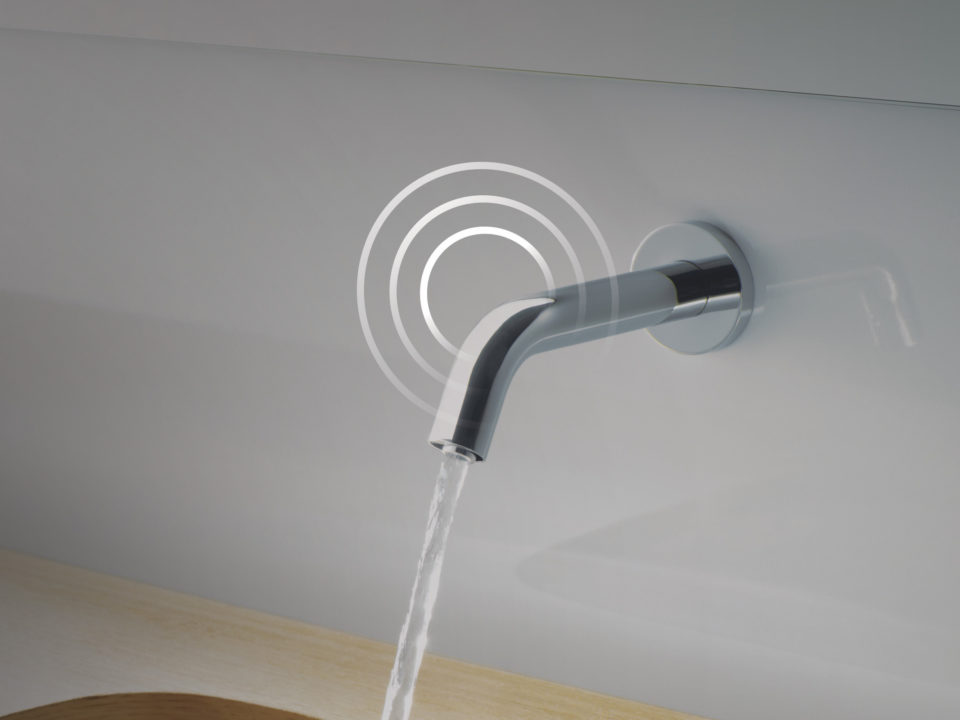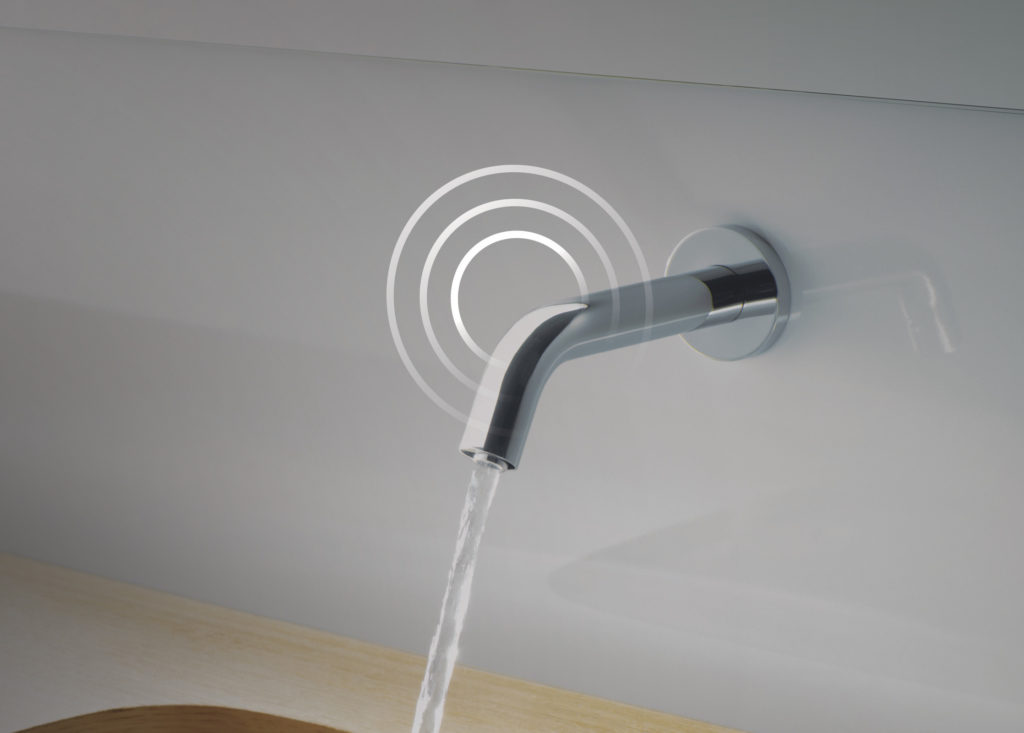 The evolution of TOTO's Microturbine technology product occurred when IoT emerged," explains Strang. For maintenance providers, "every toilet is talking to you on your phone," he says with a bemused chuckle. He notes further the way mobile phones have transformed how we work and live and how chip manufacturing allows for more information to be delivered across smaller platforms.
The technology continues to evolve in the marketplace, and TOTO had the vision to apply an IoT connection to toilets, urinals, faucets, and soap dispensers. Specifiers can find it in IoT-Enabled ECOPOWER Smart-Sensor Flush Valves for Toilets, IoT-Enabled ECOPOWER Smart-Sensor Flush Valves for Urinals, IoT-Enabled ECOPOWER Smart-Sensor Faucets, and IoT-Enabled Auto Soap Smart-Sensor Dispensers.
(See Hygiene at work and on-campus meets its match with TOUCHLESS Faucets & Soap Dispensers from TOTO).
"The reputation that TOTO has, allowed business, airport, and university managers to consider taking a chance on the new IoT technology. Now they can look across the entire campus (via their dashboard) and see the real-time status of every single device in every bathroom in an in-depth display. TOTO's IoT-enabled products allow you to address the challenge of knowing that everything is in service, and it helps custodial staff manage their time and ability to clean or maintain a stall or whole bathroom," details Strang. Overall, the custodial staff can be out in the facility doing other work rather than being stuck in the restroom, continually checking the fixtures' status and stall cleanliness. It is far more efficient for a maintenance worker to get a phone ping that pinpoints a location needing service.
Dashboard data and IoT technology to the rescue
Once a facility's flush valve's motion-sensor eye sees a person come into a stall, the data is registered. It may sound unsettling; however, if a person was feeling unwell upon entering a stall and the sensor "eye" never sees them leave, it can be set to send a ping to a maintenance worker's phone, which is also detected on the facility manager's dashboard. What happens? Well, if no one left the stall, it could be a problem with the user (loss of consciousness or other health-related issue) and that can trigger a welfare check that benefits an unwell person. If not, it also could mean the "eye" needs to be checked. Ping in; ping out.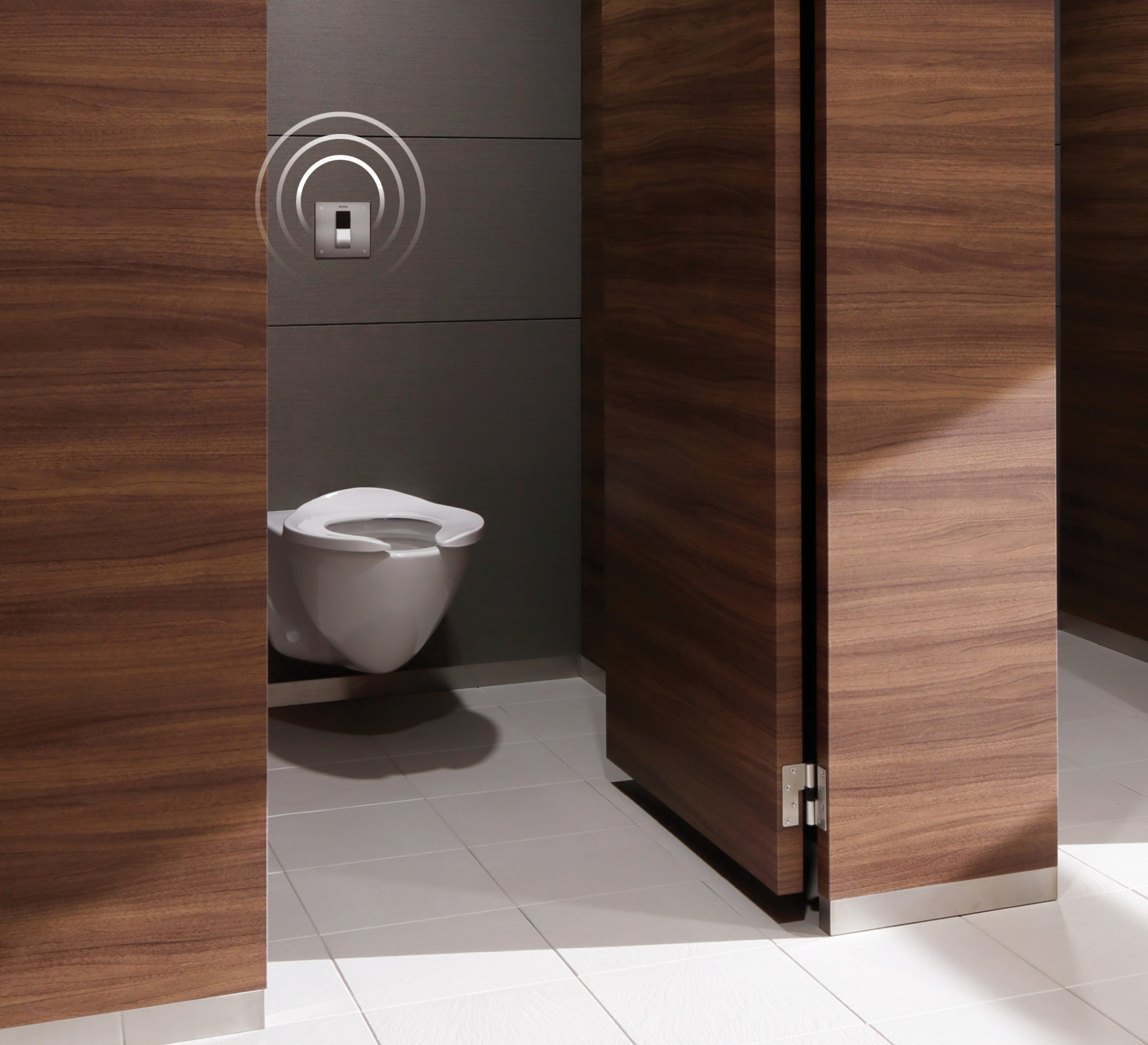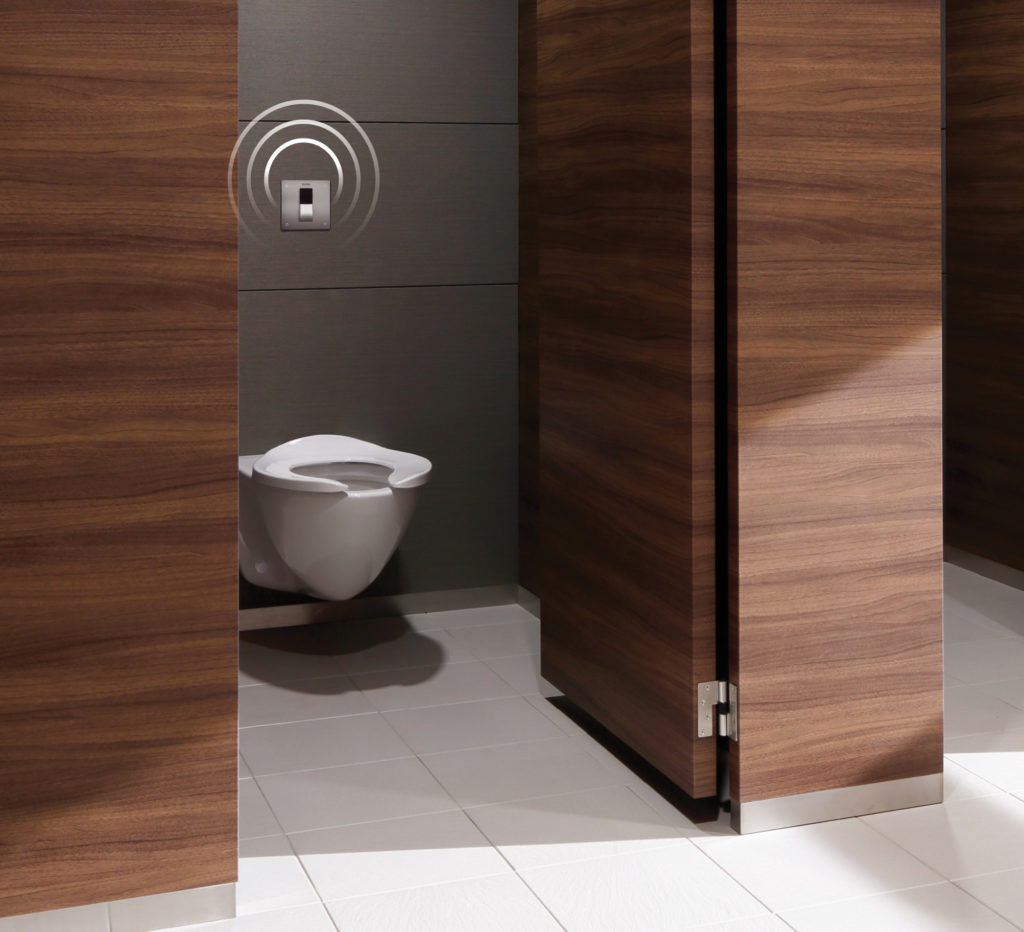 "We at TOTO realize that Apple's Steve Jobs did not think the tech he was inventing would be used this way, but here we are controlling the flushing of toilets, running of faucets, and dispensing of soap, and realizing tremendous value for facilities and their managers," Strang declares. "IoT is an enabling technology that brings solutions to you."
As the Covid-19 variants continue, building owners are trying to provide more attractive facilities to retain leaseholders. As people return to work, collaborative spaces are not being used as much, but settings that permit social distancing and provide air exchanges, UV light, HEPA filtration, and spaced-out bathroom stalls and sinks are in favor.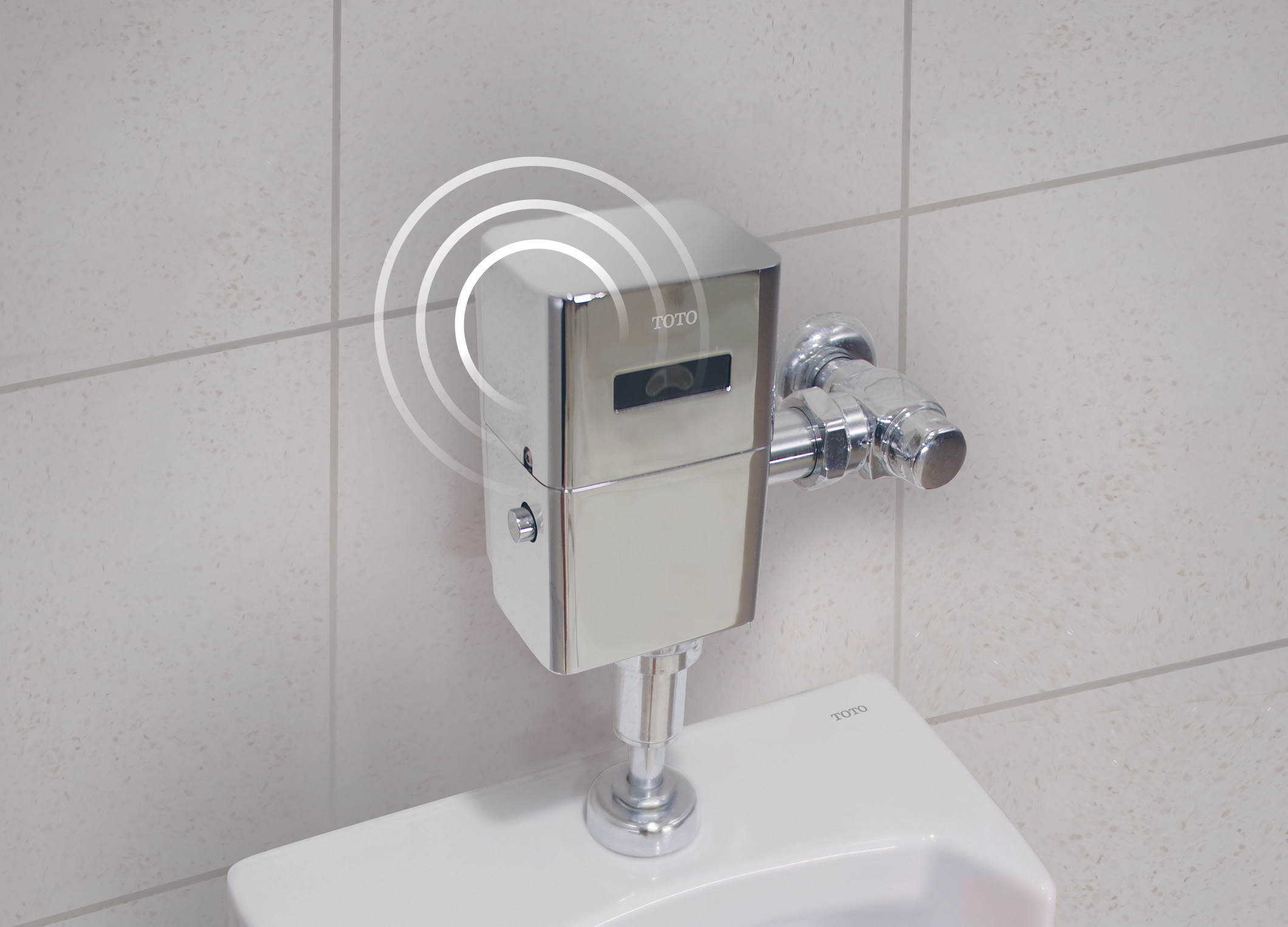 While tenants may not own the building, they are seeking restroom upgrades as part of the tenant improvement package. Higher-end smart commercial restrooms with IoT-enabled fixtures send a message to a company's employees or the guests of a business. Current restroom planning, as TOTO has learned, is calling for the mechanicals to accommodate a bigger footprint and to mitigate aerosol spread opportunities. HVAC can be localized to individual stalls with air intake behind the toilet, allowing air to leave the system right away from each stall. Retrofits include a chase behind the toilet to put in ductwork to take the air out below the toilet user. "All of this in an effort to convey to users that it is safe to come back to the space you will be in for eight to ten hours a day," says Strang. "Companies are keeping spaces cleaner and letting the employees know space design is being improved for users."