by Eileen McMorrow
NeoCon 2023 was a resounding success! The 54th edition, which was held June 12-14, at THE MART in Chicago, experienced robust attendance of 50,000 throughout the three days. A global platform for commercial interiors, the show presented engaging events, inspiring installations and experiences, sold-out educational programming, as well as thousands of groundbreaking new exhibitor solutions to address the dynamic needs of our ever-evolving world. A testament to the power of collaboration and gathering together, NeoCon was a catalyst for meaningful conversations, igniting a collective passion for a better shared future through design.
A trend report that highlights some of the latest exhibitor innovations is available here.
The Best of NeoCon Awards, which honor products from industry-leading companies that demonstrate unparalleled innovation and ​design-forward thinking, returned to the show for its 33rd year. The 114 awards — which recognized NeoCon exhibitor products in more than 50 categories for Gold, Silver, Sustainability, Innovation, Business Impact and Best of Competition — were selected on-site by a distinguished jury of architects, designers, specifiers, enterprise clients, facility managers, and top business media. The Flote Lounge Collection from Hightower took home the Best of Competition honor and six products received Business Impact Awards, which were selected by a jury of discerning journalists from media outlets including Fast Company, Forbes, Entrepreneur, Human Resources Executive, Crain's Chicago Business, and 99% Invisible. Recognized for their ability to positively impact both the enterprise client and its people, the 2023 winners were OFS' Tate; Okamura's Lives Post + Beam; Andreu World's Bolete Lounge BIO; Schiavello's Krossi Workstations; Via Seating's 4-UP; and Makr Furniture's Moment Collection.
In the Conference Seating Category, the Davis Zen Conference wins the Gold Award. For 2023, the German design duo jehs+laub have released an executive and conference chair series called Zen Conference that mirrors many of the design details of the original Zen Chair while evolving them for new applications. The stately result is a strikingly modern executive and conference chair offering the highest levels of luxury, craftsmanship and comfort. Each piece encapsulates everything needed for the ideal executive and conference chair with a visual language that is fluid, precise and dynamic. Zen Conference combines a wide variety of options that offer additional customization opportunities for designers to leverage, making the series ideal for modern conference spaces and executive offices.
OmniRoom by Mute, a first-time NeoCon participant from Warsaw, Poland, won the Gold Award for Demountable Walls.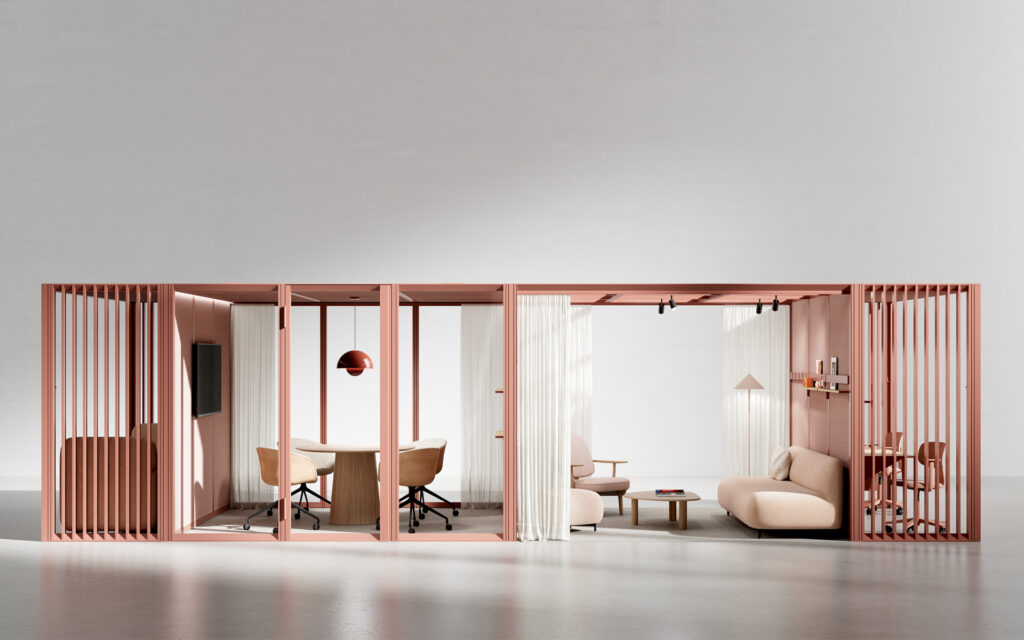 The system allows users to create tailor-made Rooms or choose from preconfigured options, designed to serve four main office functions. Rooms can be placed separately or combined into multifunctional hubs that can act as central points of the office. The construction can be easily modified: users can create many constructions of different shapes from the same modules, ensuring the system always fits current needs. Plus, every OmniRoom has ventilation, lighting, and electricity integrated.
The system includes:
• Variety of modules allowing infinite constructions possibilities
• A selection of 100 pre-designed Rooms.
• A selection of dedicated furniture. The set contains 30 elements. Every piece can be hung on any wall and height (inside or out).
• A patented click-in system for quick assembly
"During NeoCon, THE MART has an energy that is unparalleled," said Natalie Hartkopf, CEO of Hightower. "Our showroom traffic was steady throughout the event — we were consistently busy — which, along with solid attendance, is thanks to our Best of Competition win for Flote and Best Small Showroom title in the IIDA Showroom and Booth Design Competition for the third time. Having so many attendees in our redesigned space allowed us to tell the story of not only our award-winning products but also our overall brand ethos of inclusion and diversity, and our new certification as a B Corp, which was very exciting news to share at the show. We look forward to additional developments in 2024."
All on-site and virtual programming will be available to stream via the NeoCon Programming Hub through August 15.