The CBRE's The Workforce Sentiment Survey examined employee experience and expectations while working remotely during the COVID-19 pandemic. The survey was conducted from June 16 to Aug. 7, 2020. It included 32 companies, 10,000 responses from 18 countries.
CBRE states, "While these insights reflect a moment in time, they are a relevant gauge of workforce expectations as real estate executives create strategies to redefine the work experience. The data represents sentiment from company leaders, managers and employees."
Here are five key takeaways. Click here to see more data and for a PDF of the report.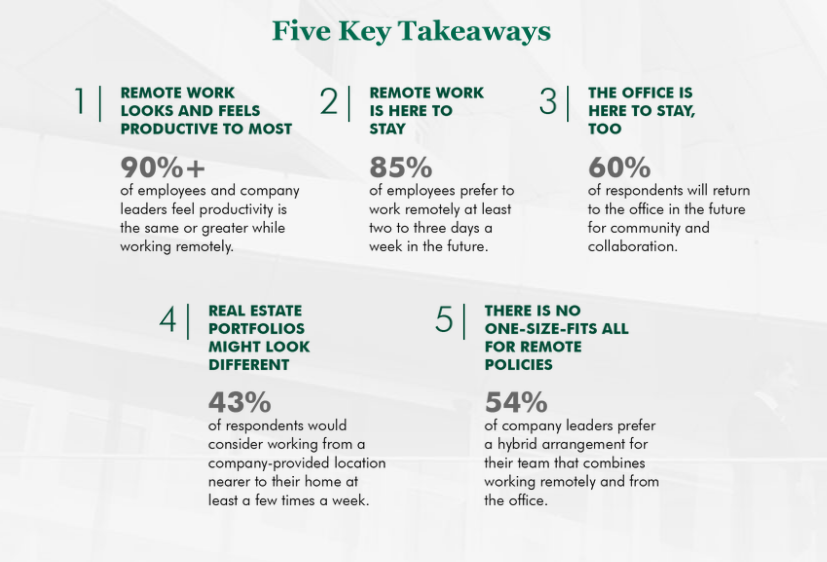 CBRE offers some conclusions of the study:
"From an employee perspective, COVID-19 hasn't impacted productivity as much as expected, but it has certainly shifted sentiment toward the future. For many, the amount of time spent in the office may never return to pre-COVID levels, as employees have not only embraced remote work but have become accustomed to the autonomy that comes with it. However, with a renewed focus on quality of both the workplace experience and design, it is clear the role of the office as a destination for employees is still important for companies to maintain."
"The long-term outcome of COVID-19 will be a combination of changes to workplaces, policies and real estate portfolios, and each company will establish its own stance on remote work and the role of the office. Regardless of the destination, the road to this future should start with culture and be paved by a data-driven and people-centric approach to change."