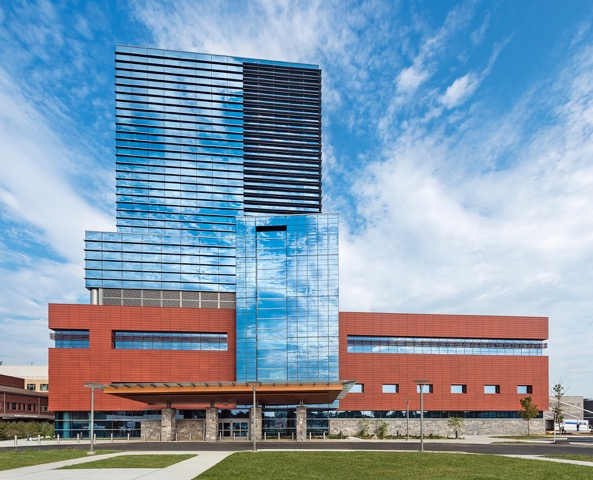 Stamford Health's new $450 million hospital opened with a four-day celebration in September. The events introduced the new 13-floor, 650,000 square foot building to local residents, staff and benefactors prior to transferring patients from the old hospital to the new one.
Designed by WHR Architects to embrace the concept of patient-centered care, the new hospital exemplifies Stamford Health's vision for "Healing Reimagined." The focus on high quality, personal care is visible throughout the facilities from the welcoming concourse to the 180 private patient rooms, which were designed to maximize care, safety and comfort for patients, caregivers and families. The new emergency department that is double the size of the old one, which was needed to accommodate an increasing number of patients more efficiently. The new ED offers separate, dedicated treatment areas for adult, behavioral health and pediatric care needs.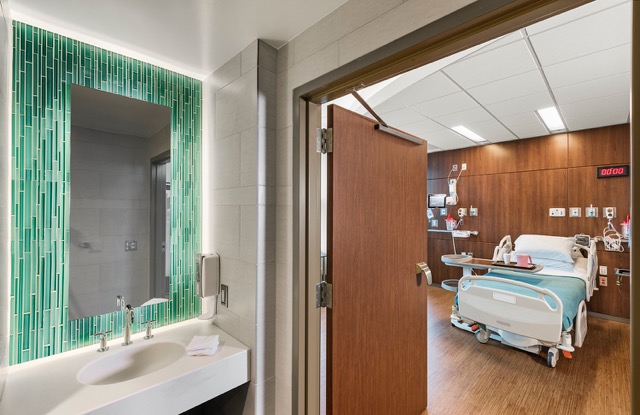 "As a recognized Plantree organization, the design of the new facility needed to reflect their philosophy that places a priority on providing the highest levels of patient and family care," Tushar Gupta, AIA, the project designer observed. "Stamford recognizes the interdependence between an efficient, healthful environment and the wellbeing of people. This facility embodies those principles at every level of design — from clinical space to patient rooms to the way that the new building is connects to the community."
"WHR Architects has been part Stamford Health's team for over a decade working on several projects prior to beginning the planning and design the new hospital," said David Watkins, FAIA, Founding Principal of WHR, the healthcare practice of EYP Inc.
"We have seen first-hand their commitment to patient-centered care and their understanding of how that translates into facilities' requirements," said Charles Cadenhead, FAIA, FACHA, FCCM, the senior medical planner on the project. "The hospital took the time to study the challenges and plan for a future filled with advances in medical research, treatment and technologies."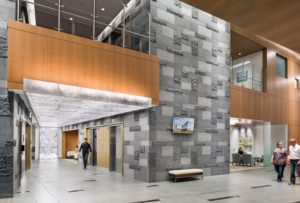 Key features include:
Patient care units with all private rooms and private bathrooms, as well as 12-bed 
nursing "pods" to allow more efficient care delivery, and dedicated family and staff 
respite spaces on each floor.
An Emergency Department with separate treatment areas for trauma, cardiac, urgent, 
behavioral health and pediatric patients, more than doubling their previous capacity.
Significantly larger surgical suites to accommodate the latest technology. A total of 10 
procedural areas, including 8 rooms with potential for expansion, and 2 special 
procedure rooms outside the OR suite.
An expansion of the Intensive Care Unit (ICU) emphasizing the Hospital's commitment 
to critical care and tertiary services.
A central location for all Heart & Vascular Institute services, including new facilities that 
feature 2 cardiac catherization labs,1 of which is a hybrid room capable of electrophysiology, vascular and TAVR procedures, and a dedicated electrophysiology study lab.
WHR Architects has a strong and growing presence in the northeast region of the United States with current and recent facilities that include: multiple projects for the Hackensack Meridian System including Hope Tower at Jersey Shore University Medical Center in Neptune, New Jersey; and multiple projects for the Northwell Health System (formerly North Shore LIJ Health System.) 
Among WHR's other notable new healthcare facilities: Houston Methodist Hospital North Tower & Hospital Renovations and Memorial Hermann Pavilion 2, both in the Texas Medical Center in Houston, TX; Christus Santa Rosa, Children's Hospital of San Antonio in San Antonio, TX; North Carolina Heart & Vascular Hospital, Raleigh, NC; multiple projects for UCHealth in Colorado including Longs Peak Hospital in Longmont and UCHealth Memorial North, Colorado Springs.