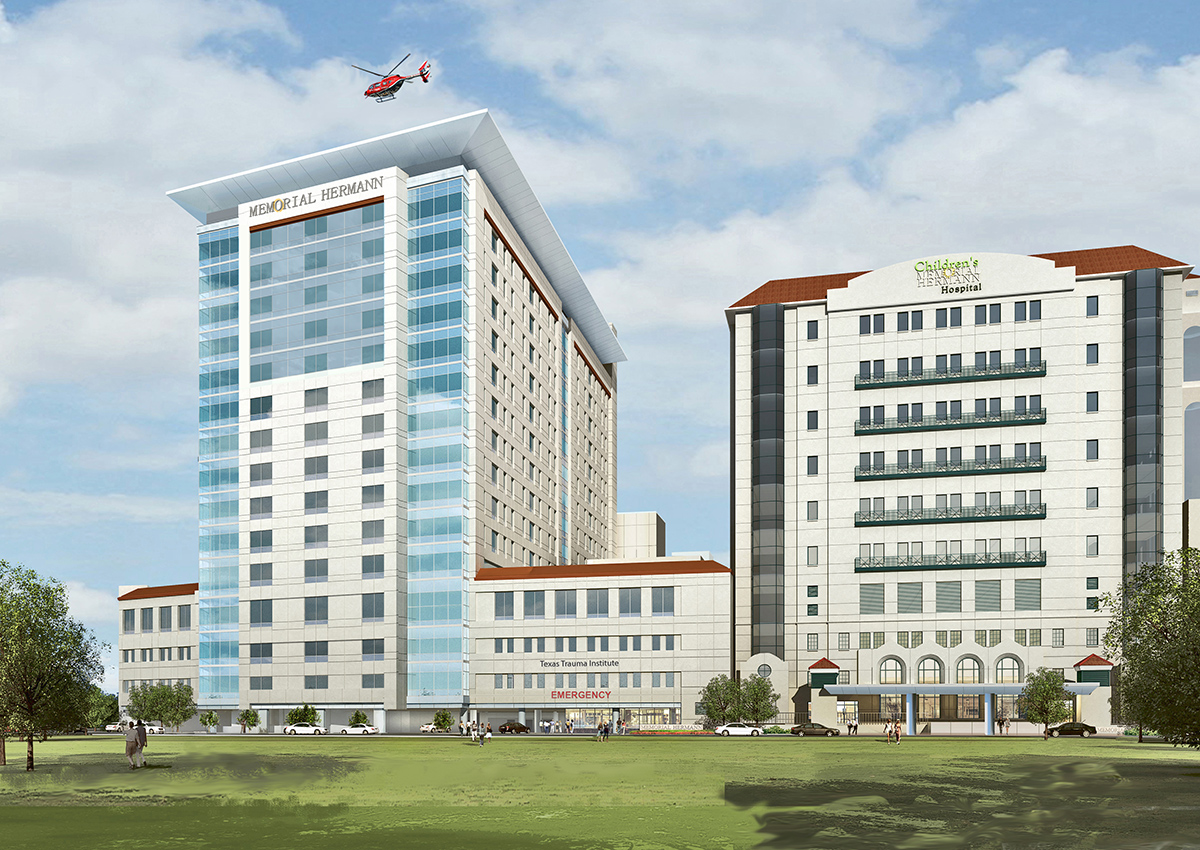 WHR Architects joined their clients from Memorial Hermann Hospital on May 27, 2015 for the groundbreaking ceremony for Hermann Pavilion Two at the Memorial Hermann campus in the Texas Medical Center.
"Seeing this significant project move forward is especially exciting for the architects and planners who have been working with Memorial Hermann on the new facility," said David Watkins, FAIA, Founding Principal of WHR, the healthcare practice of EYP. "This expansion will enable Memorial Hermann to stay ahead of the fast-growing advances in medicine, keep pace with the extraordinary growth of the city and meet the health needs of the community for years to come."
"With this renovation and expansion project, we are ensuring that the communities we serve have access to a critical care infrastructure that Memorial Hermann uniquely provides," said Memorial Hermann President and CEO Dan Wolterman. "We are taking a forward-looking approach to establishing this infrastructure that will effectively meet the health needs of future generations."
Memorial Hermann's $650 million Breaking New Ground expansion and renovation will provide: 160 additional beds (plus 71 replacement beds); 24 operating rooms (19 replacement and five new); 16 additional emergency room bays; 750 new parking spaces; and a 335-seat café. The 15-story patient care tower will also house the Memorial Hermann Texas Trauma Institute and Memorial Hermann Life Flight®, including the John S. Dunn Helistop and the dispatch center, as well as the John S. Dunn Burn Center – the only comprehensive burn center in Houston verified by the American Burn Association – which will expand to 20 beds. In addition, seven shelled floors and six shelled operating rooms will be constructed to accommodate future growth with the potential of adding 264 beds.
WHR has been actively involved in the development of the TMC for many years, where the firm has designed over 11 million square feet of space for institutions including: Houston Methodist, Memorial Hermann, Baylor College of Medicine, The University of Texas MD Anderson Cancer Center, The University of Texas Health Science Center (UTHealth), and Prairie View A&M University College of Nursing.
Memorial Hermann is a longtime client of WHR. In addition to multiple projects at Memorial Hermann Hospital, WHR has designed community hospitals for Memorial Hermann in Katy, Sugar Land and The Woodlands, Texas.