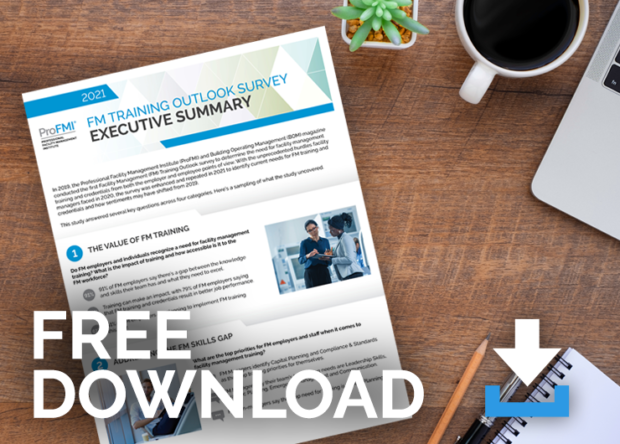 Over the last 18 months, facility professionals, and the entire facility management profession, were thrust into the forefront as organizations scrambled to keep things running smoothly in the face of unprecedented hurdles. FMs worldwide rose to the challenge to tackle these obstacles and, whether realizing it or not, helped to propel the industry forward and better define what exactly it means to be a "facility manager."
So how has the industry changed in the last few years? The latest Facility Management (FM) Training Outlook Survey, released in June 2021, points to a mindset shift between FMs and their employers alike to a more intentional, defined FM profession and skillset. In fact, 64% of employers surveyed in 2021 reported they have a formal definition of the FM knowledge and skills required for their teams, up 16% from the 2019 survey.
"Facilities Management is truly coming of age in part due to its growth internationally, but also in part to the growing competencies, skills and awareness of those that are serving within the sector," Stan Mitchell, CEO of Key Facilities Management International said.
However, this refocused effort to formalize the definition of FM is combined with a quickly growing FM knowledge and skills gap. This gap is due in part to a seasoned workforce nearing retirement which leaves gaps in experience, as well as the role of a facility professional expanding further beyond the traditional definition and scope. Both FMs themselves and employers agree on this gap, with  91% of FMs and 91% of employers saying they could use more FM knowledge, skills or training for their current job, representing a 12% and 10% increase over 2019 numbers respectively. 
Additionally, the areas in which FMs and their employers see this gap most clearly are changing. In 2019, employers felt FMs needed more training on compliance and standards, communication and project management. In 2021, these training priorities shifted to leadership skills, strategic planning and emergency management. This shift points to a larger trend across the industry of a renewed focus on the FM role evolving to take on more strategic, business decision-making skills in addition to traditional technical expertise.
What does this mean for FMs looking for ways to bridge their knowledge and skills gaps? According to the 2021 survey, FM training and credentials/qualifications make all the difference. In fact, 79% of FM managers agreed that FM training and credentials result in better job performance and 71% of FM staff believe that FM credentials are more important for the FM profession now than in previous years. Completing additional education to round out expertise and earn a qualification signifies to employers, peers and clients that FMs not only have the technical know-how to keep buildings running efficiently, but also the ability to take on more strategic, business-oriented tasks that FM roles are evolving to encompass.
One option available to FMs looking to bridge knowledge gaps or reach their credential goals is the ProFM Credential Program. The program is built on the ProFM Body of Knowledge, which was created and vetted by more than 3,000 FMs worldwide, and includes education on technical skills as well emerging topics like cybersecurity, business continuity and asset management. To learn more about the ProFM Credential Program and how it can help bridge your unique knowledge or skill gaps, visit profmi.org.