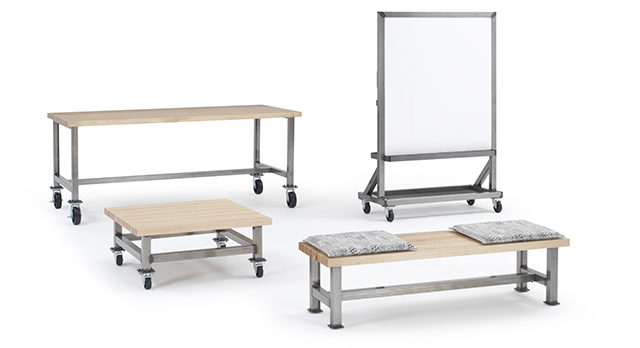 Versteel's Maker Project has been chosen as a 2019 Architzer A+ Award winner. The 7th Annual Architizer A+Awards honored the best architecture, spaces, and products from across the globe. This year's winners includes 222 renowned industry stars and emerging talents. The full list of winners can be found here. A compendium of 2019 winners, published by Phaidon, will be released in early 2020.
The Maker Project won the popular choice selection for in the Furnishings – Contract Furniture & Systems category as voted by design practitioners and enthusiasts from around the globe after a 10-day campaign garnering over 400,000 votes.
Featuring integrated wire management solutions, The Maker Project brings an urban industrial aesthetic to community areas including collaborative, hospitality, dining and educational spaces. Robust construction, simple aesthetics and handmade impressions all combine to provide the utmost in utility and function with the collection. Available in work, counter and stand-up heights, the Maker Table is the center of a series which includes benches, stools and a presentation whiteboard. Learn more here.
"These Awards are breaking architecture out of the echo chamber and showing the transformational role architecture plays in all our lives." Marc Kushner, Architizer founder. In its 7th season, the A+Awards received over 5,000 entries from 100+ countries, with a special emphasis on innovation in architectural materials and products. Notable Jurors included Marion Weiss (Founder, WEISS/MANFREDI), Paul Goldberger (architecture critic), Evan Sharp (Co-Founder, Pinterest), Olafur Eliasson (artist), Piera Gelardi (Co-Founder, Refinery29), and many more.
A Jury-selected Winner and a Popular Choice Winner were awarded in each of the 115 categories, with over 400,000 votes cast by the voting public. In addition to the Jury and Popular Choice winners, Special Honoree Awards are being presented to five key works this year. With projects ranging from village community centers to national institutions, these Honoree Awards demonstrate the extraordinary impact of architecture at both local and global scales and provide young and emerging firms with unprecedented global visibility.