Ventus Lux artfully combines air, water and light. This high performance integrated air and light-distribution system fills a void in the U.S. manufacturing and interior tenant market.
Units are available in a variety of sizes and styles to accommodate various projects. They are equipped with hydronic cooled air technology (or "chilled beam" in industry parlance), linear lighting fixtures (from our own manufacturer), and a carriage structure of recycled materials (which serves as the housing).
Operation requires only a primary air and hydronic cooling source; no mechanical fan components are needed and the use of primary air ducts is 20% of that used by conventional systems. While a unit is integrated, the air-cooling and distribution carriage may be installed separately from the lighting fixture. This addresses regional labor concerns and duties.
Titus' woodgrain finishes offer an appealing substitute for wood and natural stone without harming the environment. Woodgrain finishes allow for conservation of our natural resources while also offering a durable cosmetic alternative to conventional finishes with low-to-no VOCs.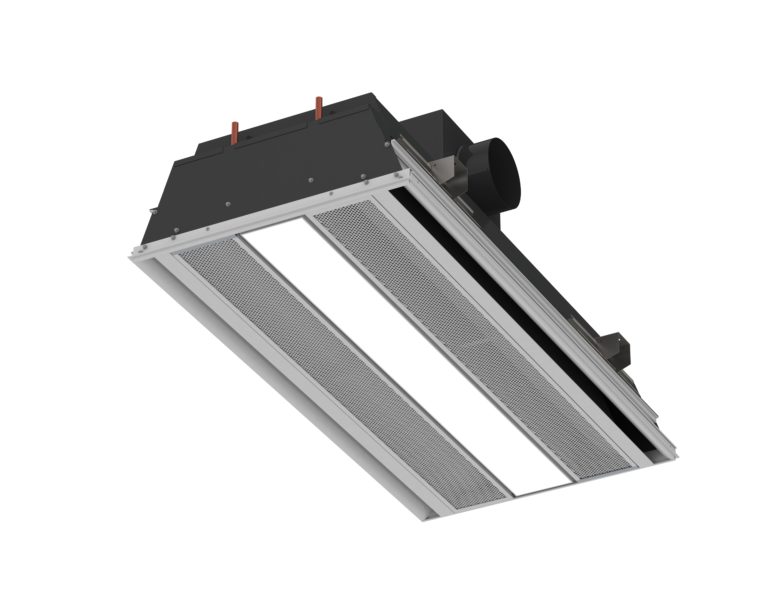 Increasingly higher energy performance standards require new technologies. A mechanical system such as Ventus Lux can result in energy savings of up to 40%. With the significant reduction in fans, air-handling units, and filters, operations and maintenance costs go down. Coupled with an integral light fixture, this technology greatly reduces ductwork, enabling reduced floor-to-floor heights and an indoor space where the systems are combined for efficiency and economy.