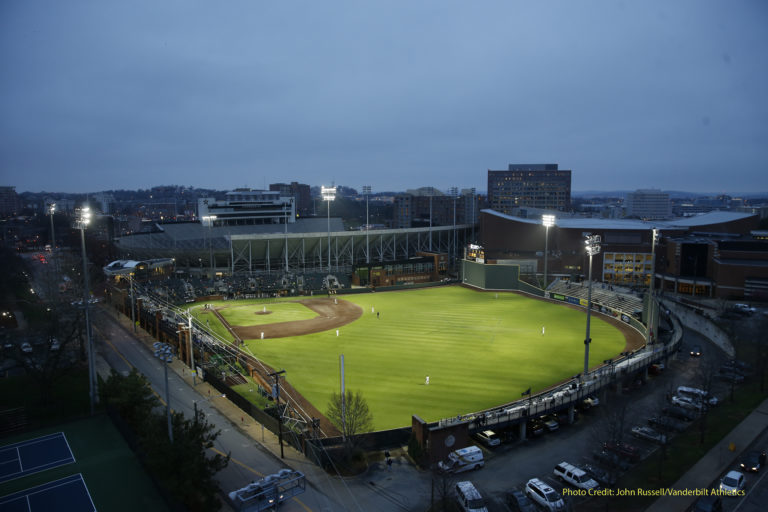 Designed to enhance the viewing experiences for spectators, while reducing energy use by as much as 75 percent, Eaton's Advanced Ephesus LED Lighting System was installed at the home field of the Vanderbilt University men's baseball team, Hawkins Field in Nashville, Tennessee.
The LED system features Ephesus Stadium Pro lights and a DMX control system, which enables dynamic fan experience effects and increases operational flexibility. The lights at Hawkins Field have instant-on capability, eliminating the warm-up period associated with more traditional metal halide lighting products.
"Our new LED lights from Eaton's Ephesus Lighting make Hawkins Field an even better place to play and watch a game," said Kevin Colon, associate athletic director, Vanderbilt University. "As we researched the LED lighting options available, it was clear to us that Ephesus Lighting had the best solution from the standpoint of lighting quality, operations flexibility and energy efficiency."
 The Ephesus LED lighting system offers better quality lighting than the previous system and through its industry-leading glare-control innovations, its fixtures shine more uniformly on the playing surface, creating a better stage for players and fans both in the stadium and those watching on high-definition television. The versatility of an LED system also allows for operational flexibility and the creation of programmable light shows for fan entertainment. Ephesus LED solutions are easy to install, virtually maintenance-free for years and offer facilities the lowest total operating costs compared to other sports lighting systems.
"Since we installed the first LED lighting system in a North American sports arena, facility operators have come to understand that our digital lighting solutions create an enhanced stage for fans and performers," said Mike Lorenz, president, Eaton's Ephesus Lighting business. "Our recent installation at Globe Life Park, home of the Texas Rangers, Hawkins Field at Vanderbilt and others, illustrates that baseball stadium facility operators are clearly seeing the benefits that our digital lighting solution offers them, as well as their fans, players and broadcasters."