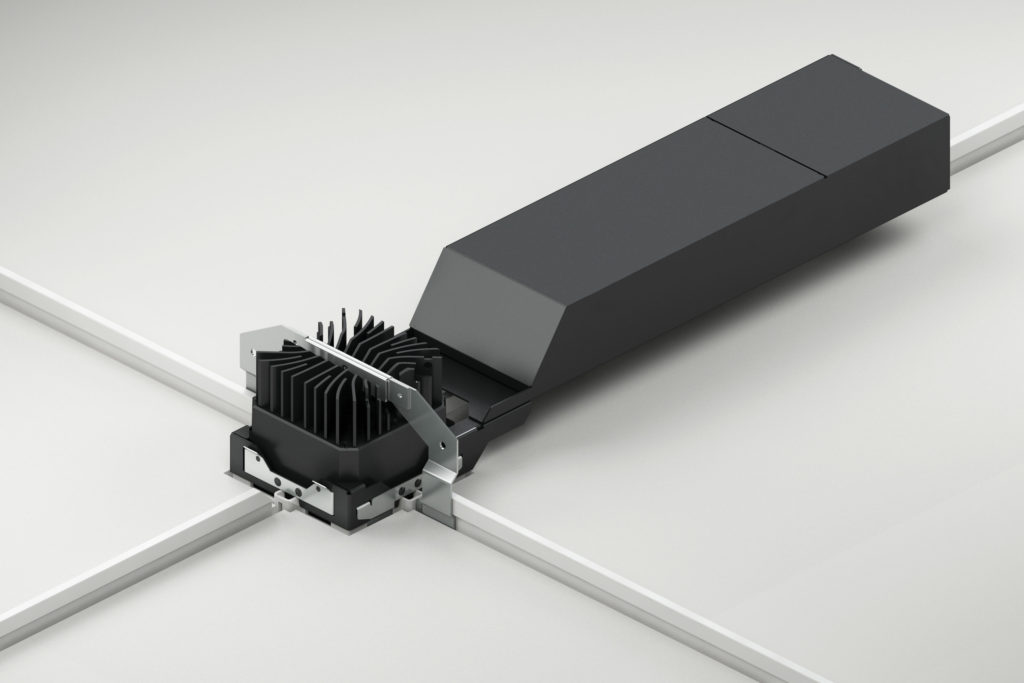 USAI Lighting brings the power of Personalized Lighting to everyday life. The product is improved by LED downlights and expanded technological capabilities of several existing USAI Lighting LED. A partnership with Armstrong Ceilings has resulted in On-Center Downlighting, which integrates USAI Lighting's new BeveLED Connect downlights with a ceiling system that allows for alignment of ceiling grids, lighting, and architectural elements. The system enables designers to get pre-cut factory-finished panels and suspension system components with LED downlight integration at the On-Center ceiling grid intersection. With over 1,200 delivered lumens from its minimal 3 3/8″ aperture and 1″ regress, BeveLED Connect offers maximum ceiling height with interchangeable beam spreads from 10-50 degrees. Interchangeable Fixtures Without Construction BeveLED REFIT is designed to simply upgrade existing recessed halogen, incandescent, PAR lamps, and compact fluorescent lighting using existing installed lighting components and power to get efficient high quality LED lighting.
When combined with USAI Lighting's patented Warm Glow Dimming technology, BeveLED REFIT yields the kind of soft lighting glow once possible only in dimmed incandescent sources. BeveLED REFIT with Warm Glow Dimming dims to warm at lower light levels, which have been tested to ensure smooth, reliable, and flicker-free performance when dimmed down to 15%, 10%, 5%, 1%, and 0.1%.
Take It To The Max USAI Lighting's Max Output technology, now available with Warm Glow Dimming and signature Color Select technologies has light output reaching over 6,000 delivered lumens in the new BeveLED 5.0 Max Output. BeveLED 5.0 Max Output puts long-lasting, energy efficient, high ceiling lighting in play for airports, atriums, ballrooms, lobbies, performing arts centers, and other spaces that require high light intensity and distribution. These new options offer dim-towarm and tunable white light color temperatures from the warm 2200K of candlelight to the clean 6000K of daylight—and everything in between to create any desired ambiance and flexibility to change easily within wide, open spaces.