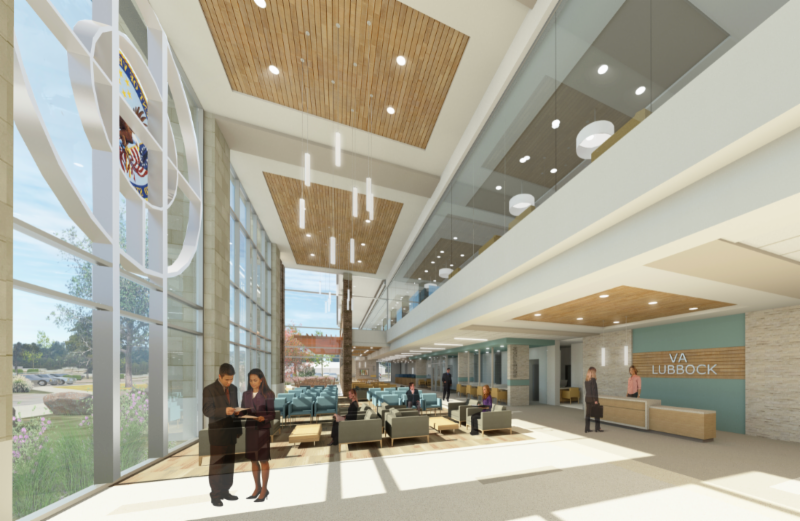 US Federal Properties Co. has been named developer for the U.S. Department of Veterans Affairs new outpatient health clinics in Chattanooga, Tenn., Phoenix; and San Antonio and Lubbock, Texas. These new clinics will expand the VA's network of outpatient sites that serve 9 million enrolled veterans annually and help to accelerate their access to care. The four new clinics will be designed to accommodate some 225,000 veterans in 733,563 sq. ft. across all four facilities. In collaboration with USFP, which develops, finances, owns and operates federal government-leased properties, Hoefer Wysocki will lead the architectural and interior design of the new healthcare clinics.
USFP and Hoefer Wysocki have worked together for more than 20 years to design and develop more than 1.6 million square feet of VA and General Services Administration facilities. Together, the USFP-Hoefer Wysocki team recently completed the VA San Jose Community-Based Outpatient Clinic. Other joint projects include VA Eastern Colorado Health Care System's PFC Floyd K. Lindstrom Outpatient Clinic at Colorado Springs, Colorado.; VA Outpatient Clinic, Grand Rapids, Michigan.; VA Outpatient Clinic, Laredo, Texas; the Sergeant Ernest I. "Boots" Thomas VA Clinic in Tallahassee and VA Jacksonville Outpatient Clinic in Florida., and VA Mobile Outpatient Clinic and Montgomery VA Clinic in Alabama.
"We have partnered with Hoefer Wysocki for more than 20 years on public-private projects across the country. Together we've successfully delivered 1.6 million square feet of VA clinics and GSA facilities," explains Rick Baier, Principal, USFP. "The community impact is virtually immeasurable. But knowing that we're able to continue the mission of helping bring care to those who served in the Armed Forces is an incredible honor."
"This is an exciting time for the VA as it strives to more effectively deliver care to Veterans and their families through patient-centered, healing environments," said Mitch Hoefer, AIA, NCARB, and CEO of Hoefer Wysocki. "The VA is committed to community outreach and engagement and delivering innovative healthcare services. As such, it has made an extraordinary investment to modernize its facilities across the U.S. We're honored to be working so closely with USFP to support the VA's long-term goals and core values."
Each clinic is guided by a design theme that is woven throughout the interior and exterior spaces, resulting in an environment that is warm and welcoming for patients and visitors, provides efficiencies for providers and administrators, and engages the surrounding community.
"With the growing number of Veterans in our nation, it is imperative that their healthcare needs are fully addressed," said Hosam Habib, AIA, Principal, Director of Design at Hoefer Wysocki. "Each clinic is uniquely designed to empower Veterans to gain ready access to healthcare, to enable providers to deliver the highest quality care, and to engage and improve the communities in which the clinics are located. To that end, the design of each clinic is inspired by its community context, the site and its topography, and a spirit of compassion for our Veterans."
The design of each clinic embraces the VA's Patient Alignment Care Team (PACT) delivery model, a patient-driven, proactive, team-based approach to healthcare focused on wellness and prevention. Efficiency is also a driver of clinic design. Unlike a linear design, which has shared corridors and publicly exposed workstations, the VA clinics feature an onstage/offstage approach to exam room layout. This approach separates patients and visitors from staff with dedicated patient corridors leading to exam rooms (onstage) and enclosed staff work zones (offstage). Such a design will improve staff workflow, reduce travel distances, increase collaboration, protect confidentiality and privacy, and reduce patient throughput and wait times.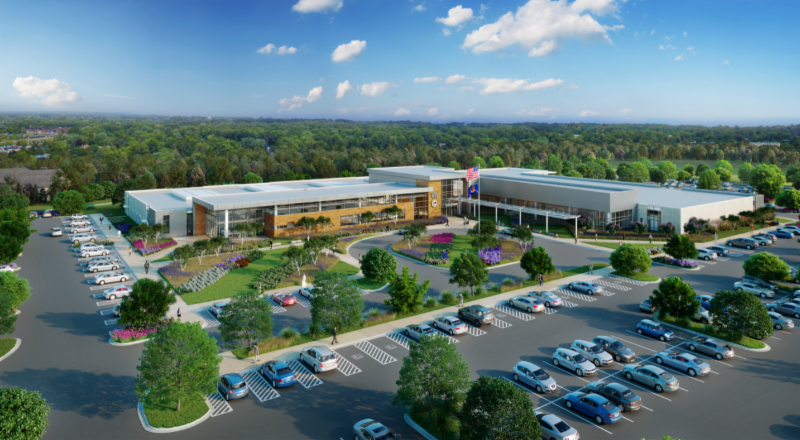 VA Community-Based Outpatient Clinic, Chattanooga, Tenn. – "A Beacon of Hope" The design centerpiece of the single-story, 100,570-sq. ft. Chattanooga clinic is a transparent, iconic "Beacon of Hope" – a distinctive 32-ft. glass and wood structure that marks the main entry, creating a strong visual identity and sense of place. A brick veneer on the exterior imparts a feeling of comfort and permanence. The clinic is nestled into rolling terrain with native landscape and green space along Shallowford Road, an iconic memorial to veterans. The outdoor environment, created through extensive landscaping, site amenities, architectural elements and native plantings, contributes to a setting conducive to healing by emphasizing a connection to nature. Waiting areas in the lobby feature expansive glass walls and a clerestory providing abundant daylight and views of the surrounding landscape.
The clinic will include five PACT modules that accommodate a total of 40 care teams serving 65 exam rooms. Each PACT module will include specialty clinics, telehealth and standard exam rooms. The new facility will offer audiology, imaging, pathology, lab, dental and mental health services as well as diabetes and healthy eating counseling to the area's 25,000 veterans.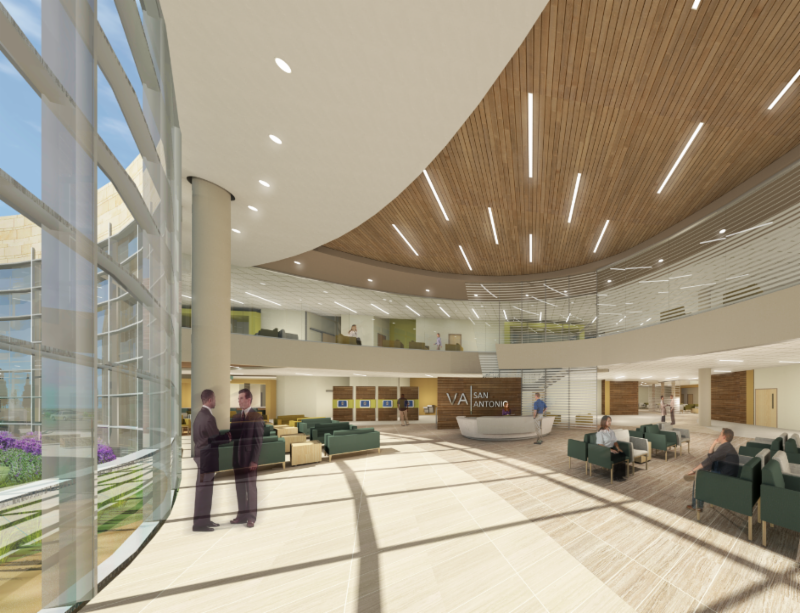 VA Outpatient Clinic, San Antonio, Texas – "A Healing Embrace" The three-story, 236,595-sq. ft. VA San Antonio clinic welcomes patients with a healing embrace – a grand curved front entrance that guides wayfinding upon arrival. An atrium floods the main lobby with natural light and visually connects upper floors with the main level. The building's sweeping curves are defined by a glass curtain wall, flanked on either side by stone veneer. The exterior is clad in Texas limestone and glass. Effective site integration with extensive native plantings result in a lush, park-like, pedestrian-friendly setting, further contributing to the healing experience. The interior design finishes create visual connections to the exterior – visual and physical access to the natural elements creates a healthy, relaxing environment to comfort patients and visitors, and improves staff productivity and retention.
The clinic is designed around six PACT modules on two floors accommodating a total of 60 care and extended-care teams who will serve 128 exam rooms equipped for general health, telehealth and women's health. Each PACT team, which embraces a holistic approach to care, will include a pharmacist, mental health provider and case workers, enabling care to be delivered in a patient-centered environment where services come to the patient.
The new clinic will offer general and mental health, surgery, imaging, lab, pharmacy and CT/MRI services to the area's 150,000 Veterans. The new San Antonio facility also will offer dental services in a clinic featuring 50 dental chairs, a dental surgery suite and a prosthetics lab.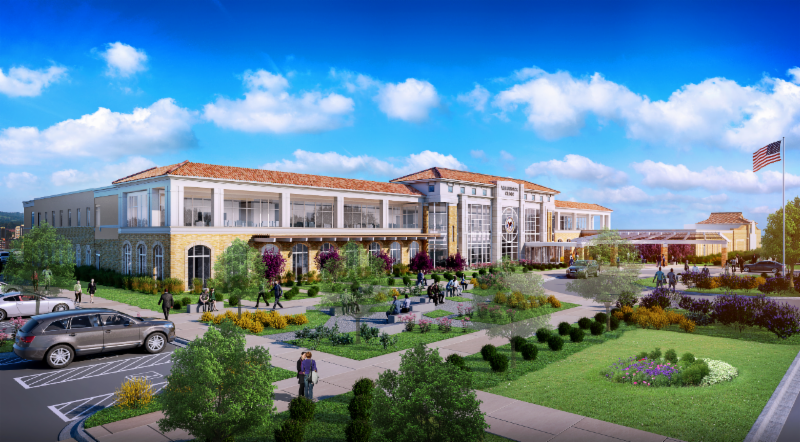 VA Outpatient Clinic, Lubbock, Texas – "A Healing Partnership" The design vision for the two-story, 124,696-sq. ft. VA Lubbock clinic is to seamlessly integrate with the Texas Tech University campus on which it will be developed while maintaining a distinct identity to welcome Veterans. Inspired by the university's rich history and well-preserved Spanish Renaissance Revival architecture, the clinic's exterior is reminiscent of this style and uses a complementary brick veneer and clay tile roofing. A soaring two-story glass curtain wall forms a majestic entry while flooding the interior with daylight, offering views of the surrounding Texas Tech Health Sciences Center and University Medical Center, and creating visual connection between the upper and lower concourses.
The new clinic will include an ambulatory surgery center as well as general health, dental, audiology, ophthalmology, MRI, radiology, pharmacy, lab and physical therapy services. The clinic also will include three PACT modules integrated with mental health services, providing accessible treatment for PTSD. This clinic will provide area Veterans with comprehensive healthcare services they would otherwise have to travel more than 200 miles to obtain. In addition to expanding the services and quality of care offered, the new clinic will serve as a hub of healthcare, serving the region's more than 300,000 veterans.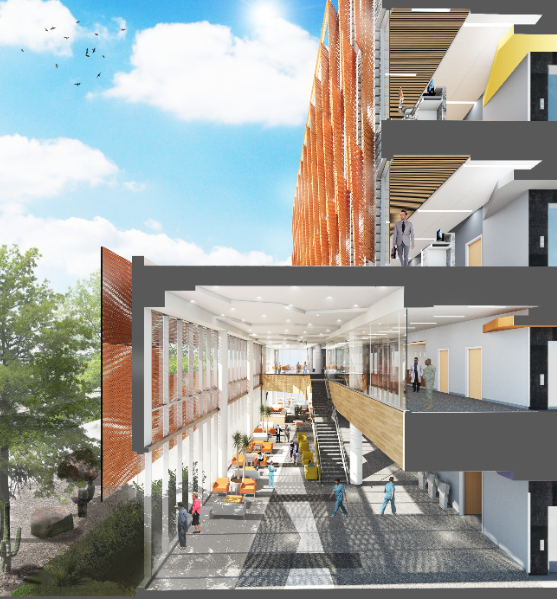 VA Phoenix Outpatient Clinic, Phoenix, Ariz. – "A Healing Oasis" At 275,157 square feet, the new Phoenix facility will be one of the largest VA outpatient clinics in the U.S., with more than half a million visits per year anticipated. The five-story clinic will include multispecialty and telehealth clinics, an education center, pathology and imaging. A full kitchen and canteen for staff and patients will be on the first floor. The second floor will house one of the largest outpatient mental health clinics in the valley, providing counseling and specialty mental health services, such as biofeedback and transcranial magnetic stimulation (TMS). Floors three, four and five will feature an innovative planning approach for the PACT module, which will accommodate 72 PACT teams serving approximately 180 exam rooms. Each PACT module will include integrated mental health, women's health, nutrition and pharmacy consultation.
The clinic design also emphasizes technology-based care including remote diagnostics and telehealth to serve patients from their homes or other clinic sites. Electronic self-check-in and mobile check-in are among the technology-centered amenities incorporated into the design. The VA Phoenix clinic design is inspired by Arizona's vibrant color palette, striations, elevations and geological formations.
The site, located in Phoenix's Valley Metro light rail Gateway district, includes transit-oriented development (TOD) features with access to public transit, pedestrian connectivity, shading and other features required pursuant to the prevailing City of Phoenix Walkable Urban (WU) Code. The five-story building integrates with the site to capture surrounding mountain views. Other key design elements of clinic include deep fissures carved into the facades and roof of the building, which align with the rugged terrain.
Sun-shading systems are integrated into the facade to efficiently and economically manage heat gain and ensure comfort. Dappled light filters through louvered panels into the cool and sleek interior, which mimic shade trees in an oasis. Linear paths and stairs frame the lobby to guide horizontal and vertical circulation and wayfinding.
In addition to USFP and Hoefer Wysocki, the design team includes Bob D. Campbell, structural engineering; Smith & Boucher, mechanical, electrical and plumbing engineering; Protection Engineering Consultants, LLC, facade design and specialty structural engineering; FSC, Inc., fire protection engineering; and Merrick, Green Globe consulting. Construction for each clinic is set to begin in summer 2019.