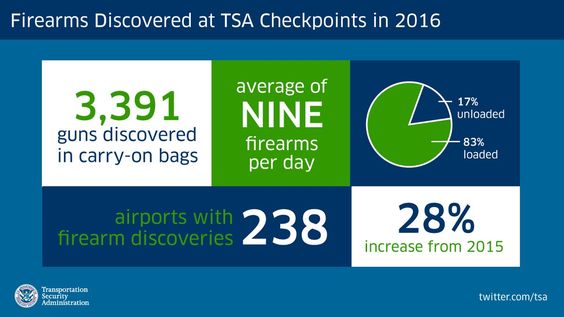 The Transportation Security Administration published in January a 2016 year-end round-up of firearms and other weapons discovered at its airport checkpoints around the United States. Here are the stats from the TSA's blog:
"In 2016, TSA officers screened 738,318,264 passengers (more than 2 million per day), which is more than 43,255,172 more passengers than for the same time frame in 2015. In addition to screening more than 738 million passengers, TSA officers also screened 466 million checked bags and 24.2 million airport employees!"
TSA reports: "3,391 firearms were discovered in carry-on bags at checkpoints across the country, averaging more than nine firearms per day. Of those, 2,815 (83 percent) were loaded. Firearms were intercepted at a total of 238 airports; 2 more airports than last year. There was a 28 percent increase in firearm discoveries from 2015's total of 2,653."
TSA published infographics detailing where the firearms were found, the trend line in finding firearms and the percent increase in finding the weapons.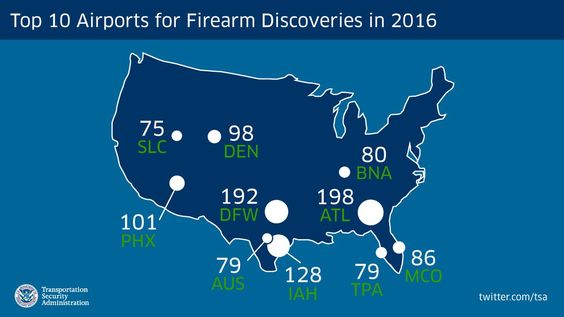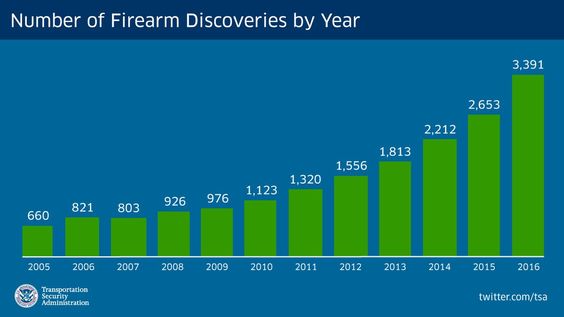 If you're wondering what are exactly the rules to travel with a firearm, the TSA  offers this advice on its website:
"You may transport unloaded firearms in a locked hard-sided container as checked baggage only. Declare the firearm and/or ammunition to the airline when checking your bag at the ticket counter. The container must completely secure the firearm from being accessed. Locked cases that can be easily opened are not permitted. Be aware that the container the firearm was in when purchased may not adequately secure the firearm when it is transported in checked baggage."