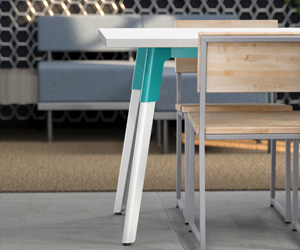 Inspired by Versteel's metalworking heritage and the possibilities of steel in architecture, Troupe redefines modern industrialism with simple, elevated details. Strong lines and soft curves collide to create a beautifully dynamic aesthetic. The tapered steel legs are formed and layered into an inverted shape to create a light, unique profile. Outfit Troupe with various power and data options, concealing wires within the concave leg.
Specify Troupe with options designed to complement a variety of formal and informal gathering spaces. Choose from three heights and top shapes (rectangle, square, and round) in varying sizes. Mix and match powder coat colors for dual-tone or monochromatic color schemes.
Troupe is designed exclusively for Versteel by Qdesign.
For more information visit versteel.com/product/troupe.