This VRLA battery delivers consistent, unrivaled high output and up to 3x the cycle life of standard AGM, especially in extreme deep cycle (up to 100% DoD), partial charging, or challenging environments. Available in 6-, 8- and 12-volt models, the battery delivers these benefits: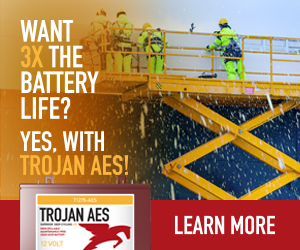 LASTS LONGER: Up to 3x more cycle life than standard AGM. Validated at 1,200 cycles at 100% DoD vs 400 cycles for AGM.
PERFORMS IN HARSH CONDITIONS: Robust performance in extreme temperatures and conditions. Temperature range is -40o F to 160o F (-40o C to 71oC)
DELIVERS HARMLESS PSoC: Tested to withstand long-term partial state of charging, again and again.
MAINTENANCE FREE: Virtually no maintenance as watering is not required.
SAFE AND SUSTAINABLE: Classified as non-spillable and can be safely mounted horizontally. It's made using 80% recycled materials and is 99% recyclable.
RUGGED DESIGN: Designed and manufactured to absorb vibration and shock.
WARRANTY: This VRLA battery is backed by a three-year warranty.
AGM CHARGER: Charge with existing AGM charger and profiles.
The product accelerates productivity in floorcare machines, golf/utility vehicles, access and material handling equipment, and renewable energy.
Learn more about Trojan's AES or find your local Authorized Trojan Dealer.