Armstrong Ceiling Systems has introduced Total Acoustics ceiling panels, a  generation of ceiling panels that feature the ideal combination of both sound absorption and sound blocking in one ceiling panel.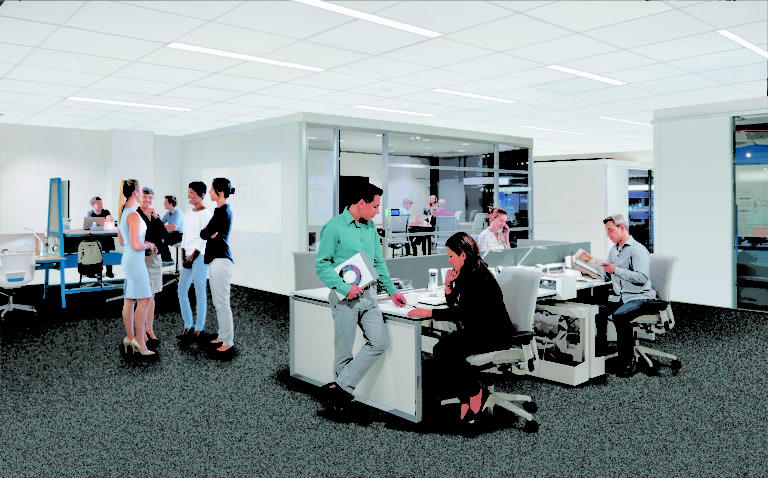 By providing the ability to both absorb unwanted sound and block noise from traveling into adjacent spaces, Total Acoustics ceiling panels are an ideal choice for today's flexible workspaces where a mix of private offices, quiet concentration areas, and collaborative teaming areas often share the same floor space. By meeting the acoustical needs of each type of workspace in a single panel, Total Acoustics ceilings also provide the ability to reconfigure the workspaces without changing the ceiling while still meeting the acoustical requirements of each space.
Sound and communication expert, Julian Treasure, collaborated with Armstrong for the introduction of Total Acoustics ceilings. "Noise is the number one problem in modern offices," he states. "A big part of addressing this issue is making sure unwanted sound from adjacent spaces doesn't intrude or interfere. It's time architects start designing for our ears as well as our eyes."
"Creating new products designed for acoustics in flexible interiors takes on importance as traditional acoustical recommendations are not always compatible with current design trends," states Jeff Hederick, Armstrong VP of marketing for Commercial Ceilings.
To make it easier to specify the right ceiling for a space, Total Acoustics panels are rated as good, better, and best based on their combination of sound absorption as denoted by their Noise Reduction Coefficient (NRC) and sound blocking as denoted by their Ceiling Attenuation Class (CAC). To meet the criteria for Total Acoustics performance, ceiling panels must have an NRC of 0.60 or greater and a CAC of 35 or greater. Ceilings with a CAC less than 25 do not adequately contribute to sound blocking.
Click here for additional information on Total Acoustics ceiling panels, including videos featuring Julian Treasure.