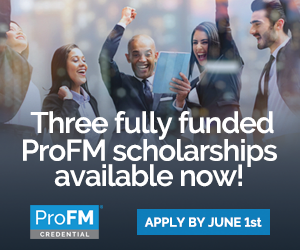 The desire for facility managers to upgrade their knowledge and skills is strong, but too often the funding is not available. In fact, 94% of facility managers say they would pursue an FM credential if they had the financial backing of their employer, according to the 2021 FM Training Outlook survey. 
That's why, for the third year in a row, ProFMI is offering three fully funded ProFM scholarships through its Elevating the FM Profession Scholarship Program.
One scholarship will be awarded in each of three categories: Professionals, Students and Young Professionals, and U.S. Military Veterans, totaling over $5,000 in funding.
"FM professionals are taking on more responsibilities and getting more attention within their organizations," said Stormy Friday, chair of the ProFMI Commission. "We want to ensure they're prepared to tackle today's challenges with confidence and are poised for their next career move.
Last year's Professional Award winner, Steven Early, summed up the impact a scholarship can have on recipients. "The ProFM credential represents a new avenue for growth in support of my personal mission to generate revenue, employ next practices informed by current research and resources, and increase the standing of the facility management profession."
Scholarship applications can be submitted online until June 1.