Diana Mosher, an editor with The McMorrow Reports, connected with Mark Mannon, VP, Product Development & Marketing, 9to5 Seating to discuss its two best-selling European task chairs, HÅG Capisco and HÅG Capisco Puls.
Wellness and ergonomics are top-of-mind for occupants of commercial spaces, facilities managers, and their design teams. Successful outcomes are tied to having the most comfortable sit-to-stand seating. This is 9to5 Seating's sweet spot. From its headquarters in Hawthorne, CA, 9to5 Seating focuses exclusively on the world's best seating with a wide range of products for multiple markets. From task to lounge, they design and deliver chairs that artfully combine function and form.
"We have a broad offering of seating across categories, and then we go deep in those categories," says Mark Mannon, Vice President, Product Development and Marketing, 9to5 Seating in Hawthorne, CA. "Customization is available in every one of those different categories for textiles, plastic colors, frame colors and different arm options or controls. Everything is made to order based on what the client chooses."
Recently, 9to5 Seating added two best-selling European task chairs to its stellar line-up. "We have taken over the U.S. distribution, sales and assembly of HÅG Capisco and HÅG Capisco Puls," says Mannon. HÅG Capisco starts at $1,450 List, HÅG Capisco Puls starts at $975 List. Feedback from the marketplace has been very positive.
"HÅG Capisco and HÅG Capisco Puls have been selling in Europe since 1984 and continue to show increases year over year in every major country in Europe," says Mannon. "The wellness movement is at a high level of visibility. People want to be comfortable and ergonomically supported in their chairs. We wanted to be part of that story. HÅG Capisco and HÅG Capisco Puls are the perfect chairs to do that. They are one of the few chairs that support the sit-to-stand desk both sitting and perching." These synergies are further reinforced by the fact that 9to5 Seating is now a part of Flokk, a European leader in seating brands that also owns HÅG.
The active seating movement
HÅG Capisco and HÅG Capisco Puls are movement task seating solutions by legendary Norwegian industrial designer Peter Opsvik. HÅG Capisco is upholstered and envisioned for use at primary workstations. The polypropylene HÅG Capisco Puls is a companion chair intended for conference rooms, lobbies, or team spaces—anywhere that sees shorter sitting periods. Both chairs are extremely easy to move around, and Capisco Puls is even lighter weight due to its polypropylene parts.
"HÅG Capisco Puls does very well in education and lab environments where easy cleanability is desired," according to Mannon. "From an aesthetic perspective, both chairs are timeless and versatile additions that work with any interior design style. Some ergonomic seating lacks good looks, but HÅG Capisco and HÅG Capisco Puls are appealing chairs with contemporary styling and elegant curves."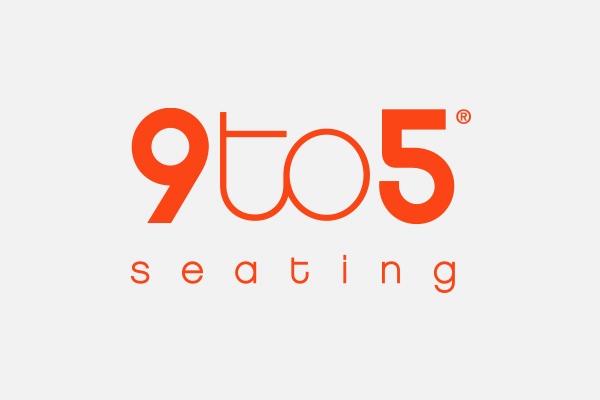 HÅG's wellness story resonates with users in a range of settings. "Whether you're working in the office or at home you want a comfortable, healthy chair," says Mannon. Opsvik designed both chairs with an innovative curved seat, reminiscent of a saddle, to promote natural upright positioning along with treaded footrests for relaxation or to help the user shift into different positions.
"The foot plates on the base are quite innovative," adds Mannon. "They are flat, so you can rest your feet. On other motion chairs your feet will slip off because the top of the base is not flat."
Both HÅG Capisco and HÅG Capisco Puls offer three cylinder heights: For sitting at a traditional desk, rising to a vertical position at a standing desk, or alternating between the two. The HÅG in Balance® trademarked technology allows for continuous motion, making the shift into the next posture easy and intuitive.
You can start by sitting with legs forward, or face left or right while using the backrest as an elbow support or sit facing backward with the torso against the backrest. A standard seat slider and height-adjustable back accommodate a variety of users—both the HÅG Capisco and HÅG Capisco Puls are rated to 300 lbs.
Customization and ecological impact
The HÅG Capisco can be specified from a range of textile options including woven, coated or leather from 9to5 Seating's carded or graded programs or customer's own material. HÅG Capisco Puls is available in Black, Petroleum and Light Gray plastic with either an upholstered pad or removable upholstered full cushion.
True to their European roots, HÅG Capisco and HÅG Capisco Puls are frontrunners in eco-friendly seating and that tradition continues here in the U.S. From first inspiration through design and production, the ecological impact of these chairs is a top consideration and priority. By minimizing the number of components and types of materials, 9to5 Seating maximizes environmental responsibility and reduces the carbon footprint. These benefits are passed along to the customer. HÅG Capisco and HÅG Capisco Puls are 90 percent recyclable and easy to disassemble for responsible sorting.
Also, HÅG Capisco and HÅG Capisco Puls are backed by 9to5 Seating's limited lifetime warranty, and they have achieved BIFMA LEVEL 2 and GREENGUARD Gold certifications. Both products are built with over 50 percent recycled material.
Mir family values
The Mir family launched 9to5 Seating in 2004, but their passion for seating was already ignited years earlier. In 1985 the Mirs received their first containers of imported chairs from Italy. 9to5 Seating's recent roll-out of HÅG Capisco and HÅG Capisco Puls is an exciting new chapter that focuses on wellness and healthy seating while continuing the family tradition of offering chairs with a high design aesthetic.
9to5 Seating is a frequent award-winner including the HiP award and the coveted Good Design Award. "Many times, we have the most competitively priced chairs, but we're about much more than low pricing," says Mannon. "Winning these design awards demonstrates that we put a lot of effort into product design and innovation as well. We are vertically integrated; so, unlike many of our competitors that rely upon suppliers to source all their components, we manufacture the majority of our components before we upholster and assemble our chairs," explains Mannon. "When we manufacture our components, we control the quality and obviously the costs—and we pass that value on to specifiers and consumers."
Another competitive advantage that has earned 9to5 Seating a loyal following is its best-in-class customer service. "We always put the customer first," says Mannon. "We make it easy to do business with us. Our fast lead times ensure that chairs ship in either five, 10 or 15 days, depending upon the fabric that the customer selects. We offer a lot of customization for our chairs," says Mannon. "We have thousands of fabrics from which to choose."
Technology helps 9to5 Seating's clients envision all their many options. "We're the first company to offer a chair designer visualization tool," adds Mannon. "You can choose the frame color, upholstery, with arms or armless, and plastic color. Then the chair appears on the screen. You can spin it 360 degrees, rotate it and see every angle of the chair. It also provides a price. You can add several chairs as needed for a project." Mannon says, "We make it very easy for a customer to obtain a quote and visualize a project."
HÅG Capisco and HÅG Capisco Puls are premium-priced chairs that will shine during a virtual demonstration, but they are best admired in person in a showroom. Now, with 9to5 Seating's responsibility for the U.S. distribution, sales, and assembly of HÅG Capisco and Capisco Puls, it is easier than ever to take these European classics for a test spin.
---