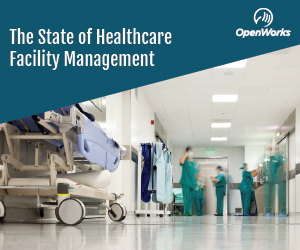 Whether it's a hospital with 1,000 beds or an urgent care clinic with 100 patients a day, healthcare facilities management's core promise is to empower the highest standard of care. But threats are causing standards to decrease. From shrinking margins to an aging workforce, healthcare organizations increasingly face issues that threaten their overall functionality and efficiency, ultimately threatening the quality of patient care, points out facilities services provider OpenWorks.
But, how did the industry get here? Folks generally go into healthcare to help other people. But, like anything, it has become the business of healthcare that runs like, well, a business. And as people are living longer, more people ultimately mean more care. And that more care leads to more healthcare facilities that need service.
The global healthcare facilities management market size was valued at USD $353,394 million in 2022 and is expected to expand at a compound annual growth rate of 10.15% during the forecast period, reaching USD $631,120 million by 2028.

Some of the primary drivers of the healthcare facility management market revenue growth include:
• rising investments in healthcare infrastructure and facility construction,
• rising healthcare expenditures,
• rising patient volume due to an increase in chronic diseases,
• and the pandemic that rocked the world, COVID-19.
Healthcare-associated infections caused by the physical environment are on the rise
Patients have the right to expect that their healthcare clinic (urgent care center, dialysis clinic, radiology center, chemotherapy clinic, etc.) provides a safe, clean, and professional environment.
They also have the right to a comfortable facility that makes them comfortable and gives them on-time treatment according to a schedule that meets their needs. They also have the right to expect that facilities, treatment, and equipment adhere to The Joint Commission Accreditation (TJC), Det Norske Veritas, Inc (DNV), Occupational Safety and Health Administration (OSHA) compliance standards, as well as AORN.
Those seeking wellness, including the immunocompromised, require peace while getting necessary treatments. However, in many cases, patients are not getting their rightful needs met. Those needs are all related to the healthcare or medical facility they visit.
However, something is broken here. The CDC recently reported that the physical environment is the fourth leading source of healthcare-associated infection (HAI). While the number of HAIs caused by therapy and actual hands-on care is reducing, the number of HAIs associated with the care setting is growing.
One of the biggest reasons for the increased number of HAIs is that facility management is seen as a cost center
How do we shift this mindset?
The healthcare industry faces difficult conditions in 2023, primarily because of continuing high inflation rates and labor shortages.
McKinley expects increased labor costs and administrative expenses to reduce EBITDA by about 60 basis points in 2022 and 2023 combined. Margins are not expected to return to historical averages until 2026.
As a result, many healthcare facilities will often focus on price when choosing a facility management vendor.
They will compare SOWs and select the lower price without thinking about the impact that the cheaper service can have on employees, patients, and the longer-term P&L. The inconsistent, noncompliant service puts a healthcare organization at risk of regulatory fines and shutdowns. In addition, it has employees removing their attention from the patients and onto facility issues, which impacts wait time. It leads to patients not feeling comfortable and safe in the environment, resulting in churn and patient loss.
Healthcare facility management is critical to medical facilities and ensures service requests are delivered efficiently and quickly to maintain operations without disruption. Effective medical facilities are critical to meeting people's needs. Appropriate medical facilities help reduce losses because they help save time, effort, and labor. The effective use of facilities can deepen the relationship between medical facilities and patients.
Failure to consolidate FM services is adding risks and costs
Because of the risks to patient and staff health inherent in the industry, healthcare facilities managers have the difficult task of ensuring that all services adhere to the codes and policies that the facility may need to conform to — and that providers are up to date on infection control trends.
This enormous task includes state and federal codes and standards from organizations, like the Americans with Disabilities Act, requirements from the EPA, and CDC policies.
Healthcare facilities need to partner with providers to ensure compliant service across all sites, especially if they want to be certified to receive reimbursement for Medicare and Medicaid. Healthcare is controlled by many regulatory requirements, with many varied requirements for different types of spaces. The uniqueness of different spaces in a healthcare system creates different complexities for vendors.
The array of vendors serving healthcare facilities can seem overwhelming. From suppliers of spare parts and equipment to contractors providing commercial cleaning, HVAC, landscaping, construction, and consulting services — facility managers have their hands full ensuring a reliable, cost-effective flow of products and services.
An even bigger challenge for managers is navigating the complexities of vendor management to ensure that the facilities support high-quality patient care. As healthcare facilities have become more complex in recent years, so has the landscape of vendors offering products and services to support operations.
Multiple providers with limited visibility and oversight with less opportunity for streamlining operations are leading to lower efficiency and misplacement of the facility manager's focus away from improving the patient experience and removing risk.
Consolidating healthcare facility management is more important now than ever as healthcare systems have been merging and purchasing one another, resulting in huge healthcare systems that have replaced local healthcare networks.
Facility leaders need greater visibility over the performance throughout their facilities portfolio to ensure that all healthcare environments are clean, safe, and compliant.
"Cleaning" needs to go beyond what is visible, as this is an inadequate indicator of the presence of soil or microbes. For too long, "clean" has been a subjective term determined by a simple visual assessment.
The fact is that surfaces appearing clean might not be clean when scientifically quantified or qualified. Remember, what you cannot see can hurt you – especially when working with an immunocompromised patient.
Unfortunately, too many providers clean for appearance versus cleaning for healthier environments and a better patient experience. These providers lack the education, processes, and tools for a healthy environment.
They'll use:
• spray bottles vs. a bucket,
• a mop and bucket vs. a microfiber mop,
• cotton rags vs. microfiber.
Unfortunately, they have no formal program for testing cleaning efficacy. With their flawed cleaning protocols, they are not aligning facility management and commercial cleaning approaches with state, local and national regulations.
And this is just one of the reasons why next-patient-room cross-transmission occurs in healthcare facilities.
Aggregated facility management services are adding risk
Some of the large healthcare systems use facility management aggregators that partner with local and regional supplier networks to pull people together through technology. But it impedes a more unified category solution.
In the aggregator business model, the firm collects information about providers, signs contracts with them, and then sells these services under its brand to healthcare facilities.
But this process becomes much more complicated in a medical setting. The expectation for performance and quality, and the understanding of the healthcare industry are higher and more important. Aggregators focus more on getting somebody out to the facility to fix a problem.
One particular challenge for managers in working with aggregators is ensuring service consistency. You don't know who will show up, and it could be a different person each time. This change in workers adds risk in healthcare when the group does not cater to the healthcare sector.
There is an understanding of the healthcare sector, the company, compliance regulations, guidelines, and specific nuances that need to exist. A revolving door of providers can't attend to this.
Healthcare cleaning is complex, especially when the clinic or urgent care center has high throughput. This equates to many surfaces that must be decontaminated and ready for the next patient.
With that increase in surfaces to be disinfected comes a corresponding increase in time pressure. When in-sourcing or using an aggregator, there will always be some absent resource; when additional cleaning is required, there are often insufficient resources.
As a result, clinic administrators and staff must take the attention off the patient experience and focus on facility issues. Navigating the healthcare facility becomes complicated for professionals, patients, and visitors. And ultimately, the healthcare facility fails because patients do not feel that they are in a safe environment with minimal cross-exposure.
Numerous other factors contribute to patient experience, including interactions with staff and their prognosis. Even these variables have roots in facilities. For example, well-coordinated floors can reduce the runaround for nurses and doctors, who have more time to spend with patients and can be more personable since they're not rushed.
The smoother the patient's transition through healthcare facilities, the better the experience. The same goes for doctors, nurses, and specialists. When facilities aren't a hindrance, they enable great patient care and superior patient experience.
Making medical facilities warm, welcoming, safe and relaxing
An above-and-beyond approach to healthcare facilities management has a powerful impact on patient experience and recovery prospects. The building and everything in it needs to support the actions and activities of the people using them.
With an experiential focus, there's an opportunity to transform healthcare environments from confusing, daunting places to environments conducive to comfort.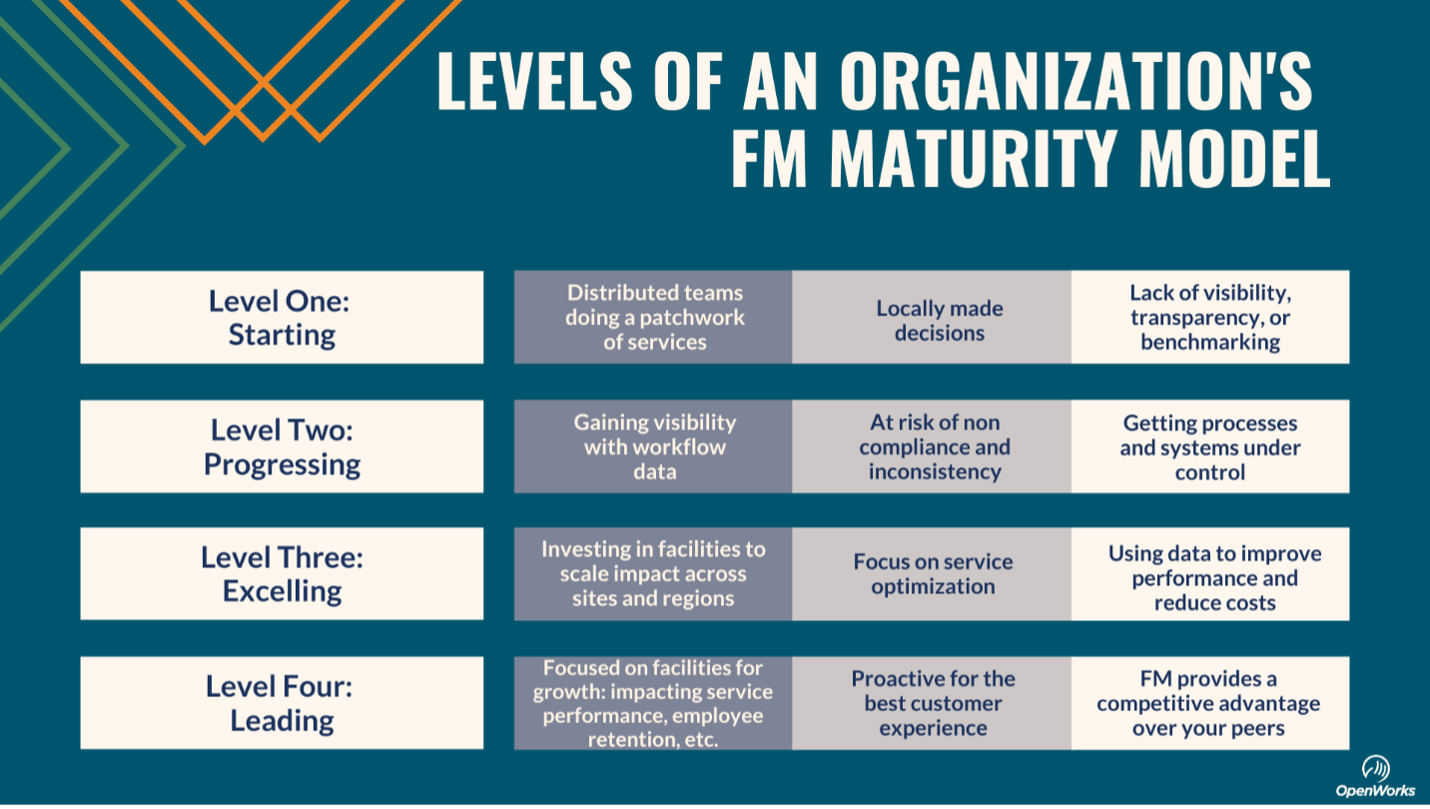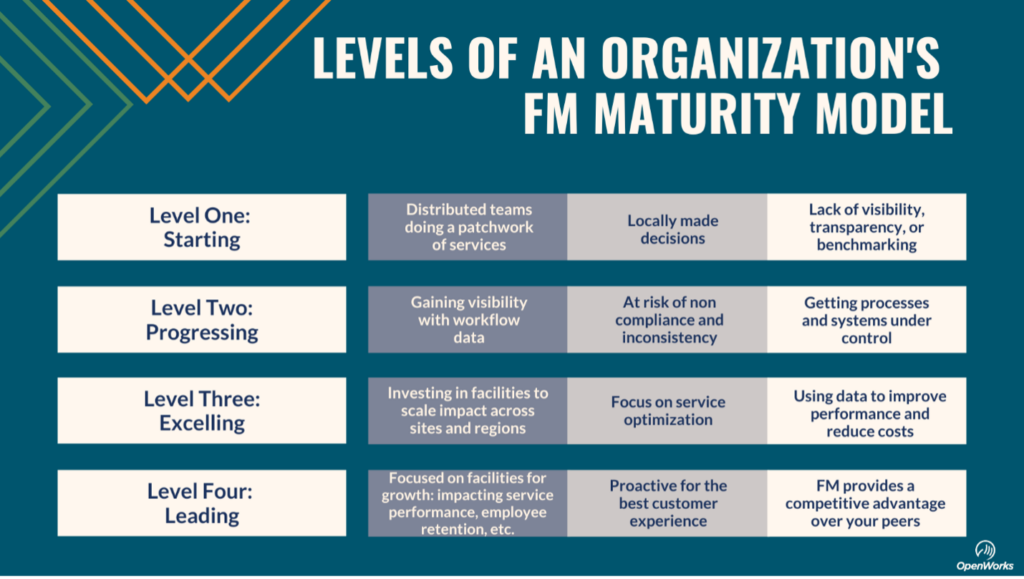 What is the maturity level of your facility management company?
To do this, healthcare organizations need to adopt a more mature model of facility management. So, what is the level of maturity of your facility management team? Call OpenWorks if you don't know or if it's below a Level Four. We're here to help.
OpenWorks is a nationwide provider of commercial cleaning and facility management services. The organization helps clients reduce risk and improve operational efficiency through a franchise service model with industry-specific, corporate oversight.