For the Multiple Sclerosis Center at Swedish Neuroscience Institute in Seattle, the architects and design team at Callison conducted extensive research on how multiple sclerosis (MS) patients interact with the built environment. Every major step of the clinical visit was studied. Friction points were identified and resolved. A patient focus group was created to influence and review design. The team learned first and foremost that the new space had to meet the various physical and emotional needs of people with MS.
Multiple Sclerosis is a degenerative disease that attacks the central nervous system, often resulting in impaired vision and mobility. In response to this, the design includes a special wayfinding program to guide patients easily and safely through the clinic. A hallmark of this program is the living, green wall that serves as a unique visual reference, greeting patients as they step from the elevator, guiding them to the patient and family waiting area or one of the two mirroring clinics on either wing of the Center.
Signage offers bright color contrasts and art is big in scale and easy to see. In addition, materials and finishes were selected for ease of movement, with transitions between materials carefully contrasted and placed to reduce the potential of trips and falls. Handrails offer needed support and opportunity for respite. Sliding doors and automatic door operators improve accessibility.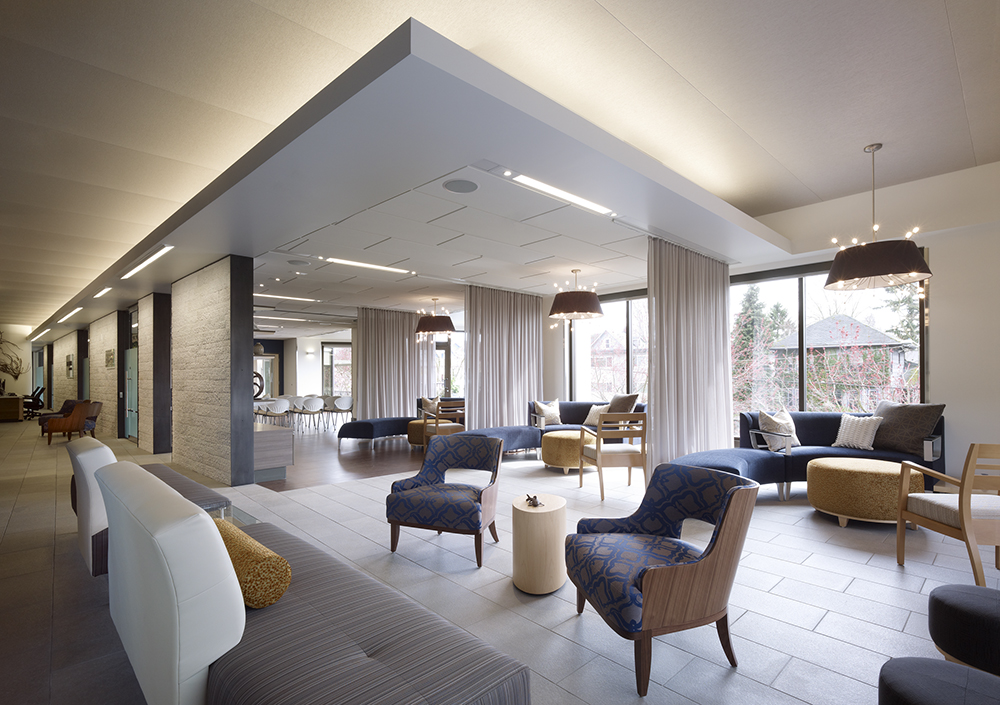 MS patients are typically scheduled for extended visits with many different care team members. A primary goal of the new Center was to consolidate previously disparate services to provide a convenient one-stop-shop. A typical visit to the Center can last several hours. The Patient and Family Waiting Area is designed as a centralized, comfortable place for patients and their families to rest between appointments.
Features include abundant natural light, floor-to-ceiling windows and access to an outdoor terrace. The space was designed so that patients and their families could open or close operable curtain systems placed throughout the space for more or less privacy, breaking the area down into smaller family units when desired. An educational wellness center is located adjacent to the waiting area. Displays feature educational material, research and news related to MS.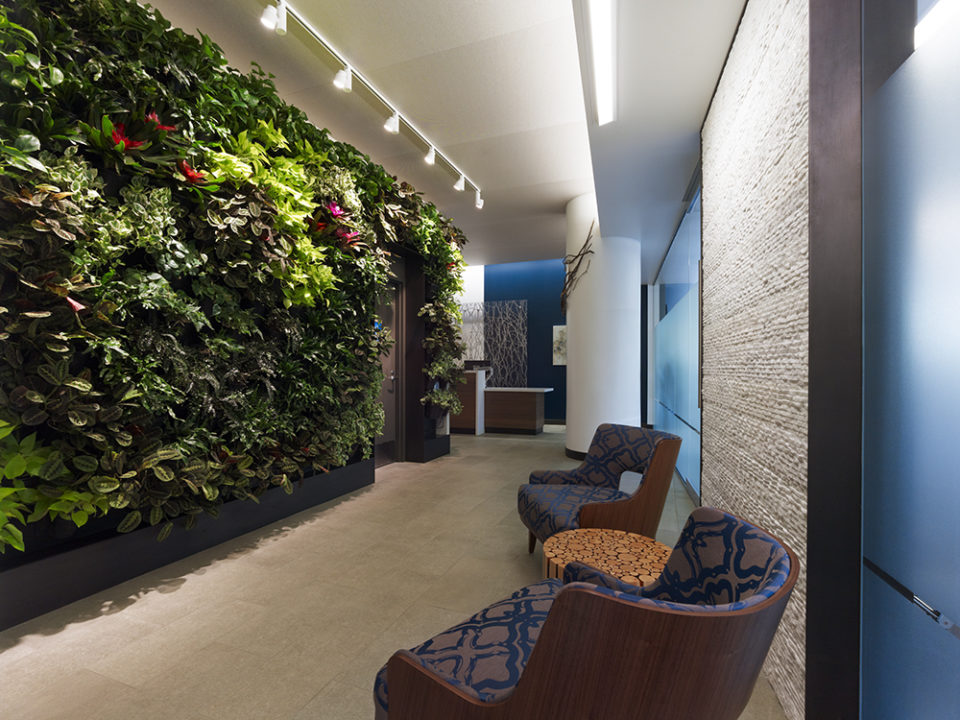 Turning to nature's power to heal, a main tenet of evidence-based design, the new waiting area invites inside as much of the outdoors as possible. A white, chiseled-marble wall envelops the lobby, complementing the adjacent green wall. The use of floor-length windows, transparent doors and open patient areas helps infuse natural light into every area within the Center.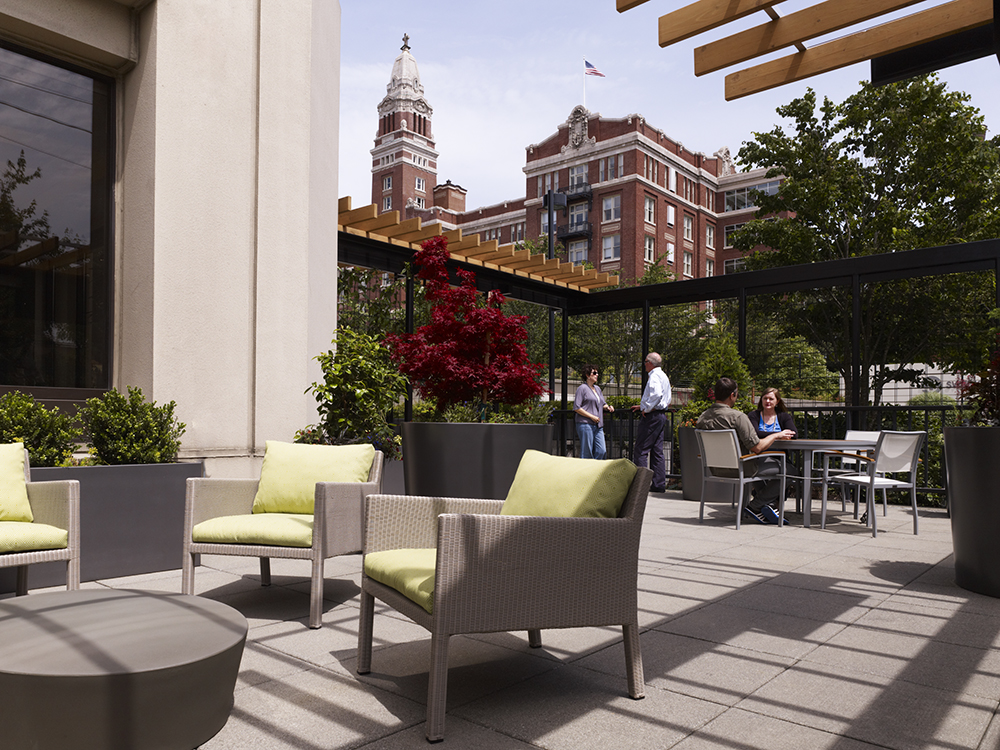 One of the more unusual spaces in the MS Center is the Outdoor Therapy Terrace, where patients can practice walking on a variety of surfaces without the risk of falling. An overhead patient lift system incorporated into the terrace's garden trellis allows patients, who are connected via a safety harness, to walk over irregular surfaces such as paving, gravel and sod.
The 14,500-sq-ft. remodel and renovation project was completed in April 2012. The Callison design team includes: John Jex, Theresa Wood, Chia Ling Khoo and Gil Jaffe.
The MS Center has received the following awards: IIDA Healthcare Interior Design Competition: Honorable Mention—Ambulatory Center; Healthcare Design Remodel Competition: Finalist—Family Spaces; and IIDA Northern Pacific Chapter IN awards for Best Design in Healthcare.
Photography by (c) 2013 Callison LLC.