by Keith Gray
Every day, hospitals face challenges from healthcare associated infections (HAIs), medication errors and accidents. Often referred to as "never events," these mistakes shouldn't happen. If they result in patient death or injury and result from a patient's hospitalization, they are not reimbursable by The Centers for Medicare and Medicaid Services (CMS).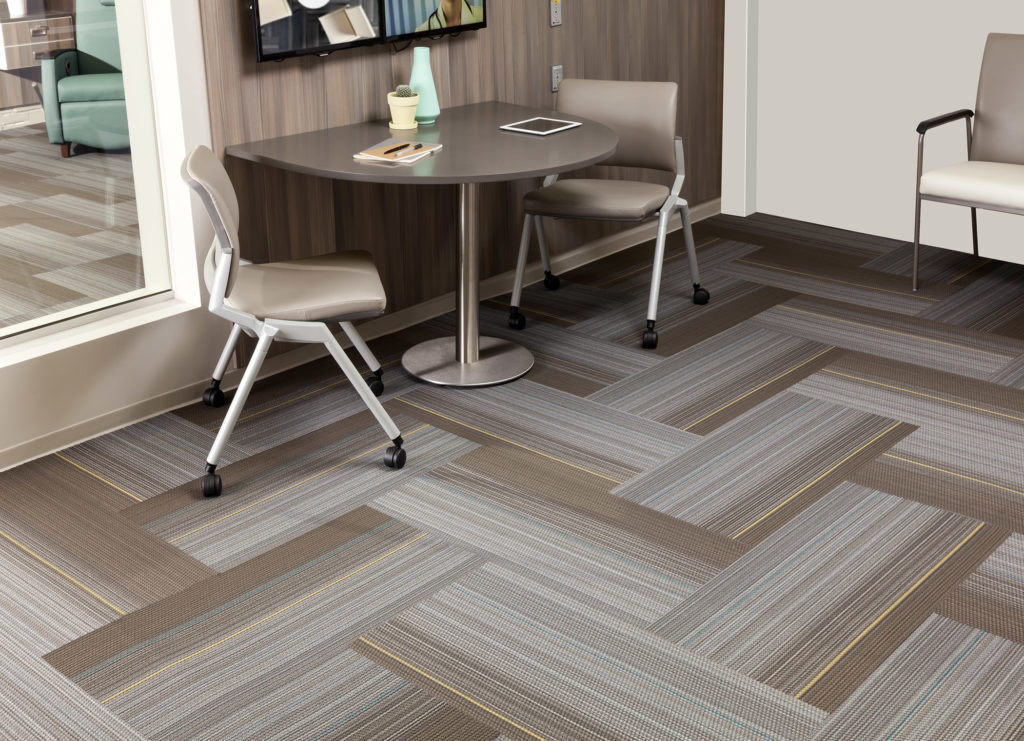 Hospitals can't afford lost reimbursements. Moody's Investors Service forecasts media operating cash flow growth for the not-for-profit healthcare industry in 2015 will range from -0.5 percent for hospitals with revenues under $1 billion to +1.5 percent for hospital systems with annual revenues above $2 billion.
J+J Flooring Group invests significantly in researching the human and financial implications of hard and soft flooring in hospitals. We share our findings with healthcare building professionals through "Healthcare + Flooring", fully accredited for a Continuing Education Unit (CEU) by the American Institute of Architects, Interior Design Continuing Education Council and The Center for Health Design's Evidence-based Design Accreditation and Certification program.
What follows are examples of how J+J's healthcare CEU course assists building professionals in making well-informed decisions based on human-centered metrics when specifying flooring for healthcare facilities.
Durability, maintenance and cost of ownership
Life expectancy is the most important purchasing factor for healthcare flooring. Flooring life expectancy depends on selecting suitably durable flooring for a given space, the amount and type of daily traffic in that space and following proper maintenance. All categories of flooring have reliable tests to validate durability.
Each type of flooring has its own cleaning methods and properly maintained floori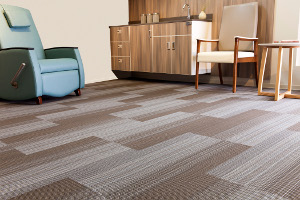 ng should meet life expectations. Inappropriate or infrequent maintenance dramatically shortens life expectancy and can void the manufacturer's warranty. Improperly maintained floors can also lead to slip/fall injuries.
Lifecycle cost of ownership (LCO) is more important than installed cost. An accurate LCO includes costs for demolition of existing flooring, subfloor prep work, flooring and installation materials, freight and annual maintenance. J+J has developed an LCO calculator which can be adjusted to consider local costs for materials and labor.
Healthcare-associated infections
A 2011 HAI prevalence survey by the Centers for Disease Control and Prevention (CDC) reveals that in a given day 1 in 25 hospital inpatients has at least one HAI. The study found nearly 722,000 cases of HAI in acute care hospitals, resulting in 75,000 deaths. The CDC estimates the annual direct medical costs of HAI to U.S. hospitals at about $35.7 billion to $45 billion, most of that being non-reimbursable.
The role of flooring in the spread of infections is uncertain. Peer-reviewed clinical studies directly relating flooring to HAIs do not exist. The CDC classifies flooring as non-critical in HAI prevention since flooring only comes in contact with intact skin. The CDC also classifies flooring as a low-touch surface and states that, as a low-touch surface, flooring does not require disinfection beyond normal cleaning and sanitization. Nevertheless, all healthcare surfaces, including flooring, should be resistant to solutions of bleach, quaternary ammonium salts and other common sanitizing agents used to clean biological spills.
Indoor air quality
Indoor air quality (IAQ) can impact health outcomes among patients and staff. The two most important IAQ factors to consider when specifying flooring are the product's VOC emissions and ability to sequester airborne particulates. VOCs may be emitted during installation, maintenance and post-installation of soft surface and hard surface flooring. Emissions come from the flooring products, the adhesives used to install them and the chemicals used for their maintenance. All mainstream flooring categories have standards for allowable VOC emissions from the floor covering, adhesives and other installation methods.
In occupied spaces, respirable and non-respirable airborne particulates such as dust, mold spores, and bacterial and fungal spores potentially can cause infections or trigger asthma attacks and allergic reactions. These particulates tend to accumulate on the floor, where foot-traffic turbulence can carry them into the breathing zone. Drafts from HVAC systems can further agitate the particles and keep them airborne.
Independent laboratory tests show that carpet and textile composite flooring are much more effective in keeping respirable particulates and pathogens out of the breathing zone.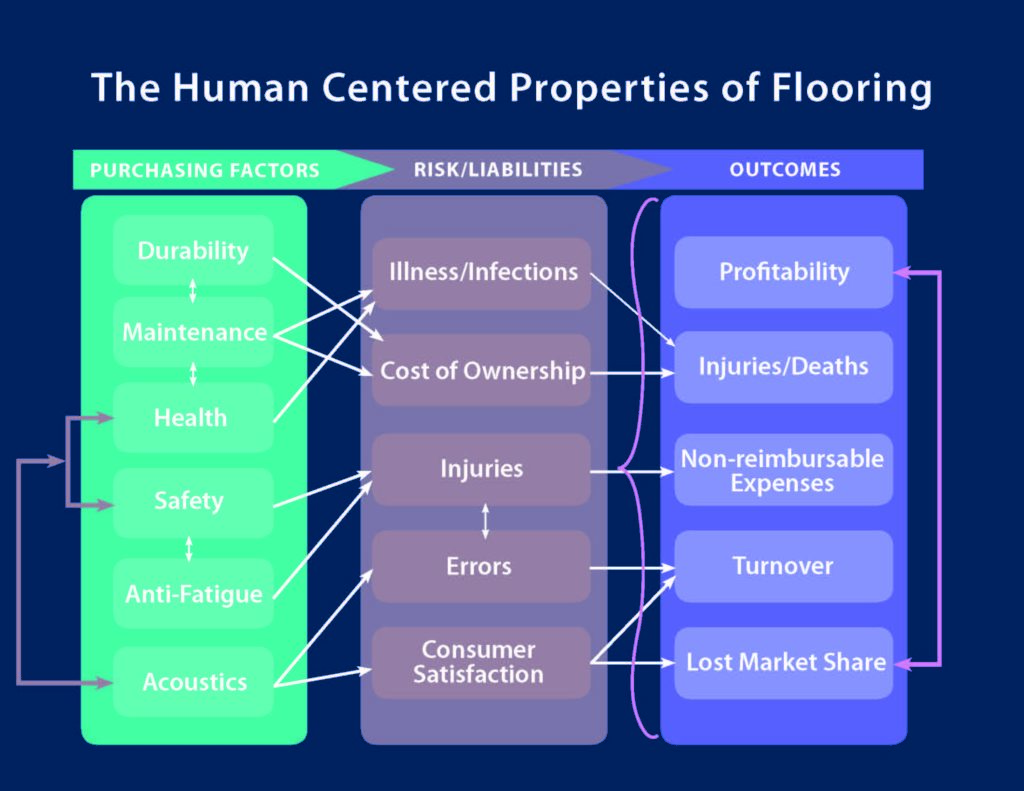 Healthcare facility managers and owners must consider several factors when it comes to purchasing the floor covering for their facility.  Factors such as durability, ease of maintenance, health, safety, anti-fatigue and acoustics can reduce and mitigate risks and liabilities associated with a flooring product. More importantly, the right floor covering can produce multiple benefits, including increased profitability, reduced injuries and deaths, and lower employee turnover to name a few.  Graphic courtesy of J+J Flooring Group.
Safety watch
Slipping and falling, pushing heavy objects and standing for extended periods are key culprits of flooring-associated injuries in hospitals. If injuries occur and medical treatment is required, the expenses are not reimbursed by CMS. The average cost of replacing a nurse injured on the job is at least $90,000.
Slip-resistance
Research shows that 46 percent of people who slip and fall on hard, shiny surfaces sustain injuries, compared to 17 percent of people who fall on carpet.
Results of published research and independent laboratory tests comparing surface traction of different floor coverings reveal that wet, soapy, hard surfaces such as vinyl flooring can have a coefficient of friction of .15 which is more slippery than ice. By contrast, wet, soapy carpet and wet, soapy textile composite flooring have coefficients of friction of .55 and .63, respectively.
Rolling mobility
Push/pull injuries are a major concern in the healthcare industry. The average hospital bed, unoccupied, can weigh 850 lbs., and an occupied bed can easily exceed 1,000 lbs. Often associated with high rolling resistance, these injuries incur an average indemnity payment of $11,800, according to a 2012 Aon Risk Solutions study.
Independent laboratory tests reveal that not all flooring has the same rolling resistance. In general, hard incompressible surfaces have low rolling resistance, and compressible surfaces have higher rolling resistance. This varies depending on cushioning. Carpet with a cushion backing or pad has higher rolling resistance and greater pushing-related injury potential than carpet without a cushion. Flooring without cushions, including textile composite flooring, broadloom and modular carpet, can have rolling resistance similar to hard surfaces, providing low rolling resistance and reduced pushing-related injury potential.
Anti-fatigue properties
 Heel spurs (plantar fasciitis) are a repetitive stress injury caused by repeated impact of the foot against a surface. It is a common lower extremity injury suffered by bedside care providers. Nurses with heel spurs may have difficulty walking to a patient's bedside and delivering optimal care.
Specifying flooring with anti-fatigue properties can help to prevent and minimize repetitive stress injuries. An anti-fatigue surface dissipates foot pressure whereas a surface lacking anti-fatigue properties does not absorb energy, putting greater pressure on feet.
Independent laboratory test data shows that carpet tile and textile composite flooring exhibit anti-fatigue performance. It also shows that non-cushioned carpet tile, which has the low rolling resistance that is desirable for pushing hospital beds, is just as effective in preventing standing fatigue as cushioned carpet tile which has higher rolling resistance.
Hard surfaces in general, including those referred to as "resilient." have not been shown to have any useful anti-fatigue properties.
Acoustics
Evidence shows that high noise levels in hospitals worsen patient and staff outcomes, including sleep quality and psychological stress. Patients taking sedatives to combat sleep disruptions caused by hospital noise could be at higher risk of falling, which could lead to injuries. High noise levels can also potentially contribute to reduced speed of patient wound healing; unhealed wounds are potential sites for HAIs. Falls and infections are non-reimbursable by CMS.
High noise levels can impact speech intelligibility – the degree to which speech can be understood – which is critical to delivering good medical care. They can also contribute to medication errors, the results of which are typically non-reimbursable.
CMS links reimbursements for patient stays to a hospital's scores on the Hospital Consumer Assessment of Healthcare Providers and Systems survey. On average, the survey results show that patients are most dissatisfied with the "quietness of the hospital environment." The lower the satisfaction score, the smaller the reimbursement.
When specifying flooring, it's important to consider the product's sound absorption and noise reduction capabilities. Independent laboratory tests show that carpet and textile composite flooring control noise more effectively than any other floor covering, contributing to a quieter environment and supporting speech intelligibility.
J+J Flooring Group has published a series of technical papers that discuss the impact of flooring on different aspects of the built environment and the people within that environment. The technical papers are available on the Kinetex site.
For more information about J+J's Healthcare CEU course, please contact David Daughtrey.
Keith Gray is the Director of Product Innovation for J+J Flooring Group. Recognized as a leader in evidence based design flooring research, Keith Gray drives new product commercialization and plays a key role in developing the business and marketing strategy for the J+J Flooring Group's commercial market segments.  Gray is a frequent presenter at major health care and education conferences including Healthcare Design, Healthcare Facilities Symposium, and the Council of Education Facility Planners, as well as regional and local events sponsored by AIA, IIDA, AAHID and APPA.  A scientist and engineer by training, Gray presents a unique technical perspective on the properties of flooring and how they affect the occupants of a space.
Gray received a B.S. from Louisiana College and and M.S. in Polymer Science from The University of Southern Mississippi. He holds over 20 U.S. and foreign patents for commercial floor coverings, engineering plastics, industrial textiles, and automotive passenger restraints.