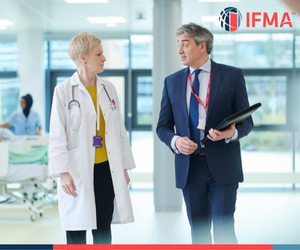 Perhaps no other industry is expected to be a model for high-performing, wellness-minded facilities than health care; yet the time, skill and costs to upgrade and modernize aging buildings, systems and operations can create opposition to a sustainability investment.
Facility managers (FMs) well-versed in sustainable strategies can identify and prioritize investments and practices to elevate financial, environmental and occupant well-being. How do FMs acquire this specialized knowledge? Through training offered by the International Facility Management Association (IFMA).
IFMA's sustainability training options
IFMA's Sustainability Facility Professional® (SFP®) credential helps facility managers make data-driven decisions and understand best practices while leading a corporate culture shift. The three-unit program is designed to help FMs increase efficiency, think strategically, and improve organizational performance, waste streams, indoor environmental quality and cost savings.
IFMA's SFP will help you operate buildings sustainably, whether they're certified or not. Once you certify a building, it's "done," and you must maintain that certification. Those who hold the SFP credential are an extension of the building certification – the final step in investing in future protection. IFMA-trained professionals are prepared to identify, develop, implement, support and maintain an organization's sustainability strategy. 
Anyone new to sustainability should learn the basics of resource management with IFMA's Sustainability Course. If you purchase this course, you receive a dollar-for-dollar credit toward the cost of the SFP.
IFMA supports health care FMs
IFMA has opportunities for FMs to connect with fellow professionals who understand the unique demands of working in health care facilities. FMs who join IFMA's Health Care Council are able to participate in Engage – a global online community where you can network and troubleshoot with other FMs.
The November/December 2021 issue of IFMA's FMJ Magazine is focused on sustainability. Facility thought leaders discuss FM's role in green initiatives at the hyperlocal and global levels. Featured articles include how FM teams can implement sustainable strategies in corporate real estate, waste management, restoration, flooring and roofing, as well as post-pandemic hygiene products. Other articles highlight circularity as FM's new economic model and meeting local and national benchmarks.
Facility managers who join IFMA receive discounts on training programs, free access to FMJ and the opportunity to join the Health Care Council. 
IFMA has everything you need to make a difference in your health care facility. Visit www.ifma.org to learn more.