The Gridd adaptive cabling distribution system enables a building to adapt to inevitable technology changes, remain highly functional and operational, and saves money at every stage of its life cycle. An original contributor to the circular economy, Gridd's fluid, modular design enables moves, adds, and changes without the mess of traditional cabling methods. If a facility manager can avoid contributing to the waste stream, that's also an added benefit to the company's ESG commitment.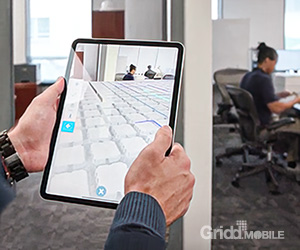 The Gridd Mobile App makes it even easier for FMs, IT teams, electricians, and maintenance personnel to make power and data cabling. Gridd Mobile provides augmented reality (AR), technical support, as-built drawings, how-to videos, original site pictures, and product information conveniently accessible on a smartphone or tablet.
Gridd Mobile allows facility techs to see exact power, voice, and data cabling locations through the floor in an instant, making systems' changes quick and easy. Gridd Mobile improves the life of your facility, allowing future facility teams, even years from now, to make moves, adds, and changes to the same space with ease. When using Gridd Mobile, there is no knowledge lost between teams.
Gridd Mobile is backed by the design and technical support team at FreeAxez® to include customized content for your facility.
See Gridd in action and learn how the Power to Change just got easier with augmented reality on the Gridd Mobile App.