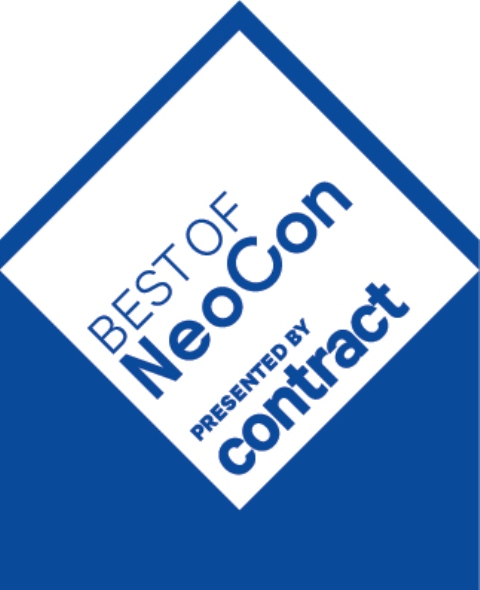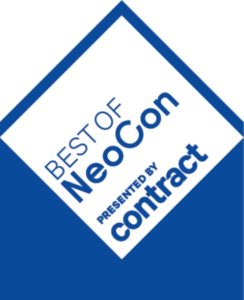 by Eileen McMorrow
As the Director of The Best of NeoCon Competition, I am always asked what was a unique contribution, different, innovative or exceptional. When 375 products enter the Competition, presented by Contract magazine, and sponsored by NeoCon and The McMorrow Reports, it can be overwhelming to choose. But then I watch the entries arrive and listen to the enthusiasm of the jurors who are interior designers, architects and facilities managers. Certain trends and products do rise up in the pack–even after 29 years.
The softening of the office interior is an expanding trend seen in the lines of furnishings that are scaled toward residential, responding to the influences of hospitality in the workplace, a mobile workforce, and the reduction of work space into small team areas that will not support oversize sofas, massive conference tables and extensive casegoods. If it feels smaller, it is, but manufacturers are responding in terms of scale and finishes.
Silea EH caseg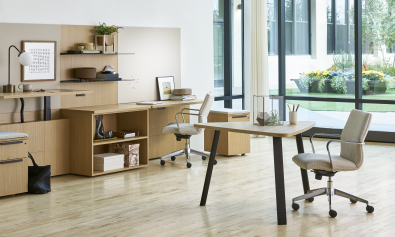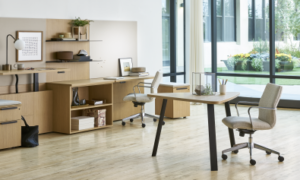 oods from Gunlocke, designed by IDa, feature enclosed office spaces suitable for the executive, minimal footprint and minimal aesthetic offices, and applications suitable for small enclosures used for private calls and touchdown work. A private office can transform into a small meeting space or video conferencing area by incorporating multi-use elements that adhere to a person's work style. Storage lockers with display shelving and hidden storage for personal items can also serve as a collaborative whiteboard.
A light-scale bench with a high level of flexibility that supports personalization, Inscape's RockIt bench adjusts for height and offers a clever kit of accessories designed for constant change. Engineered with a compact spine and a canted universal leg, RockIt (below right) is designed for stability, durability and maximum flexibility.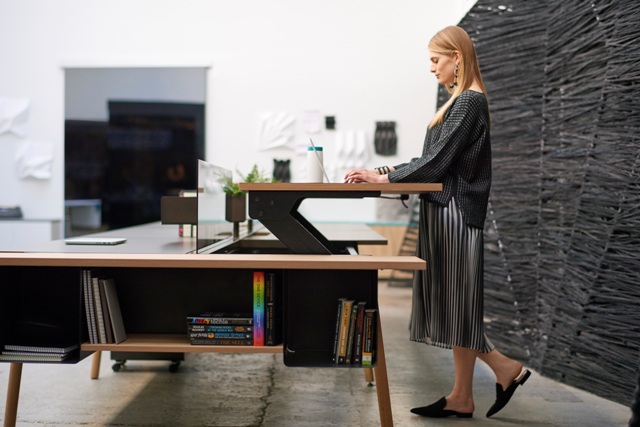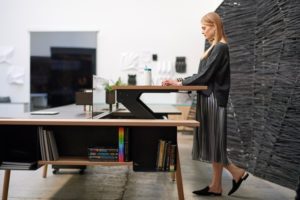 Biophilic elements such as extended planters for ample greenery and natural wood details bring in nature.
Manufacturers are offering furniture solutions whose finishes meet all levels of professional and budget. The less expensive solutions that may have laminate finishes are remarkable in their appeal.
Keilhauer's untucked, the Best of NeoCon Best of Competition winner,  made the most of the message that the workplace is changing and took a bold step with a complete collection designed by EOOS that heralds the changes and responds.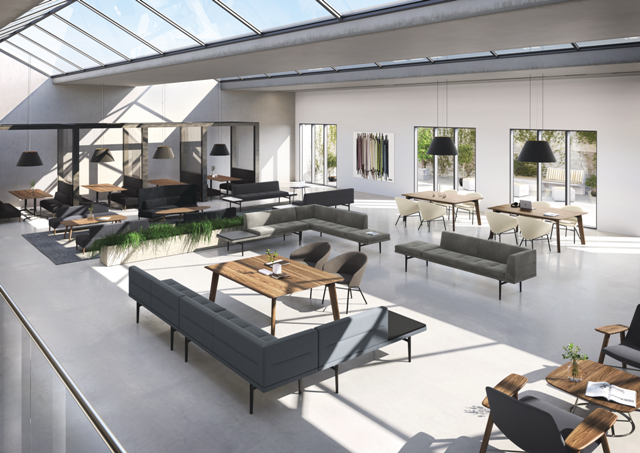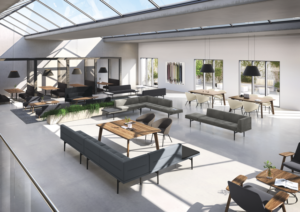 Dubbing it "soft contract," each piece in untucked conveys a different intention and use which contributes to the built environment's functionality, from loud, high-energy gatherings to quiet, focused conversations.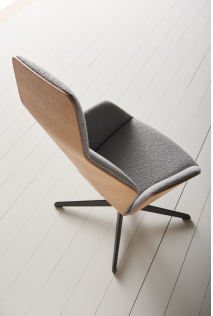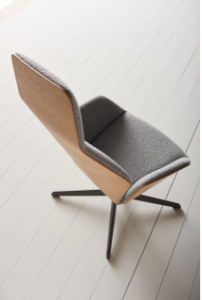 The Davis Furniture chair, Ginkgo Ply Lounge, (right) brings a relaxed and residential feel with a sophisticated look for a variety of applications. The iconic shape of the Ginkgo family is reinterpreted with an elegant silhouette, offering a comfortable, clean design from Jehs + Laub.  The Four-Prong Pedestal base mimics the original Ginkgo Lounge base design – available with fixed, swivel, and memory return swivel options. The Best of NeoCon jurors gave it a Gold Award and c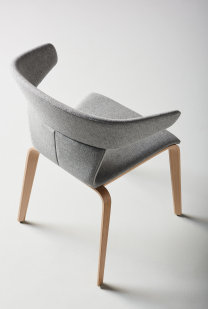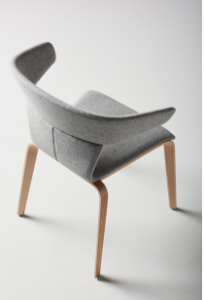 omment that it has a wonderful classic look, very comfortable, a nice firm sit with good height on the ottoman when sitting. Tango, (left) also from Davis, got a nod with the Editors' Choice for Guest Seating. This low-density stacking chair offers three base options – four leg steel, wire, or wood. Tango's construction allows for a unique range of upholstery options including fully upholstered with choices for contrasting materials. The chair itself is available in oak and walnut veneers with painted options in white and black.
Connectrac (below) returned to NeoCon and was delighted to be back on the sevent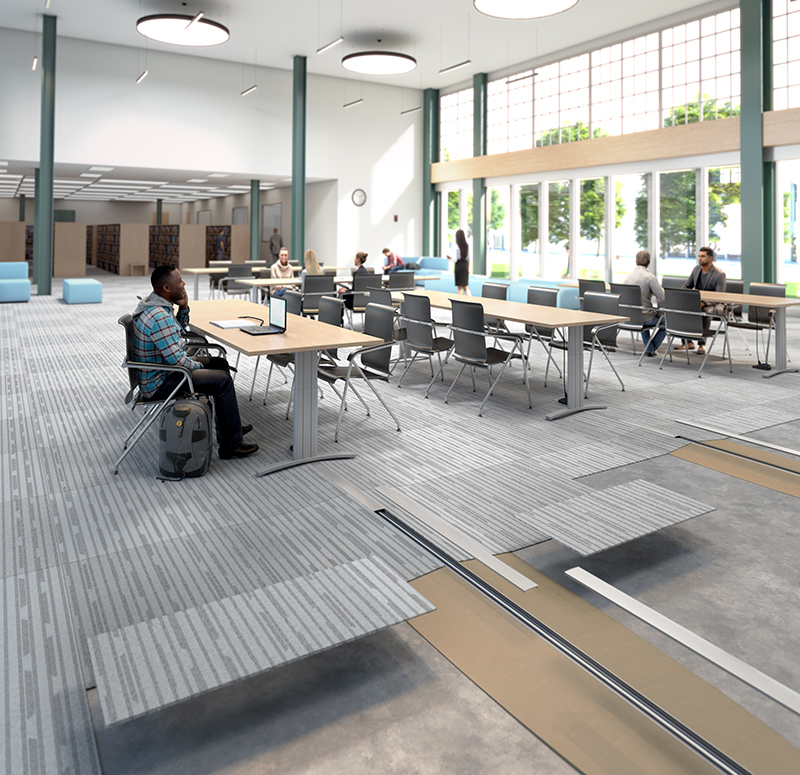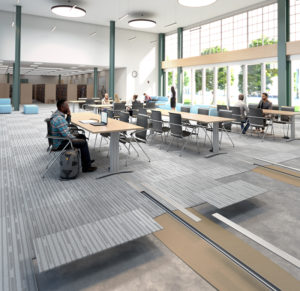 h floor, next to the visual eye-candy of display of Doug Mockett pulls, handles and hardware, according to CEO Clint Strong, who experienced fantastic booth activity and a design industry that wants to be part of the wire management solution. We may all be using WiFi but real-life work is hardly wireless. Facilities managers are expecting designers to share in the wire management solution, and Connectrac has just the fix.
This year also saw an increase in the variety and number of creative solutions designed to improve acoustics in the open-plan workspace. Unika Vaev introduced its stylish ecoustic Sculpt Ceiling Tiles, that were lauded by all the Best of NeoCon jurors.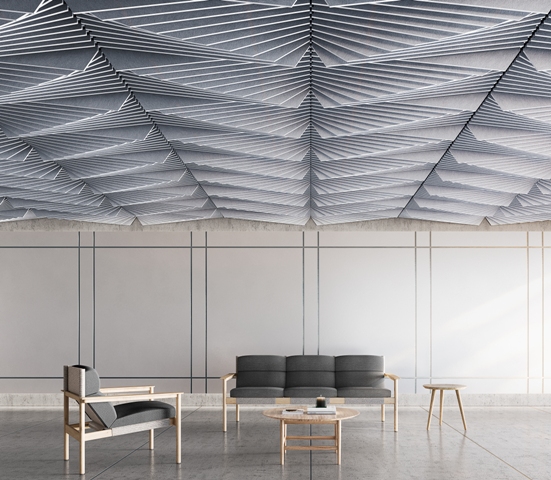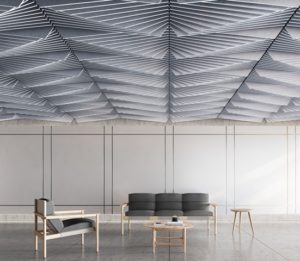 Darran's ThinkingQuietly conference line also offers ways to find peace and quiet within collaborative spaces including The Con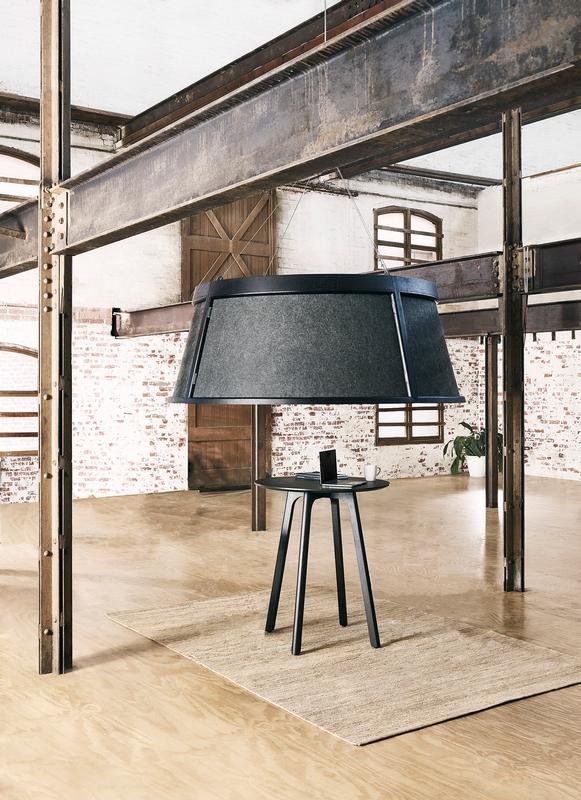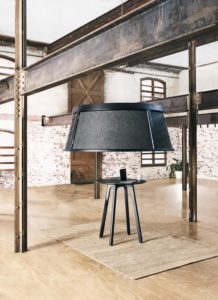 e, (below right) a movable overhead enclosure with acoustical properties that is lowered over the meeting table to reduce noise and increase privacy. The preferences of the Millennial workforce have also influenced workplace design with furniture and furnishings that reflect a more playful approach to work such as BuzziSpace's BuzziHat decorative lighting. Designed by Belgian designer Alain Gilles, the hat-shaped lighting series not only provides lighting from above, it also absorbs sound.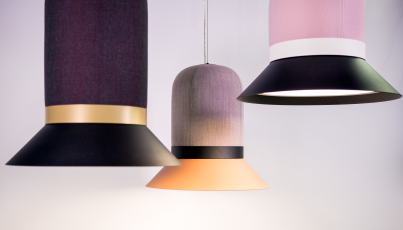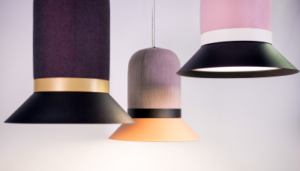 With its dense foam core, BuzziHat provides a high performance acoustic treatment, while also supplying great light output above a workstation or meeting space. Developed by BuzziSpace specifically to tackle noise issues in large, open plan spaces through the principle of absorption, BuzziHat is innovative for its targeted approach to acoustic control, which is further enhanced by its integration of dimmable, functional lighting within a decorative design.
Notable Japanese office furniture manufacturer Okamura has expanded its Alt Piazza Collection with Tiered Benches consists of welcoming semi and quarter circles along with straight linear options allowing for numerous configuration possibilities.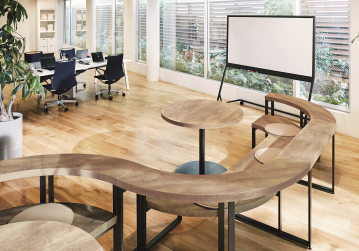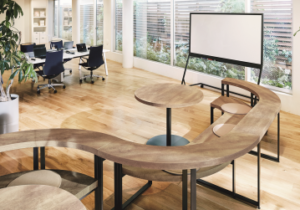 The seating can be placed in lobbies as well as collaborative spaces or gathering areas. Its openness and creative forms create an approachable environment, in which people are comfortable to share more ideas and explore collaborations. Power outlets are located under the seat, making it easy to plug in. The bench can be used in different ways, making it a place to relax, work, or collaborate with others.
The 42 Best of NeoCon jurors from corporate, healthcare, and higher education design firms and facilities always put in perspective when choosing the Gold or Silver Award winners. They ask, 'Would I specify it for my client or my company because of its aesthetics, and will I be rewarded when it stands the test of time in terms of durability and satisfaction for the users?'