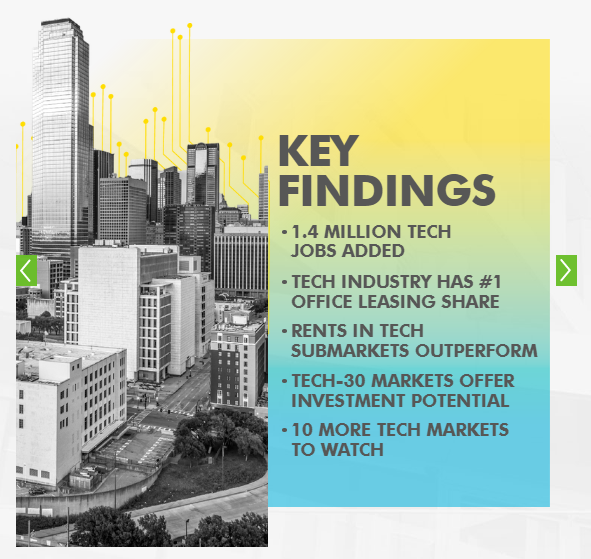 The tech industry has claimed an increasingly larger share of major U.S. office-leasing activity as real estate and economic indicators point to continued momentum for the sector over the next two years, according to CBRE's annual Tech-30 report. The report measures the tech industry's impact on office rents in the 30 leading tech markets in the U.S. and Canada.
CBRE's analysis found that tech companies accounted for 21 percent of major office-leasing activity in the first half of this year, up from 11% when CBRE began tracking the figures in 2011. Strong leasing activity is fueled by the tech sector's robust job growth, which even as it slowed to 4.5 percent in this year's first half due to tight labor conditions is still more than double the national job-growth rate. Vancouver and San Francisco had the fastest tech job growth in this year's report.
"The North American tech industry has diversified its economic base as it has grown, expanding its presence in many Tech-30 markets," said Colin Yasukochi, executive director for research for CBRE's Tech and Media Practice and co-author of the report. "Meanwhile, large tech companies have been an ongoing source of demand; The 10 most active tech companies leasing office space since 2013 account for 27 percent of overall tech-industry leasing."
Office-rent growth has been strong for the Tech-30 in the past two years, with 10 markets posting double-digit percentage growth in average rents over this period, led by San Francisco. Overall, rents increased in 28 of the Tech-30 markets since 2017.

"In markets like the Tech 30, tech-job growth is a strong indicator of office-rent growth," said Lexi Russell, a CBRE director of research & analysis and co-author of the report. "We've seen this for many years in tech capitals such as Silicon Valley and Seattle, but it's also true in next-generation tech markets like Charlotte and Atlanta as well as rising tech markets like Ottawa and Kansas City."
CBRE points to high levels of venture-capital investment and the steady climb of the Nasdaq Index as leading indicators of high-tech employment patterns and, by extension, demand for office space.
CBRE's report examines rent gains, rent premiums and net absorption in submarkets that have emerged as tech hot spots within their cities. CBRE's analysis found that leading tech submarkets registered an office-rent premium of 14 percent in comparison with the average in their respective cities. Among those with the biggest rent-growth percentages in the past two years are Midtown Atlanta (+28.1 percent), Raleigh-Durham's RTP/I-40 Corridor (+24.1 percent) and Downtown Nashville (+19.4 percent).
The report also indicates that Portland, Raleigh-Durham, Atlanta, Washington, D.C. and San Diego offer a high potential for investors because of their attractiveness to occupiers, low office rents and growing high-tech labor pool.
For the first time, this year's report examines 10 up-and-coming tech markets outside of the Tech 30. CBRE identified these 10 markets based on their number of tech-industry jobs.

To read the full report, click here.