Tarkett, a leader in innovative and sustainable flooring and sports surface solutions, released its 2021 Corporate Social & Environmental Responsibility (CSR) report, also known as extra-financial performance declaration. Audited by an independent third party – KPMG – this report outlines the global company's sustainability performance and strong ambition, including new climate targets for a circular economy.
Tarkett has recently set a climate roadmap for 2030 across its entire value chain, aiming to reduce greenhouse gas emissions by 30%. This covers emissions from the Group's activities (Scope 1) and its purchased energy (Scope 2) – as well as those arising from the rest of its value chain, from suppliers to end customers (Scope 3).
Over the last two years, we have reduced our greenhouse gas emissions by 27%. We now want to go further by setting this ambitious climate roadmap. We build more and more partnerships in circular economy and climate action, making conscious choices for people and the planet. Together with our ecosystem, we are actively contributing to the United Nations Sustainable Development Goals and it is key that we embark on this journey with our customers.

Fabrice Barthélemy, CEO of Tarkett
Beyond its ambition to be a game changer with circular economy, the Group is also focusing on using good materials for people's health and well-being. As part of its social responsibility, Tarkett also protects and develops its teams, and creates a culture of diversity and inclusion while supporting its local communities.
Supporting the transition to a circular economy through recycling
Globally, Tarkett has made strong progress with ReStart, its take-back and recycling program, by transforming end-of-use flooring and recycled materials into new floors. This helps reduce waste and the carbon footprint, diminishing the need for virgin raw materials while avoiding landfill and incineration.
In the last 11 years, the company has collected the equivalent of 11 Eiffel Towers (112,000 tons) of flooring as part of its ReStart program in Europe, North America and Brazil, inside eight recycling centers.
Twelve production sites in ten countries are sourcing 100% renewable electricity and 38% of the total energy consumption comes from renewable energies.
Greenhouse gas emissions from purchased electricity, steam consumption and fuel combustion at Tarkett's 34 production sites in 19 countries were reduced by 44% compared to 2010, which corresponds to the annual greenhouse gas emissions of 21,000 Europeans.[3]
Fossil fuel heating systems have been replaced by electric or biomass powered systems.
In the US, Tarkett is working with the US Department of Energy "Better Plants" program to make further improvements in energy efficiency.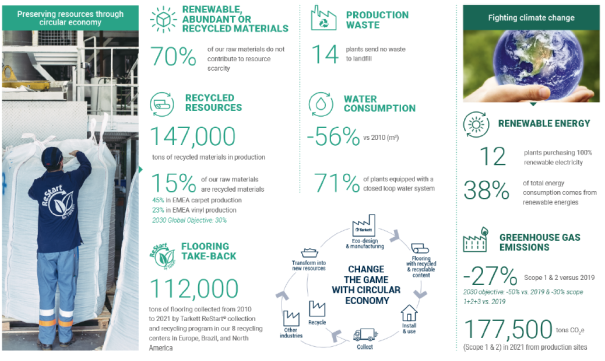 Examples of Tarkett's use of healthy materials
Phthalate-free plasticizer technology was first introduced by Tarkett in North America in 2010, incorporating alternative plasticizers used for young children's toys and food containers. At the end of 2021, 100% of our vinyl production sites in Europe, North America, Ukraine, Serbia, and China use phthalate-free plasticizer technology.
Tarkett North America offers both residential and commercial flooring solutions that have been CERTIFIED asthma & allergy friendly by the Asthma and Allergy Foundation of America, in partnership with Allergy Standards Ltd. The certification process involves testing not only the product itself, but also the installation method and recommended cleaning process as a complete system to ensure no harmful materials are introduced while installing or cleaning the floor.
Collaborative partnerships for circular economy
As part of the Ellen MacArthur Foundation's Circulytics 2.0 program, Tarkett's overall score improved in 2021 from C to B- with an A in the "Enablers" section. These scores confirm Tarkett's adoption of business practices suitable for the circular economy.
New improvements to Tarkett's transparency
In 2021, Tarkett North America's flooring products were added to the Design for HealthTM platform by MindClick, providing architects and designers with access to the MindClick Sustainability Assessment Program (MSAP), which rates social and environmental impacts throughout the product lifecycle. All evaluated Tarkett flooring products have earned a "Leader" status.
In North America, Tarkett launched Tarkett FloorprintSM with a set of 11 documents, one for each major product category, detailing all pertinent data and certification information in one convenient location. In addition to sharing third-party certifications, the Tarkett Floorprint documents include carbon emission data for each stage of the product lifecycle, how the product supports human health and well-being, and how it reduces climate impact by contributing to a circular economy.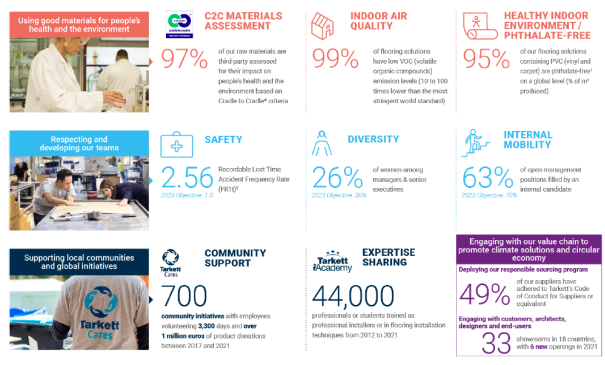 Contributions to social and environmental equity
In 2021, Tarkett North America supported the Global Wellness Institute, Fill it Forward, One Tree Planted and local food banks.
Tarkett North America is actively promoting dialogue on diversity, with webinars, training and event participation. In 2021, Tarkett also embraced neurodiversity through Tarkett Human-Conscious Design® with the aim of making workplaces more inclusive through a partnership with HOK.
Tarkett's comprehensive approach to responsible flooring design and production begins with ongoing research and development of healthier materials. When our products start with healthy materials, we can confidently return them to a circular economy that reduces the use of virgin raw materials and associated carbon emissions. Through a variety of internal initiatives and external partnerships, Tarkett is working at a global level to improve the health and wellness of interior spaces, contribute to better indoor air quality, and protect the health of our planet for current and future generations.

Roxane Spears, vice president of sustainability for Tarkett North America
Discover Tarkett's 2021 CSR performance in key figures on its website.