Through communication and wayfinding, Takeform's Fusion connects with people in a voice unique to the organization and the space it occupies. New Fusion features include the creative potential of printed backers, a print pattern collection, sign families and a fresh finishes palette. Beyond aesthetics, Fusion is an updatable system designed to grow and adapt with the pace of today's growing healthcare organizations. Fusion is also as thorough as it is functional with directories, overheads, room IDs and every other sign type for an effective wayfinding system, ADA and code compliance requirement are provided for every collection, every sign family. Within our six signage collections, Arch, Ellipse, Quad, Wave, Camber and Oblique, you'll find unique ways to complement your interior's predominant lines. Fusion gives you the option to stay within the context of the space or introduce an inspired new element. No matter what you want to say, you'll find your voice in our wide array of textures, patterns, and colors.
Fusion's choice of shapes, materials and graphics add precision to your efforts to show off your client's image throughoutthe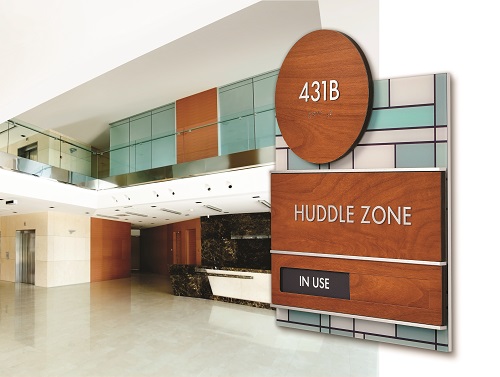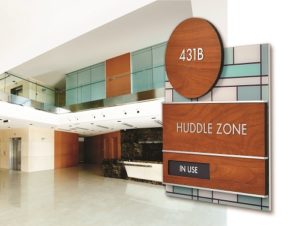 interior space. Takeform engineers and tests every part and process of the products it develops. They have set new standards through rigorous development and testing and Fusion is no exception. Its durability keeps pace with its industry-leading aesthetic quality. Fusion is built to last. Like all Takeform products, it is backed by a five-year guarantee. Components of their acrylic signage are made from 65% post industrial waste, and are 100% recyclable. Takeform's manufacturing facility incorporates low waste, low emission methodology and many of the materials they use are Green Guard approved.
NeoCon Showroom 7-8062.