By Theresa Walsh Giarrusso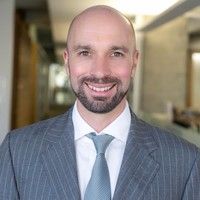 More change is coming to America's healthcare system and the industry must be ready.
This was the central message of Aaron Mauck, senior director of Advisory Board, a Washington-based healthcare industry research think tank, at the 6th Annual New York Hospital, Outpatient Facilities & Medical Office Building Summit held Sept. 25 at New York-Presbyterian Hospital.
With more than 15 years of healthcare research and consulting experience, Mauck specializes in health care market dynamics. He broke down for conference attendees where the industry stands now, what changes are coming from legislatures, what changes are coming from corporations, how the aging population will impact the industry and key strategies for the future.
Why change is coming
Mauck explains we've gone from one presidential candidate supporting Medicare For All in 2016 to 12 supporting some version of it in the 2020 race and 22 candidates making healthcare a central issue to their candidacy.
In fact, the idea has grown tremendously in popularity, Mauck says.
56% of survey respondents favored a national health plan in which all Americans would get their insurance from a single government health plan IF IT WOULD DO THE FOLLOWING:
71% Guarantee insurance as a right.
67% Eliminate Premiums and out-of-pocket costs.
37% Eliminate private health insurance.
37% Require most Americans to pay more in taxes.
While the candidates' plans differ, Mauck says Medicare For All puts a dent in the industry's outlook. He points out that one week after Sen. Bernie Sander's April 2019 Medicare for All Act was introduced, stock prices across the industry took a dive. Anthem Inc. decreased 18%, UnitedHealth Group decreased 12%; HCA Healthcare Inc. decreased 16%, Community Health Systems dropped 5%; Pfizer Inc. dropped 7%. For a combined loss in market value among hospitals and insurers of $28 billion.
Mauck says to expect limited federal action until 2020. He says the top Centers for Medicare and Medicaid Services (CMS) priorities for 2019 are:
Reduce burdensome regulations.
Promote patient control of health data.
Encourage greater transparency.
Advance value-based models.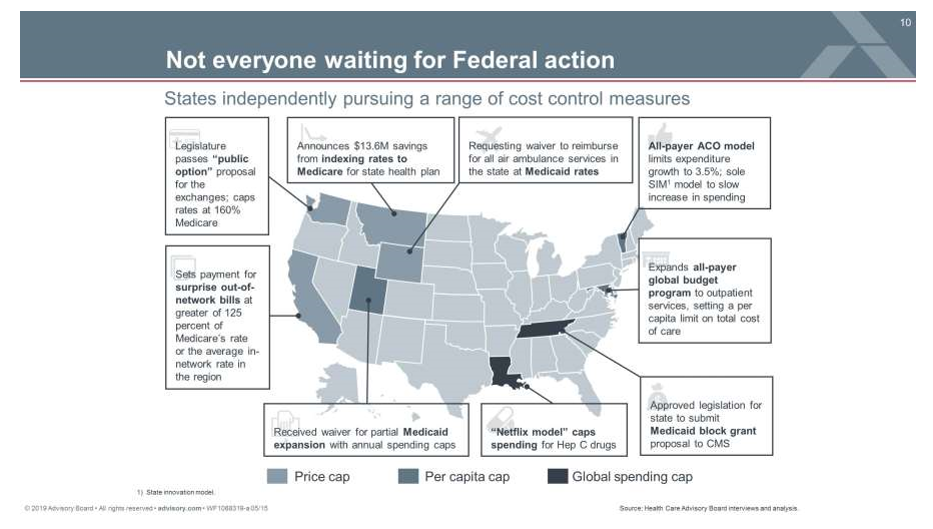 However, he reports not everyone is waiting for federal action. The states are independently pursuing a range of cost control measures, such as:
In Washington, its legislature passed a "public option" proposal for the exchanges and capped rates at 160% for Medicare.
California has set payments for surprise out-of-network bills at greater of 125 percent of Medicare's rate or the average in-network rate in the region.
Louisiana has adopted a "Netflix model" that caps spending for Hep C drugs.
Care is already shifting
Mauck says care is already shifting from both inpatient to outpatient and Hospital Outpatient Department (HOPD) to Ambulatory Surgery Centers (ASC).
Stakeholders are driving procedures outside HOPD because:
Some insurers offer patients lower copays for services in ASC vs HOPD.
Many patients find the ASCs to be more convenient with easier parking, less wait and lower-cost services.
Physicians find ownership appealing with long-term equity options and higher rates from commercial payers in ASC setting.
In fact, he says physicians are encouraged to shift patients to ASCs. Here's why:
92% of ASC's that include physicians as equity owners.
$200 cash bonus for payers to physicians for completing appropriate services in ASC.
31.8 minutes is the average time saved per procedure in the ASC setting vs hospital.
Here's the rub with care shifting . . .
Mauck says in 2011 a lot of dermatology, ophthalmology, dentistry and anesthesia left for ASC. Currently, gastroenterology, orthopedics, urology and women's health practices are making the shift. He says orthopedics was the bread and butter for many hospitals. When you pull these procedures out of hospital settings, hospitals are losing procedural revenue that helped subsidize other care.
Other disruptors in the industry
Mauck sees other disruptors as well, such as the CVS HealthHUB, which is owned by Aetna. The CVS Health HUB is envisioned as a much larger presence than the original CVS Minute Clinic. It would still utilize CVS's many locations, but also manage chronic diseases and wellness visits such as with a dietician or to help stop smoking. It would give members a lower-cost price alternative to emergency departments. It would connect them to other HealthHUB services such as the pharmacy. It would allow non-Aetna members to use the HealthHub and be converted to Aetna's MA plan.
Humana and OptumCare are offering similar disruptive services. Humana offers Walgreens clinic care as well as separate site care. It also offers home health care through Kindred at Home and Humana at home. OptumCare offers ambulatory care in 12 states features primary, pediatric, specialty, surgical, urgent, senior and advanced care.
As the population ages . . .
Traditional hospital care is not going anywhere as the population ages. In 2021 the first Baby Boomers will turn 75 and as they get older, medical needs increase and become more serious. (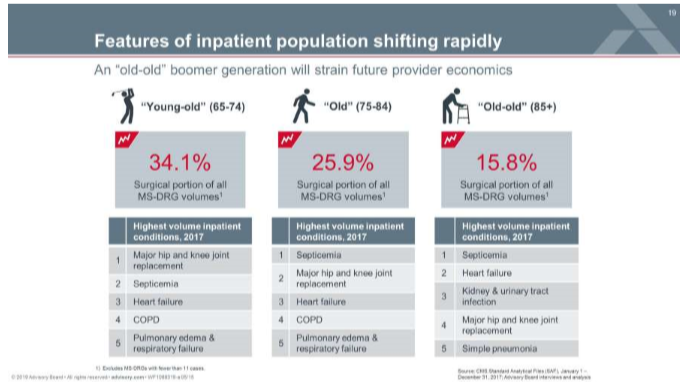 Mauck says key strategies for the future are:
Offer the right services in the most cost-effective accessible locations.
Enhance your ambulatory strategy to capture increasing demand.
Connect all elements of care networks to leverage qualify and efficiency resources.