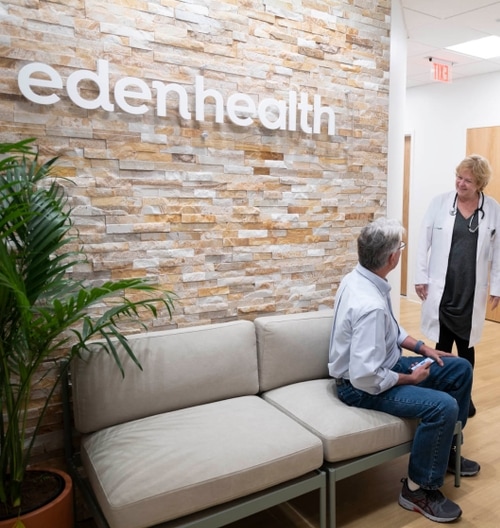 Chicago real estate development firm, Sterling Bay, and national medical practice, Eden Health, announced in July a partnership to bring premium healthcare amenities to tenants in major Chicago office locations including 600 W Chicago and 111 N Canal, an asset owned by institutional investors advised by J.P. Morgan Global Alternatives and managed by Sterling Bay. Tenants of these properties, and the 7,500 Chicago employees they represent, will now have access to a dedicated on-site team of healthcare professionals, offering primary care, mental health, physical therapy, insurance navigation and 24/7 virtual care services.
This partnership represents one of Eden Health's first physical clinic locations in the Midwest and a total 3,000-square-feet of leased space. Eden Health, which recently received $60M series C funding, allows patients – and their families — to access all medical services via in-person clinic visits or mobile telehealth appointments, enabling a personalized, proactive care healthcare approach across multiple channels.
"Sterling Bay designs its creative office spaces with tenant experience at the forefront, offering companies an important tool to attract and retain top talent," said Andy Gloor, CEO of Sterling Bay. "By adding Eden Health's premium healthcare services to our amenity package, we're taking our on-demand, concierge-style tenant experience to the next level and setting the new standard for employee-centric workplaces."
According to Eden Health, commercial office buildings that offer on-site medical locations not only improve tenant health and wellness and lower insurance claims costs, but drastically reduce absenteeism and travelling to off-site medical offices, helping employees save time and increase productivity.
"Working with innovative landlords like Sterling Bay marks an important shift in the way Eden Health is changing the landscape of commercial real estate, positioning on-site medical practices as a must-have, especially in a post-pandemic environment," said Matt McCambridge, CEO of Eden Health. "Over the last year, employers and employees across the country have made it clear – health and wellness is a priority that is not going away, so it's time to start making changes to accommodate demand."
Eden Health's new locations in select Sterling Bay office properties, which are certified by International WELL Building Institute as WELL Health-Safety Rated, are slated to open in 2021, with two additional locations in discussion for One Two Pru and 333 N Green.
To accommodate patients, Eden Health is growing an already robust team of licensed clinicians to operate each new location. For more information on job opportunities, please visit www.edenhealth.com.