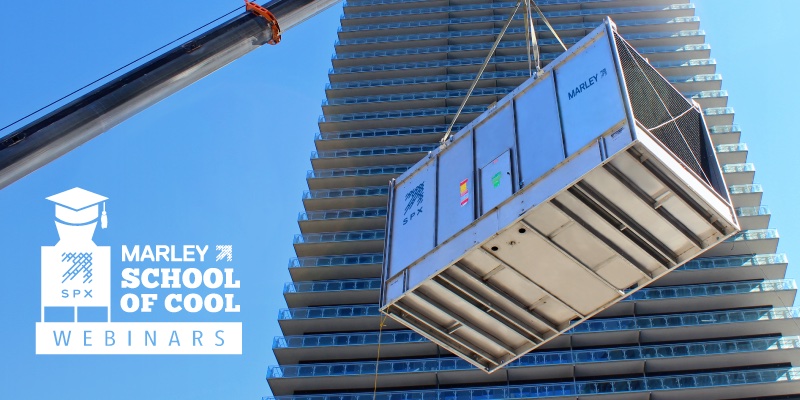 With the global pandemic halting many educational conferences and events for the foreseeable future, SPX Cooling Technologies, Inc., a full-line, full-service industry leader in the design and manufacture of evaporative cooling towers, is continuing its live webinar series for engineers, mechanical and service contractors, and facility owners and operators. Following each one-hour education session, including Q&A and polling, Certificates of Completion are distributed to attendees via email.
Upcoming webinars include:
Tuesday, April 20, at 10 a.m. CST/16:00 GMT: Fluid Cooler Selection and Design.
Tuesday, May 11, at 10 a.m. CST/16:00 GMT: Mechanical Equipment Inspection and Maintenance of Field-Erected Cooling Towers.
Wednesday, June 2, at 10 a.m. CST/16:00 GMT: Factory-Assembled Cooling Towers for Industrial Applications.
Wednesday, June 22, at 10 a.m. CST/16.00 GMT: Thermal Performance of Field-Erected Cooling Towers.
Register at www.spxcooling.com/webinars. Check back for additional sessions to be announced through the end of the year.
Previously recorded webinars are also available in SPX Cooling Technologies' on-demand library:
Factory-Assembled Cooling Tower Selection and Design
Fluid Cooler Applications and Selection
Factory-Assembled Cooling Tower Inspection & Start-up After Unplanned Shutdown
Field-Erected Cooling Tower Inspection Tips
Mechanical Equipment Maintenance of Field-Erected Cooling Towers
Energy and Water Efficiency of Factory-Assembled Cooling Towers
Cooling Tower Fundamentals – HVAC
Cooling Tower Fundamentals – Process Cooling
Cold Weather Operation of Cooling Towers
Modularization of Field-Erected Cooling Towers
Package Cooling Towers for Process Cooling
Thermal Dynamics and Field-Erected Cooling Tower Performance
Proof in Performance – Marley® Power and Heavy Industrial Products
Recold® Inspection and Maintenance: Focus on Fan Blower Bearings
Register to access on-demand webinars at www.spxcooling.com/webinar-library-register/