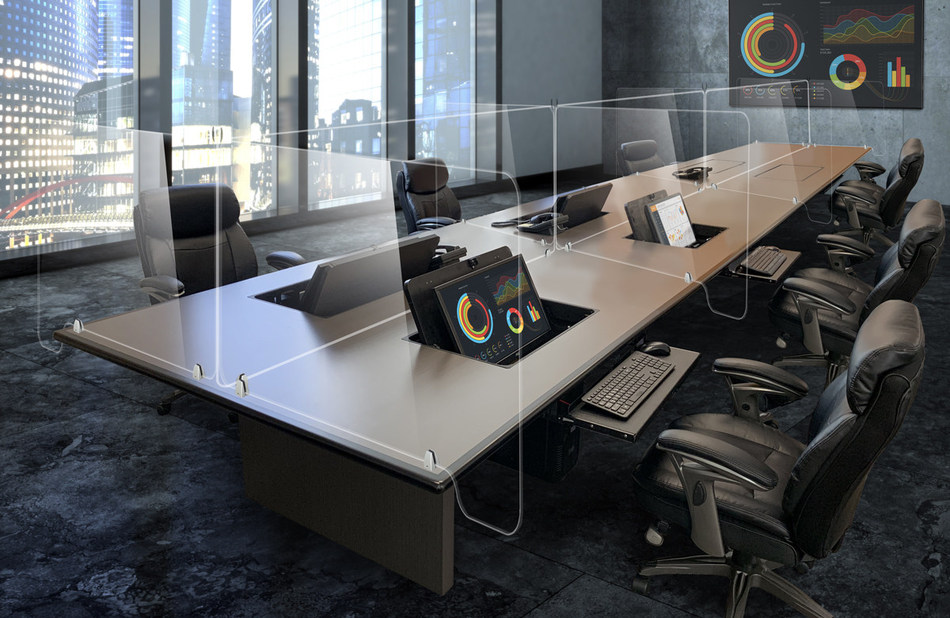 SMARTdesks is proud to offer SAFEDESK, a new line of social distancing solutions for retail, office, commercial and educational facilities. SAFEDESK products convert high-density workspaces into flexible, low-density zones where separation is required to facilitate socially distanced workspaces. Privacy shields and sneeze guards reconfigure spaces, are easy to set up, install and keep clean.
As we contemplate a physical return to education and work environments, partitions and desk dividers become a necessity for safe collaboration. In the 2000s, legacy cubicles of the 1980s lost favor with the rise of Silicon Valley culture. In today's world, however, the physical separation of space takes on renewed importance from a health and safety perspective.
SAFEDESK social distancing products for office, education and agency applications are available in clear acrylic, frosted acrylic and acoustic fabric textiles to suit a wide range of working and learning environments. Frameless desk dividers and privacy plus panels can be configured to custom widths and heights, with either fixed or moveable mounting systems, to create socially distanced seating arrangements with existing furniture. Sneeze guards provide a vapor barrier on desktop and countertop surfaces for frequent face-to-face contact applications, such as reception and transaction-focused environments. Pass-through cutouts at the base of the sneeze guard allow easy transfer of documents between parties.