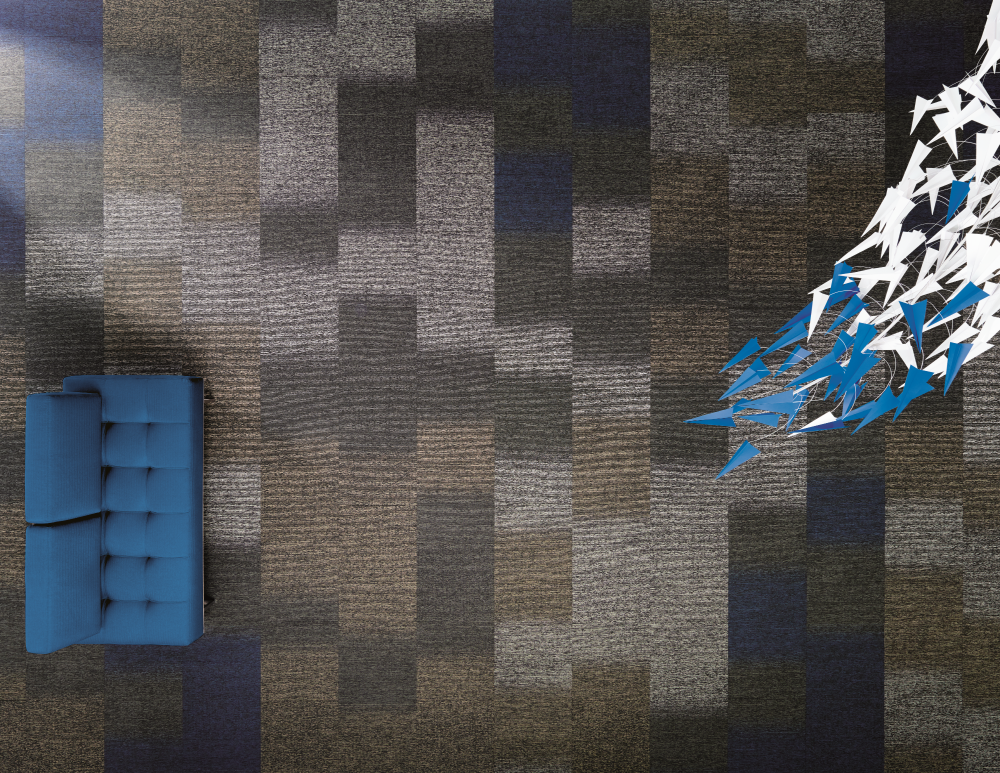 Offering a new solution for open environments, Shaw Contract Group's new 24 x 24 carpet tile collection, Flight, creates movement and defines space in environments free of structural constraint. Bold patterns inspired by how we move interplays with color, stripe and a shifting ombre – achieving a directional impact within a vast space.
Drawing inspiration from the pavers of ancient plazas and the mathematics behind people moving from one location to another, the designs fold movement into static statements and provide new options for building scale and dimension.
"This collection is the result of our interest in the science of how people move through space. We explored computational studies of exactly how people move airports, and immersed ourselves in Levy Flights, a garrulous mathematical model which echoes our movement through space and time," said Shaw Contract Group Creative Director, Reesie Duncan.
Large scale and open, public spaces are typically impacted by architecture. Flooring serves as a third facade, in addition to walls and ceilings. Free of structural constraint, Flight assists with way-finding and defines movement – places to walk, places to pause, places to gather.
Designed for public ambiance and engineered for heavy foot traffic, Flight provides a comprehensive flooring solution, featuring four tile products that are varied yet connected. Available in 13 colors, the palette features warm and cool tones as well as bold color options, which create varying degrees of movement and energy depending
on how the styles are used within a space.
Products include:
• Pause Tile: a static style, defining quieter moments within space
• Step Tile: an ombre that exudes movement and can be stretched, injecting
directional energy
• Interact Tile: a stripe, akin to a quickened stride – building scale, it directs the eye
and assists in wayfinding.
• Vantage Tile: a bold, geometric shape adds a large glimpse of interest to the
floor.
All styles are 22 ounces and are constructed of EcoSolution Q fiber and EcoWorx backing, offering a lifetime commercial warranty covering abrasive wear, tuft bind, edge ravel and delamination. Cradle to Cradle Silver certified, completely recyclable and manufactured with recycled content, all products offer a sustainable flooring solution and contribute to LEED certification.