by Eileen McMorrow, Director, The Best of NeoCon
Commercial interiors event NeoCon has announced the winners of the 33rd annual Best of NeoCon Awards. This year's competition ranked among one of the best years for the Best of NeoCon in terms of variety and depth of products, and there have been 32 previous competitions! The highly esteemed program recognizes products from industry-leading companies that demonstrate unparalleled innovation and ​design-forward thinking. Selected by a distinguished jury of facility managers, architects, designers, specifiers, enterprise clients and top business media, each of the entries was evaluated on-site in the days leading up to the show.
A total of 114 awards were bestowed upon products in more than 50 categories for Gold, Silver, Sustainability, Innovation, Business Impact and the coveted Best of Competition honors. NeoCon sponsor and host THE MART was likely attended by more than 20,000 commercial specifiers — FMs, interior designers and architects — looking for solutions for emerging healthcare environments and offices, embracing a blend of hybrid and traditional needs. Universally, people were seeking workplace and wellness solutions that were on full display in NeoCon showrooms.
The winners in the Healthcare categories are: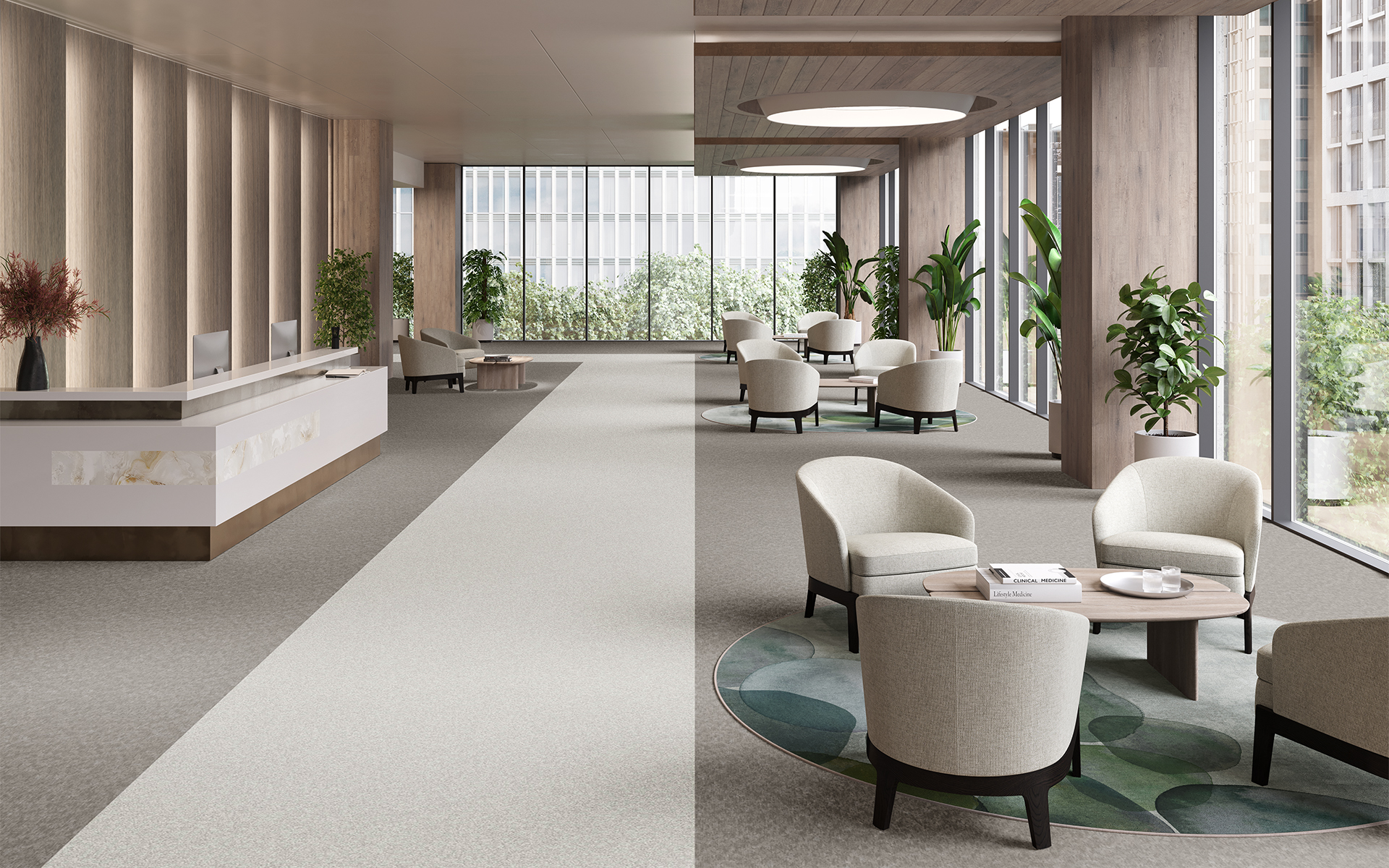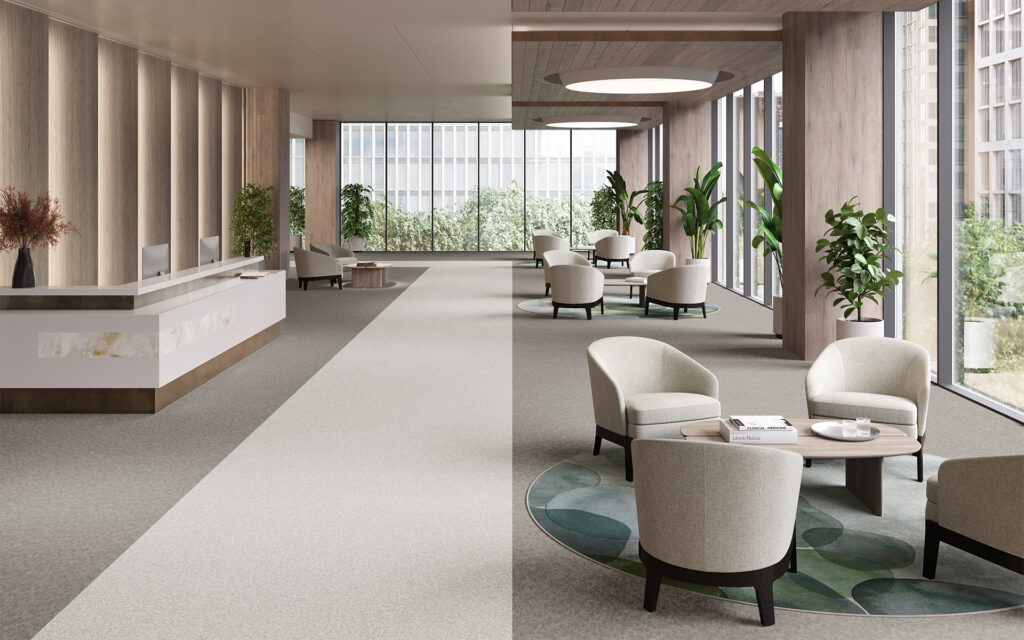 Shaw Contract's Dappled Light (above) wins the Silver and Sustainability Awards for Healthcare Flooring. Dappled Light is created with bio-based, renewable resources using rapeseed, canola and castor oil. This PVC-free resilient flooring provides a list of performance attributes including improved stain resistance versus traditional resilient floor and is also hand sanitizer, bleach and peroxide friendly, and is a true no-wax product.​ In addition, it is optimized for low embodied carbon, and is carbon neutral.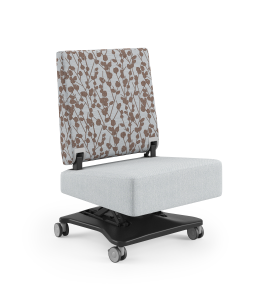 Patient seating had a surprise in Wieland Healthcare's The Soul Collection, which addresses the needs of the clinician, patient and loved one and garnered a Silver Award in Healthcare Patient Seating. With the necessity of multi-functionality, along with the premium value of patient room square footage, Wieland Healthcare's design team has come up with a solution that focuses on helping patients heal faster without sacrificing space.
The Soul Mate (left) converts from a stowable ottoman to a comfortable guest chair in one step. While opening the back to the chair position, the seat height raises simultaneously. When the sofa is in the sleep position, the ottoman can be partially out to be used as a nightstand. The Soul Mate's double wheel swivel casters allow the user to slide out of the patient zone quickly, without even getting up. This can be critical during a code situation and will happen several times a day when vitals are checked or meds are given. The Soul Mate converts easily with one hand and raises and opens simultaneously in one smooth motion. It has a self-locking feature when in the chair position that is designed to be safe for the user as well as others in the room who might steady themselves on the back without realizing it folds.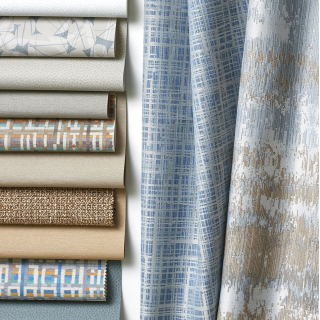 Wellness Essentials from C.F. Stinson, LLC, (right), winner of the Gold Award in Healthcare Textiles, focuses on clean lines, an affinity for nature and simple geometry offering a range of textiles curated for healing environments. Beyond the expansive range of high-performance coated fabrics, the collection also includes two privacy curtains and a woven texture that is both sophisticated and bleach-solution cleanable. All materials in the collection have been constructed to meet the rigorous demands of healthcare and are durable, cleanable and GREENGUARD Certified.
All of the products have been thoroughly tested for compatibility with a myriad of cleaners and disinfectants. Complete Cleaner and Disinfectant Compatibility is presented in a searchable data base on C.F. Stinson.com. "Bolded" items in the data base have EPA Registration Numbers which appear on the EPA's List N of disinfectants certified effective for use against SARS-CoV-2, the novel coronavirus that causes Covid-19.
Designtex wins the Silver Award in Healthcare Textiles for Silicone Symphony (left), a large ensemble of designs composed of a variety of colors and textures, to produce a unified vision. Performance meets creativity with artfully patterned textiles that will enliven any hard-working environment. The textiles in this collection are some of the safest on the market, without compromising on design or performance. They exceed the industry standard requirements for nontoxic fabrics and comply with tough GREENGUARD Gold and LEED criteria; are Healthier Hospitals Compliant; have no PVC, PFAS, antimicrobials or flame retardants; and contain low VOCs, helping to make the built environment as risk-free as possible.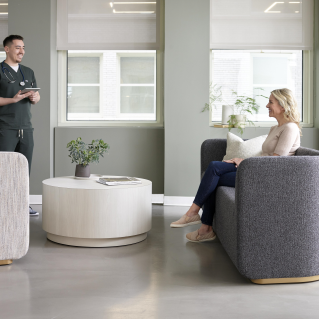 In Healthcare Guest & Lounge Seating, Carolina, an OFS Company, wins both the Gold Award for Elara and the Silver Award for Blueprint. Elara was designed and developed to meet the rigorous demands of healthcare environments. It undergoes testing and certification according to standard BIFMA product testing criteria and is backed by a lifetime limited warranty. The furniture incorporates features such as organic rounded corners, sinuous seat construction, non-marring adjustable glides, and a surrounding metal plinth base, among others. Thijs Smeets designed Elara for comfort, durability and cleanability. Choose from a variety of base models and material options to shape the Gold Award-winner to match your specific needs and design vision.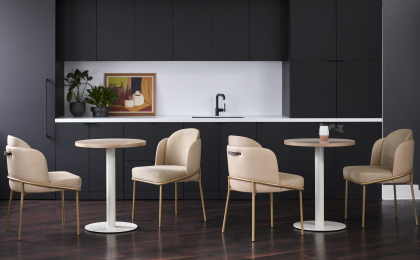 The Silver Award winner, Blueprint, is designed to be adaptable to different spaces and purposes in healthcare and senior living environments. Its ability to accommodate dining, counter and bar height makes it a versatile seating solution that can be used in various settings. The smooth and rounded curves add a touch of softness to its design, while the tubular steel frame, available in a wide range of powder coat finishes, ensures durability and style. The non-marring adjustable glides protect flooring surfaces and allow for easy movement. The optional leather handle provides added convenience and mobility.
This collection aims to convey the feelings of calm and safety found under tree cover, as well as a sense of light and connection to nature. Triggered by the project collaborator's childhood memories of feeling protected in a forest, the design inspiration stems from the comforting effect that nature can have on our well-being. The color line is informed by this reference to light and nature that presents a versatile and foundational palette to designers.
Visit the Best of NeoCon Winners Gallery.