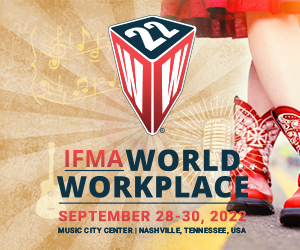 Facility managers will be walking the line when they reach Nashville to attend World Workplace® 2022, Sept. 28-30. The International Facility Management Association (IFMA) has chosen "Take Center Stage" as the conference theme in recognition of the changing role of FMs in the workplace arena. "As the curtain lifts on FM's shift from purely operational to indispensably strategic, there's no business like know business," says IFMA. "Get your act together – this year's marquee FM event in Music City Center will prepare you to take center stage in making the spaces you manage your tour de force."
World Workplace is the largest facility management conference in the world, offering discussions and sessions on FM and the wider built environment since 1995. World Workplace offers sessions in tracks, introducing "Emerging Topics" that consist of new or evolving business functions, external influences, or mandates that have a high probability of impacting the FM profession in terms of roles, responsibilities, and skills and knowledge requirements. The other tracks are FM Solutions; Finance & Business; Leadership & Strategy; Operations & Maintenance; Project Management; Risk Management; Facility Information Management & Technology Management; Occupancy & Human Factors; Performance & Human Factors. Sustainability; and Workplace Evolutionaries.
IFMA's robust education program draws attendees to a wealth of offerings on Day 2 after the Expo Hall closes, and Day 3, from 8:00 a.m. to 1:00 p.m.. There are far more sessions to attend than one actually can. Click on any link below to read more details on these sessions, selected by the editors of The McMorrow Reports and FMLink.
Best Practices to Pilot, Learn and Evolve Your Workplace Strategy
How training at Department of State has improved asset management, workforce effectiveness, and cost reduction
HPE's Hybrid Workplace Strategy: Case Study
Future-Proof Your Facility: Strategies for facility managers to effectively evaluate and deploy new technology solutions and adopt an innovation mindset
Real Estate Portfolio Analytics and Strategy Development
Strategic Sustainability for Facility Managers – 6 Perspectives (Pecha Kucha format, 20 slides for 20 seconds each)
IFMA Credentials Benefits Research
Designing for Diversity, Equity and Inclusion: Steps to Creating Workplace Inclusion
The Campus/Workplace of the Future Will Resemble The Best of The Workplace/Campus
IFMA's Experts' Assessment: New Ways of Working towards 2030 – Presentation of Findings and Panel Debate
Workforce Analytics – The Missing Link
Digital Twinning: Applying Virtual Models to Enhance FM Operations
The Case for Ongoing Commissioning: How Continual Support Can Save Money and Promote Wellness and Sustainability
Besides the conference sessions, the Expo Hall has dedicated show hours on Day 1, from 11:30 to 5:00 p.m. including a networking lunch, and on Day 2 from 9:30 a.m. to 1:30 p.m. with both a networking breakfast and lunch.
Attendees to World Workplace benefit from its many networking opportunities from the Council & Community Meetings, to the Official Welcome, Networking Lunches, Education Arena sessions, and its Welcome Reception (everyone attends!) for the chance to meet other FMs with the same challenges who freely share experiences and solutions and their contact details.