by Eileen McMorrow
Education-packed sessions and training by key industry thought-leaders influence facility professionals to expand their knowledge and advance their skills by attending World Workplace®, the International Facility Management Association (IFMA) annual conference. The conference sessions selected below are among the most compelling to attract facility leaders to Denver, September 27-29, 2023.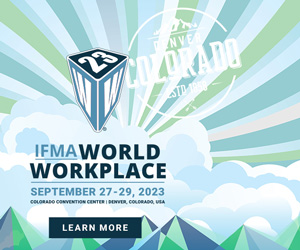 World Workplace 2023 tracks will include Emerging Topic: Circular Economy; Emerging Topic: Prop Tech; Sustainability; FM Solutions; Leadership and Strategy; Finance and Business; Project Management; Real Estate; Operations and Maintenance; Risk Management; and Academics.
For healthcare FMs, there are several sessions of interest:
First Zero Energy Verified Healthcare Facility in the USA – Pueblo Community Health's New East Side Clinic Demonstrates the Future of Facilities Management. This clinic was designed to produce more energy than it consumes using forward-thinking design that will contribute to the city of Pueblo's resolution that sets a vision to use 100% renewable energy by 2035. Conveniently located in one building, the clinic will provide much needed health care services including medical, behavioral health, dental, lab and pharmacy in a bright open layout, including a three-story atrium, coupled with exceptional energy-efficient design and on-site energy production. Speakers: Corey Chinn, P.E., CEM, CxA, LEED AP, Commissioning Manager, Farnsworth Group Inc.; Amanda Occhi, P.E., LEED AP BD+C, Engineering Manager, Farnsworth Group Inc.; Kevin Gould, AIA, Principal, RTA Architects and Donald Moore, CEO, Pueblo Community HC.
The Application of Reliability Centered Maintenance to Healthcare and other Critical Facilities. Reliability-centered maintenance is a time-tested approach to eliminating risk and then maximizing value. Key learnings will be discussed; and the value to planning maintenance and replacements for critical systems. FMs for healthcare and other critical facilities will benefit. Speaker: Robert Blakey, MSc, CEM, CFM, CHFM, CPE, FMP, LEED® AP, MRICS, ProFM, SFP, VMA, FM College Inc.
Measure and Validate Clean for Your Building Occupants. Determining what clean really means can be daunting. Looking through a microscopic lens at your cleaning operation will allow you to define stronger outcomes through an enhanced assessment process of your vendor or in-house staff. Speaker: Brant Insero, Senior Director of Education & Training, ISSA.
The Road to Carbon Neutrality – Insights to Guide Your Facility's Journey. This panel discussion will explore the latest trends in carbon neutrality, from new technology, legislation, measurement, certifications and innovation adoptions, and how facilities of all sizes across every industry can align their efforts to advance their net zero journey. First, the panel will dive into where we are in the industry. Next, global trend opportunities will be explored including net zero goals, measurement, certifications (energy, water, waste), new technology, evaluation, adoption, growth potential in the next generation of engineers, and more. Speakers: Kaelin Leonard, Senior Manager, Strategic Partnerships, ABM, plus the panelists.
Enhancing Building Technology, Revenue, and Resilience in an Interconnected World. The evolving facility manager role is expanding to include smart technologies that enhance interconnectivity, asset performance, analytics, etc. But technical advancement creates new vulnerabilities to cyber attack that directly target public health and safety, generating an urgency to develop risk management strategies, governance, and technical expertise to bolster resilience. Speakers: Lucian Niemeyer, CEO, Building Cyber Security; EJ von Schaumburg, Co-CEO, Red Bison; Stacey Shepard, PMP, president, Shepherd Global Strategies, LLC; and Fred Gordy, Director, OT Risk Assessment, Michael Baker International.
Cyber Security: Securing Facility Management's Digital Transformation. Jeffrey Saunders, CEO, Nordic Foresight Stacey Shepard, PMP, President Lucian Niemeyer, CEO, Building Cyber Security Quentin Hodgson, Erika Parn
Metrics that Matter: What to Track and How to Make your FM Data Work for You. Matthew Tansey, Product Marketing Director, JLL Corrigo.
Preventative & Deferred Maintenance Reality Check: Fine-Tune Your Equipment Inventory Knowledge. David Trask, National Director, ARC Facilities.
Take your chance to connect and network with the global facility management community as World Workplace is packed with networking opportunities, keynote speakers, and talented FMs who are known for sharing their knowledge and resources.
View the full event schedule to see dates and times of important speaking engagements and networking events.