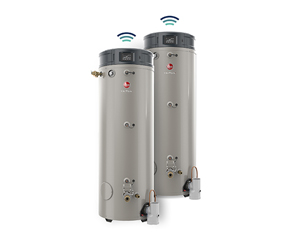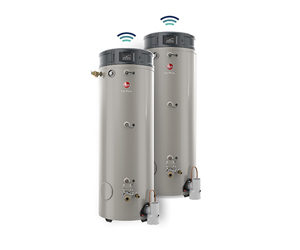 Having constant access to hot water is critical to staying operational for any casual dining restaurant. In Oconomowoc, a suburb of Wisconsin, one busy location of a major national restaurant chain was looking for a dependable, superior solution to its hot water headaches.
The restaurant had experienced many issues with water heaters in the past, mainly stemming from heat exchanger failure and water leaks. A restaurant without hot water means downtime for the business that not only causes stress but loss of revenue.
Due to budget considerations, restaurant management decided to replace only one of the restaurant's two high-efficiency commercial gas water heaters. Neither of these current units was a Rheem product.
Solution
Rheem provided the restaurant with a Triton™ GHE 100SS-300 High-Efficiency Water Heater. Triton's universal connections made installation easy, and its range of intelligent features exceeded management's desired requirements for a new water heater.
Eliminate the Emergency
Rheem has developed a commercial water heater that has the ability to eliminate future emergencies at the restaurant. With built-in features like the exclusive EcoNet® Smart Monitoring Technology with integrated Wi-Fi, managers can monitor the Triton water heater on their mobile phones, as well as on the full-color LCD display on the unit. Triton self-monitors its most vital components and detects and alerts of potential issues before they occur.
Triton SS also includes LeakGuard™, the industry's only all-inclusive leak detection and prevention system, with a proprietary auto shut-off valve that limits leakage to no more than 24 ounces of water. This intelligent leak detection system catches leaks as small as a grain of sand and provides real-time leak notifications.
Dispelling An Industry Myth
Prior to installing the Triton unit, Rheem's engineers worked with the restaurant chain's management to test a misconception in the industry that manifolding commercial water heaters of different brands together could cause issues with system balancing.
Three months before replacing one of the restaurant's existing high-efficiency commercial gas water heaters with the Triton unit, gas meters and temperature sensors were placed on both of the existing units to capture a baseline of system performance. The data collected showed an 8 percent variance in gas usage between the two existing water heaters.
Triton was then installed as a replacement for one of the existing units. Analysis of the monitoring data following the Triton installation showed a drop in gas usage variance between the two units to 4%—a 50 percent decrease. The data indicated the overall balance of the system improved after replacement with the Triton water heater, even though it was manifolded together with a water heater of a different brand.
Built to Last
Because durability was also a priority for the restaurant's management in sourcing a new water heater, they are pleased that Triton is proven to last five years longer than the industry average. Its Triple-Pass Heat Exchanger constructed of ASME-grade steel, advanced power anodes and preventive maintenance reminders help extend the life of the tank. In addition, the Triton SS unit installed at the restaurant has a five-year warranty.
Learn more about Triton at www.Rheem.com/Triton.