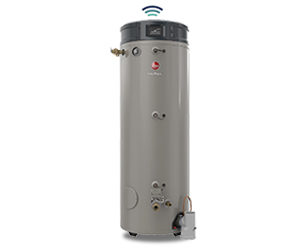 Rheem Triton commercial gas water heater is revolutionizing the industry as the first smart water heater to help eliminate business downtime and potential emergencies.
As the most intelligent high-efficiency commercial gas water heater on the market, this product comes standard with built-in smart monitoring technology that includes a suite of systematic health checks, preventive maintenance alerts and performance updates via both mobile device and full-color LCD display.
Exclusive to Rheem Triton is LeakGuard, the industry's only all-inclusive leak detection and prevention system with auto water shut-off. Factory-installed to ensure proper alignment and accuracy, this system can catch a leak the size of a grain of sand and will allow no more than 24 ounces of water to escape into a vacuum lock before automatically shutting off with an immediate mobile alert. The ability to detect and prevent problems before they become catastrophic can save businesses, on average, almost $5,000 in repairs, property damage and lost business revenue.
Triton's scheduling capability can help businesses save energy and costs by adjusting to heat water only during peak operating hours. Full modulation operation further maximizes energy savings by optimizing BTU/h input for specific water demand, providing up to 98 percent Thermal Efficiency. The integrated BACnet port (MS/TP) easily connects to building management systems (BMS) for additional monitoring.
Proven to last longer than the industry standard, this revolutionary water heater is the result of unprecedented collaboration between plumbing professionals and Rheem Engineering. Designed with the plumber in mind, Triton's multiple water connection points at the top, side and bottom of the unit and a wide variety of flexible venting options allow for fast, easy installation in new or replacement
scenarios.
Triton is setting a new standard for efficiency, performance and durability in commercial water heating solutions. Available in Base and Premium models with 80- and 100-gallon capacities. Thanks to this breakthrough product, the history of commercial water heaters will now be divided into two eras: before Triton, and after.
Learn more about how Triton can help you protect the business you manage.