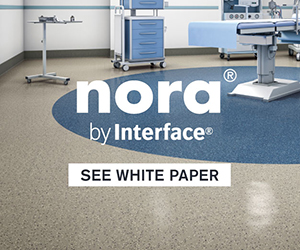 Installation issues like bubbles, residual indentions and seams are now a thing of the past thanks to nora® nTx. This premium rubber flooring can save you time, reduce costs and minimize disruption where flooring is installed.
With its pre-applied, solvent-free adhesive layer, nTx can be cleaned or walked on immediately after installation — providing faster turnaround times for contractors and building owners. And because this innovative new flooring is resistant to slab moisture and concrete alkalinity, subfloor prep and costly mitigation procedures aren't needed. You'll never have to compromise on flooring for sake of time and budget again.
To learn more about this revolutionary rubber flooring, read our nTx white paper.