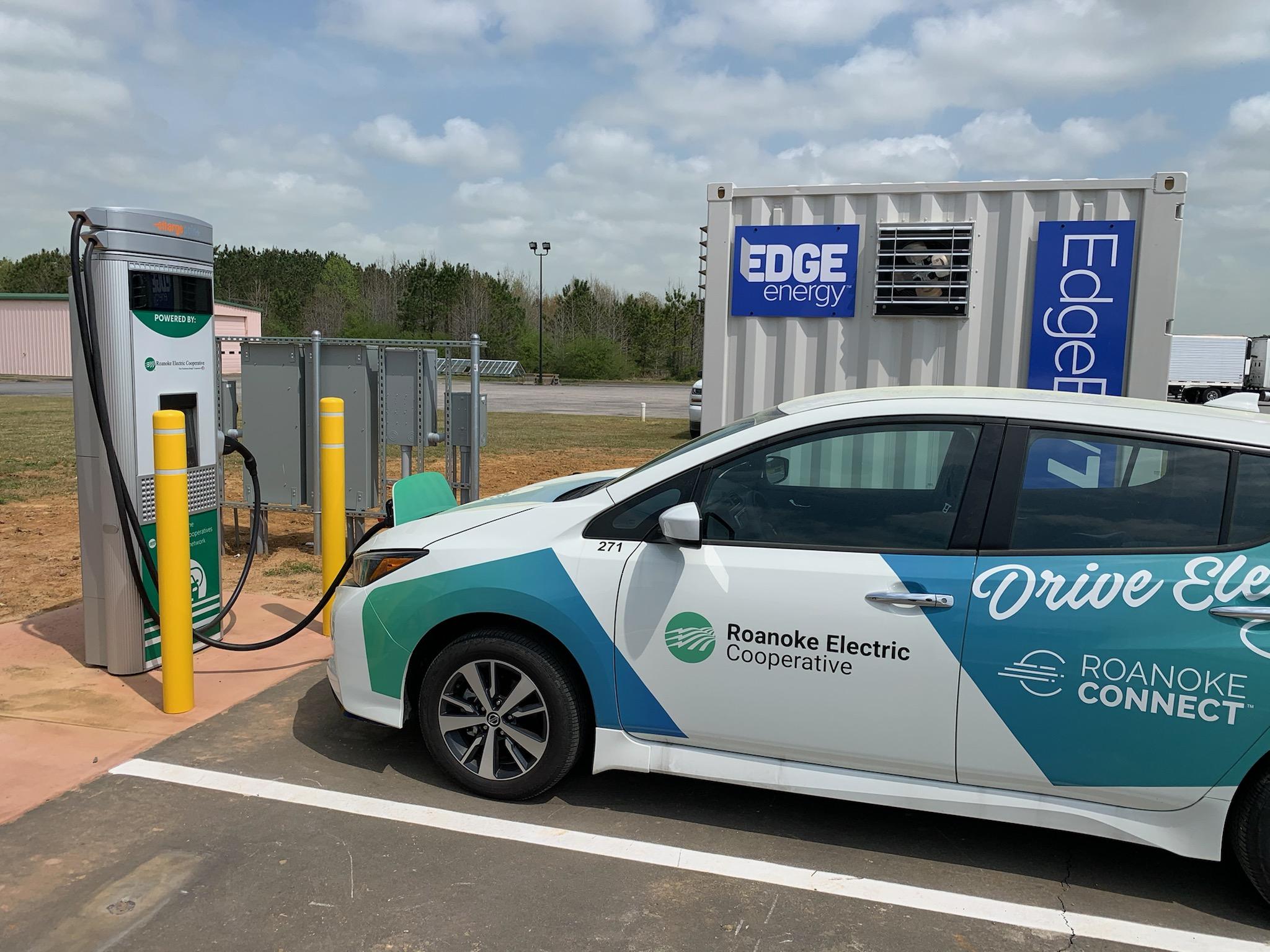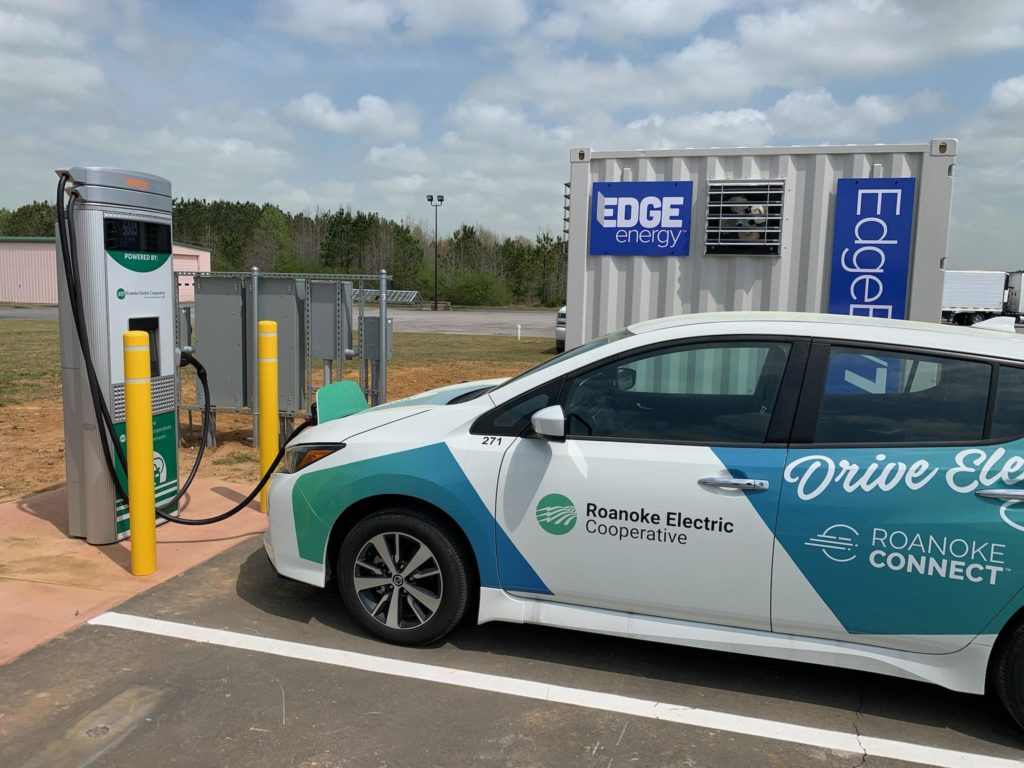 The first rapid charging station for electric vehicles traveling on and near Interstate 95 in northeastern North Carolina was unveiled in April at a ribbon-cutting ceremony in Halifax, North Carolina. The ceremony was held at the Oasis Travel Center (101401 NC 903) off interstate Exit 168, 15 miles south of the North Carolina-Virginia border.
The three-phase power charger – a rarity in this part of the state – was purchased and deployed by Roanoke Electric Cooperative, the member-owned energy provider that has served the region since 1938. The power source, the EdgeEV70, was manufactured and installed by EdgeEnergy, a subsidiary of Single Phase Power Solutions (SPPS) of Cincinnati, Ohio.
The rapid charging station will enable EVs to receive a full battery charge in approximately 30 minutes vs. four to six hours for lower-powered charging stations, according to the company.
"On behalf of the region's EV owners, local businesses that will benefit from increased traffic, and motorists passing through the area, Roanoke Electric Cooperative is thrilled to bring this innovative and – in our region – extremely rare technology to fruition," said Curtis Wynn, Roanoke Electric's president and chief executive officer. "Rapid EV charging stations are few and far between in northeastern North Carolina. The ribbon-cutting reflects our determination to bring more clean energy resources to this part of the state to retain its beauty and accelerate its economic growth."
EdgeEnergy says its new charging station technology is "ideal for remote areas without access to three-phase power. The charging station uses revolutionary, patented technology to generate solid and reliable three-phase, 480-volt output for the DC Fast-Charger from existing single[1]phase infrastructure. This allows EV charging stations to be installed across a variety of rural locations where three-phase power is unavailable or cost-prohibitive to install," said Ben Morris, Director of Sales and Marketing of EdgeEnergy.
Much of the United States does not have adequate access to three-phase power, and extending that service is expensive (approximately $100,000 per mile). The EdgeEV70 is a single-phase solution for EV charging stations, providing the clean, stable, three-phase power that rapid chargers need to quickly replenish an electric vehicle's battery. EdgeEnergy recently has completed extensive testing and is building prototype units for installation at select sites across the United States. The company is accepting pre-orders for its production model, which will begin shipping this summer. The company's engineers have successfully charged nearly a dozen electric vehicles from the Chevy Volt and Nissan Leaf to the Tesla X and Model S.
"We quickly found that the charging station doesn't know the difference between the three-phase output of the EdgeEV70 and a traditional three-phase connection," said Greg York, Vice President of Engineering and Supply Chain at EdgeEnergy™. "We are very excited to move on to the installation of additional units in the coming weeks."
The EdgeEV70 incorporates the proven technology of the 1-to-3 Power Source manufactured by EdgeEnergy's parent company Single Phase Power Solutions. Built with rural applications in mind, the SPPS 1-to-3 rides through momentary power loss and can accommodate voltage fluctuation in single-phase lines while delivering solid three-phase power. The integration of the SPPS 1-to-3 in the EdgeEV70 provides clean, reliable, three-phase power to EV charging stations and, supports efforts to extend charging networks to remote areas like national parks, rural cottages and resorts and other attractions that until now have not been accessible due to the lack of three-phase power availability and limitations of direct current rapid charging stations.
"One of the major issues as people look to adapt to this (EV) opportunity is range anxiety," said Cathy Scott, executive director of the Halifax County Economic Development Commission. "People who drive electric vehicles are very cautious about where they go because they fear running out of power between charging areas. Improving that opportunity for vehicles to have that charging station available is critical for economic development tourism. If you look at Roanoke Electric Cooperative and what they continue to do from electricity to broadband to vehicle charging, you really are a visionary and a pioneer to build the infrastructure that we need for all of those important economic opportunities."