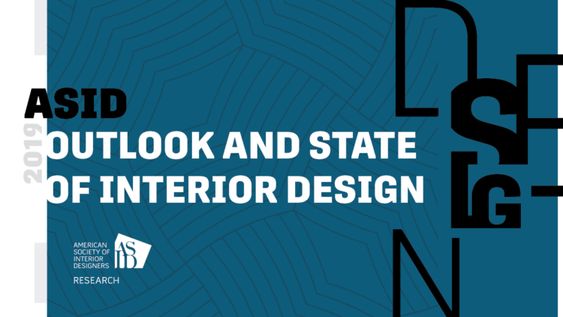 The American Society of Interior Designers has released its 2019 Outlook and State of Interior Design report, supplying design professionals with essential insights necessary to compete and succeed in today's evolving society and practice. The report provides 90-plus pages of key information including a comprehensive look at the U.S. economy and construction industry, a discussion of macro-trends, industry disruptors and implications, and projections for the future of the profession from industry thought leaders.
"As our industry and profession continue to experience rapid change in an increasingly globalized world, we must become agile and adaptable to these shifts and apply knowledge in order to thrive," states Randy Fiser, Hon. FASID, CEO, ASID. "It's becoming ever-important to reflect on the past and present in order for interior design professionals to adequately prepare for the future. The 2019 ASID Outlook and State of Interior Design report provides resources for designers to inform their next steps, and offers verified insight as to which direction to steer their businesses and careers."
The OSID begins with an overview of key issues in the U.S. economy, including essential content necessary to navigate through uncertainties expected to impact both businesses and individuals from 2019 onwards. Bernard M. Markstein, president and chief economist of Markstein Advisors, pores through an examination of activity within each market sector and offers a detailed outlook for 2019-2020, expanding on construction, employment, inflation, trade, and U.S. energy and fiscal policies.
"The U.S. economy saw improved growth in 2018 and the general outlook is for moderate but somewhat slower economic growth in 2019 and 2020," explains Markstein. "Given recent increases in the number of firms and inflation, the interior design industry contributed significantly higher sales revenue to the overall economy. The major risks to watch for in 2019 include further increases in tariffs, shifting energy prices, and the pace of interest rate increases by the Federal Reserve. At this point, the likely result is that both the economy and the construction industry will advance at a reasonable, though not spectacular, rate in 2019 and 2020. Despite the uncertainties in economic activity, the overall outlook for 2019 is positive."
Global, macro-level trends and disruptors correspond to those found in interior design, and these parallels are actively influencing how interior designers run their businesses, create solutions, and further advance the industry and profession at large. Michael Berens, Ph.D., freelance writer, editor, and researcher, evaluates emerging changes within the industry today that are set to impact the economy of tomorrow. Berens expands on far-reaching changes within three major categories: economics and business, social and demographics, and consumer and technology.
"Top issues interior design business leaders are currently tracking include economic conditions, competition from other firms, and price increases on goods, services, and construction materials," explains Berens. "With changes in future business – from new markets to a heightened demand for wellness and diversity solutions – smaller firms will need to innovate their business models, and larger firms will need to focus on employee retention, development, and including more specialists on the team. Designers also need to keep up with these changes and anticipate how new technologies may alter the design paradigm in the future. With all of this in mind, new attitudes and a wider scope of responsibilities will bolster creativity, innovation, and growth within the industry."
The report concludes with diverse insider perspectives on where the interior design industry is headed and the future of the profession. Despite differences in background, specialty, and practice size, there is a resounding agreement among thought leaders that interior design is experiencing a resurgence in demand due to the ongoing shift toward occupant-centered, supportive, and performative spaces.
This insider overview includes perspectives from 10-plus leading design innovators, including: Drew McGukin, Allied ASID, principal, owner, Drew McGukin Interiors; Megan Hochman, ASID, NCIDQ, director of Interior Design, DC / Senior Associate, Chambers; Elizabeth von Lehe, Allied ASID, Design + Brand Strategy principal, HDR; Jay Weisberger, APR, LEED AP, Communications, DPR Construction; Jennifer Kolstad, ASID, Assoc. AIA, RID, principal, director of Interior Architecture, HKS; Jocelyn Stroupe, ASID, CHID, EDAC, principal, CannonDesign; Kay Sargent, ASID, CID, LEED AP, MCR.w, WELL AP, senior principal, director of WorkPlace, HOK; Kerrie Kelly, FASID, NKBA, CAPS, creative director, Kerrie Kelly Design Lab; Leigh Stringer, LEED AP, Workplace Strategy, principal, EYP Architecture & Engineering; Leslie Vollbrecht, ASID, CID, CDT, LEED BD+C, department head of Interiors, associate, ClarkNexsen; Suzanne Nicholson, ASID, principal + strategist, Meyer and executive director of Partner Engagement + Operations, ONE Global Design; Teresa Sowell, FASID, senior manager of Global Business Services, Raytheon.
The report is available for download here. ASID members may download the 2019 Outlook and State of Interior Design free of charge, and non-members may purchase the report for $249.95.