Did American universities do the right thing bringing students back to campus this fall amid the COVID-19 pandemic? Pew Research Center asked 10,332 U.S. adults this question and others regarding college during COVID between Oct. 13 to 19. Here's what they said.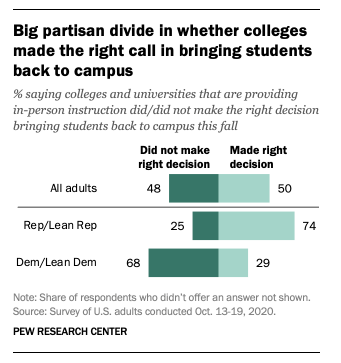 "Half of all U.S. adults say colleges and universities that brought students back to campus made the right decision, while 48% say they did not, according to a new Pew Research Center survey. A separate analysis of Census Bureau data shows that college enrollment among 18- to 24-year-olds dipped only slightly from last year.'
"Views on whether colleges and universities made the right decision in bringing students back to campus are deeply divided along party lines, with Republicans and those who lean to the Republican Party more than twice as likely as Democrats and Democratic leaners to say bringing students back was the right decision.'
"This partisan gap reflects a divide on the response to the coronavirus more broadly. Previous Pew Research Center surveys found that Republicans and Democrats have differed in their views about the severity of the public health crisis, restrictions on businesses and other public activities and mask wearing. In the current poll, 74% of Republicans say schools that are currently providing in-person instruction made the right decision in bringing students back to campus this fall; only 29% of Democrats say the same."
The respondents took part as members of Pew's American Trends Panel, which is an online survey panel recruited through national, random sampling of residential addresses. The survey is weighted to be representative of the U.S. adult population by gender, race, ethnicity, partisan affiliation, education and other categories. You can read more about ATP's methodology here.
The survey also examined how Americans felt about online classes.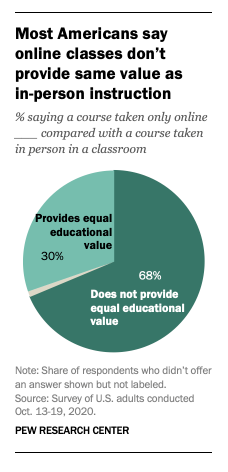 "Even at some schools where students are back on campus, online learning is much more prevalent this year than in previous years. And for many schools, almost all classes are being held virtually. Americans are skeptical that this type of learning provides the same value as in-person instruction. Overall, 30% of adults say a course taken only online provides an equal educational value compared with a course taken in person in a classroom; 68% say it does not. Majorities of Republicans and Democrats express this view, although Democrats are somewhat more likely than Republicans to say online classes provide an equal value (33% vs. 26%).'
"College graduates are among the most likely to say that online classes do not measure up to in-person ones. Among those with a bachelor's degree or higher, 75% say online classes do not provide an equal educational value. This compares with 67% among those with some college education and 64% for those with a high school diploma or less."
Read more of Pew's findings from this survey here.