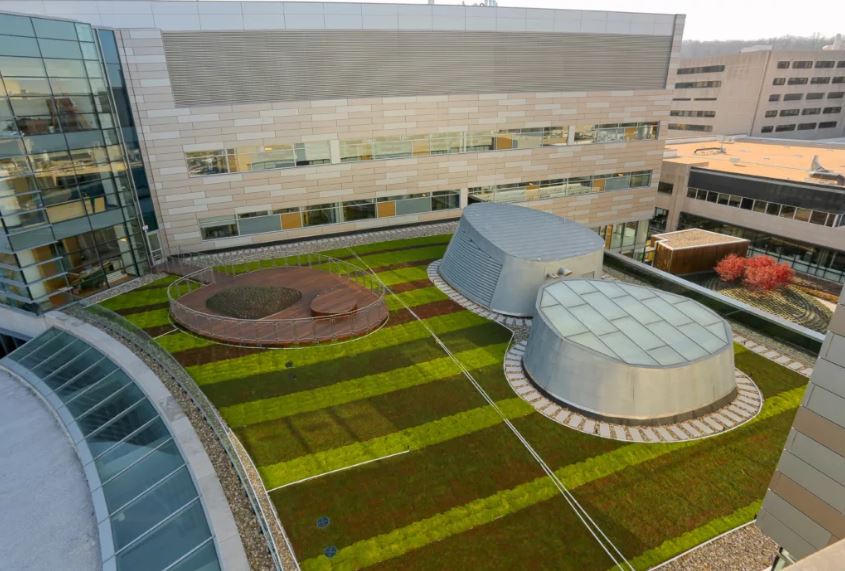 Have you ever looked down on a green roof and seen something more than just the lush carpet of plants? Perhaps there was an artistic vision of some kind? Even a picture or logo? These striking and unusual rooftops are becoming more popular as the artistic boundaries of the built environment are beginning to be explored.
For those unaware, green roofs are exactly as they sound—vegetated or planted rooftops that can bring many health and environmental benefits, plus help buildings save energy. Some green roofs are planted in such a way as to be visible to onlookers: on a terrace, upon a lower rooftop, or even a slanted rooftop visible from the ground. There can even be green roofs installed at-grade (meaning at street level), or on top of a parking garage. All of these types of visible rooftops offer excellent opportunities for patterned green roofs.
Why patterned green roofs? Well for starters, it is good publicity if a logo for a business or product can be created. Similarly, green roofs can support school spirit if the mascot or school colors are used. And, one can even create beautiful, touching, or eye-catching statements. Patterned green roofs can be works of art, can become iconic, and can increase property values! Lastly, patterned roofs are simply fun to look at and fun to design.
And the best part about patterned roofs? With a skilled team supporting the project, they are easier to create and install than you might expect!
Frequently asked questions about patterned green roofs: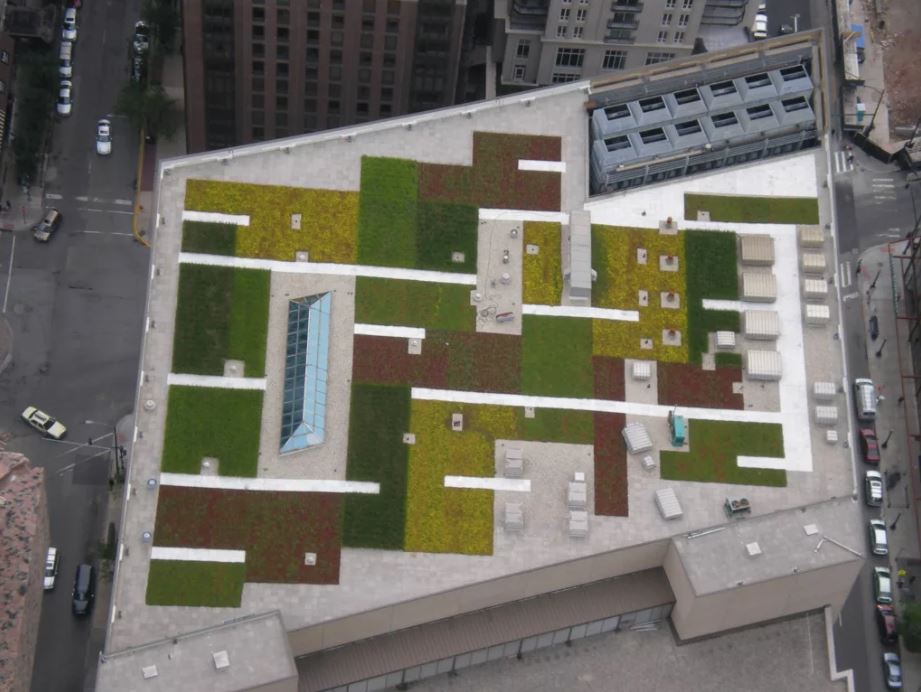 Are they difficult to maintain? While it's true that patterned green roofs may require a bit more maintenance, they are not much work if cared for consistently. All green roofs require regular weeding during the growing season, and patterned roofs are no exception. In addition to removing weeds, you must also remove any plants that may encroach outside of the boundaries so that the pattern remains visually intact.
What is the process of making patterned green roofs? Often, the patterns are pre-grown at LiveRoof; the company draws them out initially, first on paper, then on the soil, and then we plant according to the design. This is best for patterns that are curvilinear. You can also design patterns that have "stair-stepped" edges or straight line, as these designs are simple and effective.
How hard are they to install? Installing patterned green roofs requires good logistical coordination and a detail-oriented supervisor, but they are not particularly difficult to install. The LiveRoof modules themselves are tagged and numbered prior to shipping so that they can be easily put together like a puzzle on the rooftop!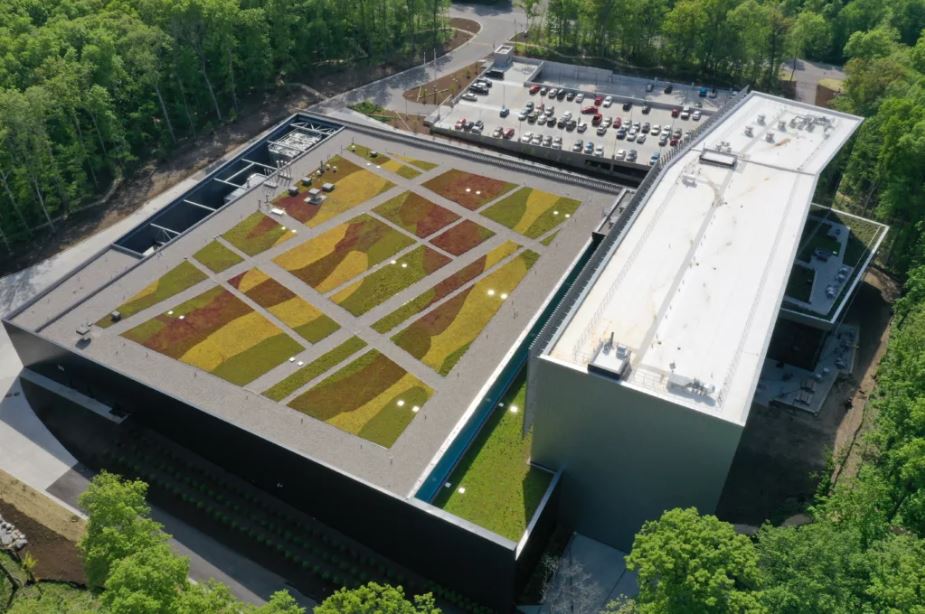 Spring Lake, Michigan-based green and blue roof provider LiveRoof has provided several patterned green roofs. The KLA building, a 34,000 ft2 intricate and curvilinear design, was installed in 2021 and represents a favorite project. It also drew accolades from Matt Meyer, the roofing superintendent on the project. According to Meyer, "LiveRoof's product has no equal in terms of design simplicity and function and beauty, and their staff is the very best in respect to horticultural expertise, reliability, and logistical efficiency."
LiveRoof's proven Hybrid Green Roof System establishes a healthy, sustainable ecosystem covering rooftops with seamless vegetation. Licensed regional growers customize plant selection for every LiveRoof project. They deliver the system's modules abundantly vegetated with locally cultivated, full-grown plants for an instant green roof and trouble-free ownership.
If you are interested in a patterned green roof, LiveRoof says it has the skills and experience to help you make it happen. Visit Liveroof or email the company's sales team, and watch LiveRoof's corresponding video for more information and inspiration.