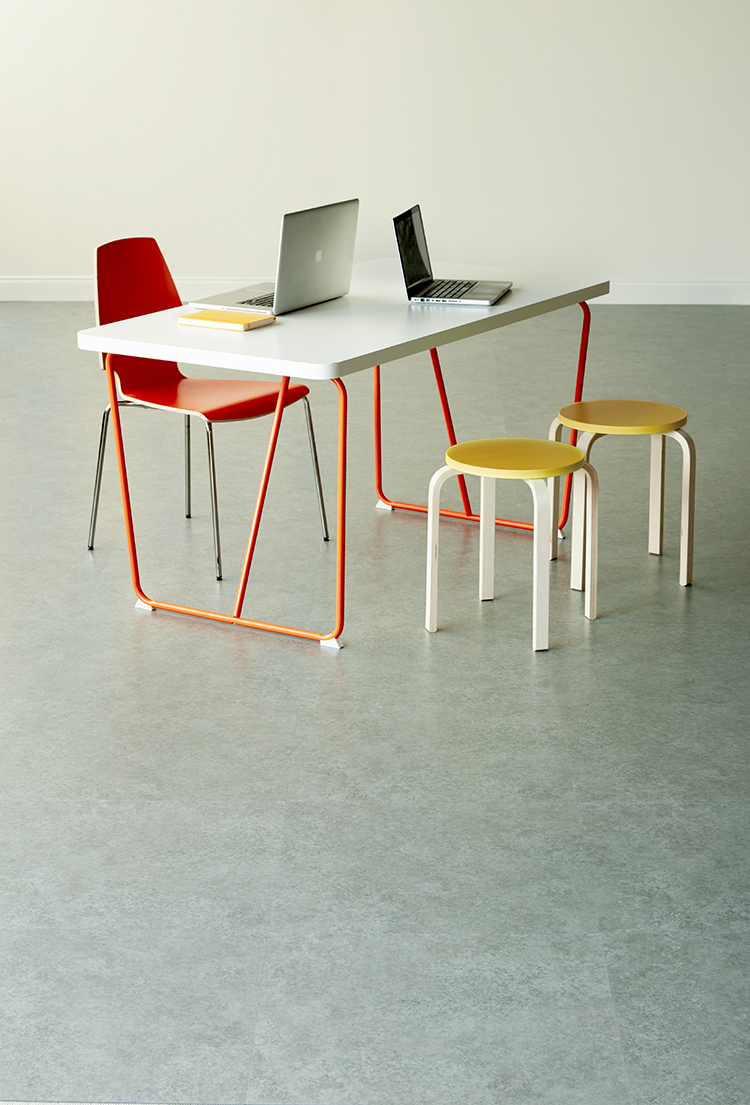 Set in Concrete, from Patcraft, employs an innovative watercolor process. This creative technique captures the organic movement found through the natural weathering processes. Featuring two styles – Aggregate and Dissipate – the collection encompasses the subtle shifts in pattern found within aged concrete finishes.
To achieve the desired visual of this natural weathering process, a salt-wash watercolor technique in which salt naturally absorbs pigment from paint was used, leaving behind traces of pigment in interesting and organic patterns. The end result is a stained effect, which mimicked the natural shifts in pattern found in aged concrete finishes. These unique visuals were combined to create the collection, which features a neutral color palette, ranging from warms to cools and lights to darks – all inspired by true concrete colors.
As a durable, polish-optional product, Set in Concrete makes maintenance easy and inexpensive, eliminating cleaning chemicals in the breathing zone while helping to improve indoor air quality. This resilient tile flooring is engineered for performance, and is well suited for heavy commercial installations. Set in Concrete's higher gloss level creates a more realistic polished concrete appearance. An excellent choice when the slab is not suitable to use as the floor, this product's 60 cm square, 2.5 mm thick tile offers strength and functionality perfectly suited for high demand environments.
Set in Concrete features a 20 mil wear layer with ExoGuard™ Quartz Enhanced Urethane finish and is backed with 10-year commercial warranty as well as a 10-year underbed warranty when installed with the recommended adhesives. It is free of ortho phthalates, and is FloorScore certified for low VOCs, and contributes to LEED certification requirements.