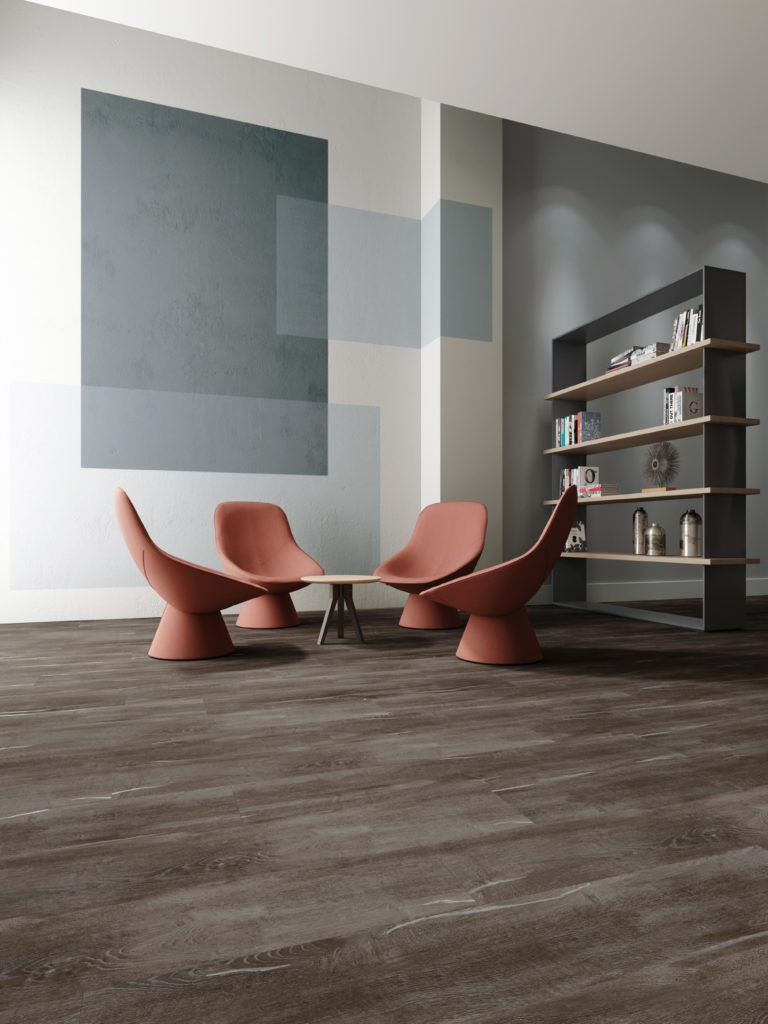 Patcraft, a leading provider of commercial flooring solutions, has launched its latest resilient collection, Splitwood.  Available in 9"x 60" planks, this unique collection embraces the innate beauty of worn wood, turning natural imperfections into versatile design features.  By elevating the traditional wood visual with the addition of a metallic ink within the splits and grain, the bronze, gold and silver accents provide a subtle gleam and a rich brilliance within commercial interiors.
"Splitwood's realistic graining and intricate detail is created by an emboss in register process which allows texture to align with the patterning of the wood, highlighting natural imperfections with innovative design," said Shannon Cochran, vice president of creative and design for Patcraft.  "The metallic inlay enhances and elevates the collection, and the natural wood palette adds radiance and warmth to the built environment."
Featuring 9"x60" planks, Splitwood provides a longer visual than most conventional resilient styles, and the larger plank size aids in a faster installation process.  The 5mm product construction allows for installation alongside carpet without the need for transition, and this stunning collection is perfectly designed for specification within all types of commercial environments. The rich, warm visuals accented with beautiful metallic inlays offer flexibility and adaptability when paired with different flooring constructions.
With an ExoGuard finish to protect against stains and premature wear, Splitwood offers superior durability when installed in high-demand environments.  Polish-optional, the collection offers hassle-free maintenance and excellent stain resistance.  Splitwood features an unmatched 10-year underbed warranty.