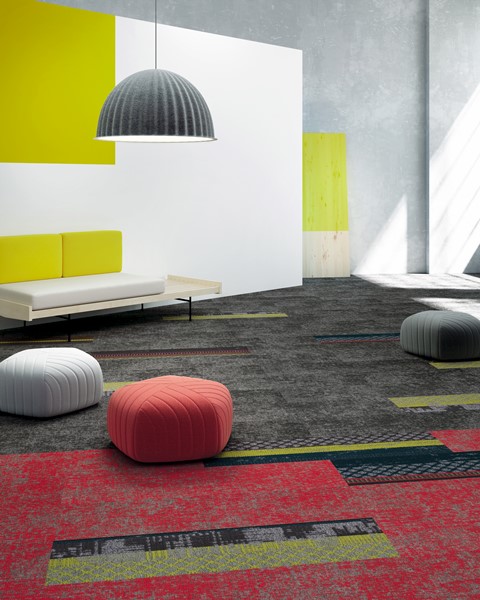 Patcraft's Deconstructed Felt is the third carpet tile collection within the company's award-winning Deconstructed platform, and it also is the winner of the Best of NeoCon 2019 Gold award in the Carpet Modular category. Inspired by a study of transparency, this 12" x 48" carpet tile collection pushes the boundaries of traditional flooring by exploring the inner workings of product construction. By transforming the traditional carpet fabrication, the collection uncovers a new dimension in design, exposing the raw elements of the carpet's construction.  Deconstructed Felt features texture and tactility that can help optimize authenticity within the built environment.   
"Purposeful creation of texture is central to the design of Deconstructed Felt where patterns and colors emerge from the product's construction to create a unique flooring collection that feels like a textile," said Shannon Cochran, vice president of Creative & Design for Patcraft. "To portray softness and dimension on the floor, yarn is layered on top of a felted backing to create a slub-like texture and a beautiful range of colors."
Designed to provide versatility in both materiality and function, Deconstructed Felt creates visual and textural contrast within the built environment. Available in several dynamic colors, the graphic styles vary in texture to add definition and can be used to mimic the layering of rugs throughout a space.
Deconstructed Felt is available in 12″ x 48″ carpet tiles and constructed with Solution Q Extreme® and EcoWorx backing.  Products are Cradle to Cradle Certified Silver and are backed with lifetime warranties against stain, colorfastness to light, static and abrasive wear for maximum performance and appearance retention.