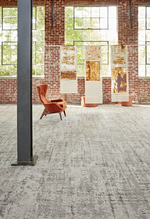 A stunning and organically-fused collection featuring four 12" x 48" carpet tile products, Artefact is inspired by the exploration of watermark left within nature. The collection was inspired by an oxidation experiment exposing discarded items to rust and water. Through a six-week process, vibrant colors and designs emerged to create a flooring collection aimed at bringing off-kilter nature into the built environment.
The Patcraft design team chose an array of cotton, linen, silk and wool fabrics to expose outdoors to metal discarded objects – including building materials, chains and metal sheeting. Using a resist-dyeing technique, the team created a variety of patterns and organic colors which varied in depth, tint and saturation across the base materials. The patterns of each style reveal a gradual shift in surface texture, reflecting the hidden stories of objects weathered by time.
The collection offers a selection of four carpet tile products, Patina, Etched, Relic and React.
Learn more at Patcraft.com.