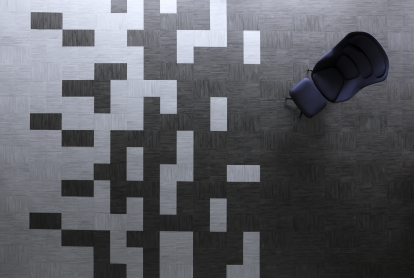 Subtractive Layers from Patcraft uses foundational methods of art to explore new ground. Inspired by a subtractive process that adds dimension by removing material, the collection includes two 12" x 24'' tiles, Remove and Withdraw, available in 20 colors between the two patterns. With every subtraction, texture is multiplied, color magnified, and composition unified.
Subtractive Layers won a silver for  FLOORING: HARD-SURFACE at the 2017 Best of NeoCon.
Subtractive Layers is a dry back product that provides a unique and dynamic aesthetic suitable for all markets. Products are designed to withstand physical demands, and feature a 20-mil wear layer to enhance product durability and performance in high demand environments. Its styles are 5 mm, eliminating the need for a transition strip when installing with carpet. This resilient tile flooring is engineered for performance, and is well suited for heavy commercial installations. Polish-optional, Subtractive Layers is a durable product that makes maintenan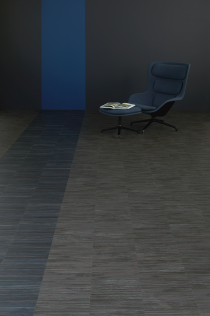 ce easy and inexpensive, eliminating cleaning chemicals in the breathing zone while helping to improve indoor air quality. Products support human performance with a clean, modern aesthetic, the roller mobility of hard surface and ease of installation and maintenance to improve the overall experience within a space.
Designed to complement Patcraft carpet, further flexibility is achieved when paired with other offerings. The tiles were made by manipulating scans of Kelly Stewart, Patcraft's hard-surface designer's, original paintings and layering them over one another. Made from mostly post-consumer recycled content, Subtractive Layers is FloorScore certified for low VoCs, and contributes to LEED certification requirements.
NeoCon showroom 10-160.