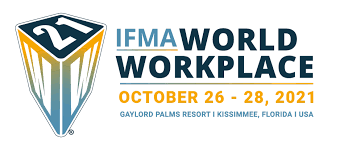 IFMA's World Workplace 2021 will be held Oct. 26 to 28 at the Gaylord Palms Resort and Conference Center in Kissimmee, Florida. It will be a live event, as well as a virtual experience.
As of Aug. 30, all individuals attending and participating in World Workplace live will need to show proof of full vaccination OR negative PCR test within 72 hours of arriving at the event. Details on this process are underway and will be shared as soon as possible. Masks are required to be worn by all individuals, regardless of COVID-19 vaccination status in all indoor public spaces. Click here for health and safety updates.
World Workplace will be offering nearly 50 educational sessions with CEUs, 3 keynote speakers, a welcome reception, an expo hall, education arenas and IFMA's Awards of Excellence. The full event is $935 for members or $545 for one day if registered ahead of the event. Click here for registration.
If you cannot attend in person, there is a virtual experience. For $149, it includes: live-streamed education sessions straight from World Workplace, opening keynote session, experts Assessment Panel, virtual facility tour, Live regional discussion groups and access to the virtual platform through Nov. 26, 2021. Virtual attendees are not eligible for CEUs. Click here for the virtual schedule.
With nearly 50 education sessions, there is a lot to learn at this year's World Workplace. Here are a few we are excited to check out:
1 to 4:15 p.m., Monday, Oct. 25, Deeper Dive: The Disaster Experience – When Your Facility Gets Hacked Chances are that while you read this, an unexpected disaster, like your facility being hacked, is causing a facility manager stress and confusion. Are the facilities leaders prepared to handle it? Will they be able to recover? Disasters of every shape, size, look and feel happen all the time, affecting businesses, people's jobs, lives and families.This session has been designed to put you in the throes of a real-life disaster situation, as it unfolds. You will make the critical decisions any facility manager will have to make and deal with the consequences of those decisions! After you've finished, you'll understand the importance of advance disaster planning, effective communication protocols, and understanding the inherent risks in your facilities.Never be caught unprepared again!
Speaker(s): Bob Mellinger, CBCV, Founder and President, Attainium Corp
9:45 to 10:45 a.m. Tuesday, Oct. 26, Work on the Move 3: Building Better Workplaces after the Pandemic "Work on the Move 3" (WOTM3) is the third in a series of books published by the IFMA Foundation, which focuses on the evolving world of work, workplace strategy and the intersection of People, Technology and Workplaces. WOTM3 explores the expanding role of facility management and the leadership challenges/opportunities associated with delivering effective workplaces post-pandemic. Join several of the contributing authors in discussing the new hybrid workplace, design for the post-pandemic workplace, sustainability and planetary health, and our growing dependence on technology to deliver workplaces where people can perform at their best, every day, wherever they are. All of these perspectives are woven together with emphasis on safety, health, well-being, diversity and inclusion.
Speaker(s): Lisa Whited, Senior Associate, Advanced Workplace Associates Arnold Levin, SW Regional Consulting Practice Leader, Gensler Michael Schley, IFMA Fellow, Founder, FM:Systems Pat Turnbull, IFMA Fellow, LEED AP, MA, President & COO, Workplace IQX LLC
1:30 to 2:30 p.m., Tuesday, Oct. 26, A Parallel Springboard to Accomplishing Fine-tuned Control of Workplace Health and Wellbeing What is the true impact of workplace health and well-being and how can we measure it? There is a growing interest among organizations in using indirect outcomes by exploring organizational and economic performance metrics of human analytics beyond direct individual health outcomes. This session presents a case study linking workplace health and well-being to human analytics measures at the BREEAM Outstanding, WELL Silver Certified headquarters of the U.K."s largest commercial property development company. It highlights an advanced parallel analysis approach that scrutinizes the comprehensive impact of workplace health and well-being at the organizational level in a more systematic manner. Learn how workplace health and well-being are intricately associated with human analytics metrics. Learn to prioritize investment decisions maximizing human capital.
Speaker(s): Matthew Schottenfeld, FITWEL, NAB, Associate Director for Business Management, Innovative Workplace Institute Young Lee, Research Fellow, University College London
8 to 9 a.m., Wednesday, Oct. 27, The Experts' Assessment: Lessons Learned and New Insights "The Experts' Assessment: The Workplace Post-COVID-19" launched a year-long dialogue and debate among some of the industry's leading subject matter experts about the future of the workplace as the industry contended with the challenges wrought by the pandemic. Back by popular demand, Peter Ankerstjerne (IFMA/Planon), Jeffrey Saunders (Nordic Foresight), Dr. Marie Puybaraud (JLL), Luis Vina (CBRE) and Kay Sargent (HOK) will discuss what they have learned over the course of the pandemic, what they see emerging on the horizon and the implications for the industry. Topics will include workplace strategy setting, new services offered, WFH scenarios, budget priorities and skills required.
Speaker(s): Lynn Baez, CFM, SFP, FMP, Director, Facilities Operations-Bay Area, Google Peter Ankerstjerne, MBA, COP, FRICS, IFMA Fellow, IFMA Chair, Chief Strategy Officer, Planon Jeffrey Saunders, CEO, Nordic Foresight Luis Vina Polanco, LatAm Alliance Director, CBRE Kay Sargent, ASID, IIDA, CID, LEED® AP, MCR/w, WELL AP, Senior Principal | Director of WorkPlace, HOK Marie Puybaraud, Director Global WorkPlace Innovation, Johnson Controls Mark Wartenberg, Senior Director, Workplace Design and Connectivity, Nike
3:15 to 4:15 p.m. Wednesday, Oct. 27, New Ways of Working Changing the Health Care Sector New ways of working are changing the demand for infrastructure and services in all industries. The core business is also changing. Enabled by new technologies, people can work where, when and how they like. Office environments nowadays are mostly there to engage employees, support communication as well as innovation, and win and retain talent. Hear about European and U.S. standards specifying room parameters such as temperature, humidity and CO2 intensity. In the health care sector, the need for workplace-like settings for patients and the demand for a workplace that supports communication and exchange for health care employees is increasing. Discuss changes in the layout of health care waiting areas and workspaces.
Speaker(s):Karin Schaad, Head of Facility Services, University Hospital Zürich Alexander Redlein, University Professor, Vienna University of Technology Pat Turnbull, IFMA Fellow, LEED AP, MA, President & COO, Workplace IQX LLC
3:15 to 4:15 p.m. Wednesday, Oct. 27, Keeping and Attracting FM Talent Hear about three workforce development perspectives utilizing the Pecha Kucha format of 20 slides in 20 seconds for each presentation. Topics include: FM workforce development at the local level; building a pipeline of FM education opportunities; and workforce development, a public sector perspective. An interactive conversation with attendees follows the presentations. Come prepared to learn how to jump-start FM workforce development in your community.
Speaker(s): Diane Levine, MCR, IFMA Fellow, Executive Director, IFMA Foundation Dean Stanberry, CFM, LEED AP O+M, 2nd Vice-Chair, IFMA Global Board of Directors, GSA Carolyn McGary, CFM, FMP, SFP, WonderWoman of FM, Electronic Metrology Laboratory, LLC (EML)
12 to 12:30 p.m. Thursday, Oct. 28, Stop the Spread: Improve IAQ & Protect Building Occupants from Airborne Microbes Using UV Air Disinfection The COVID-19 pandemic showed how easily airborne viruses and other microbes can spread among occupants in offices, education, health care, hotel, manufacturing, and especially residential senior care facilities and similar other indoor environments. As a result, facility managers, building owners and HVAC engineers need to find reliable and cost-effective ways to protect building occupants and avoid business disruption. Attendees will learn how to improve indoor air quality and protect building occupants from coronavirus, flu and other airborne viruses using ultraviolet germicidal irradiation (UVGI), also called UV-C, air disinfection technology. Understand how UVGI works, typical installations and applications, how UVGI compares to other air disinfection technologies, and hear success stories of actual UVGI air disinfection installations.
Speaker(s):Eric Nelson, Environmental Application Engineer, Heraeus Noblelight America LLC