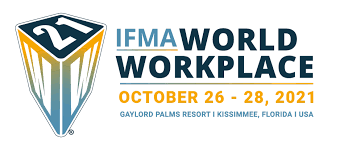 IFMA's World Workplace 2021 will be held Oct. 26 to 28 at the Gaylord Palms Resort and Conference Center in Kissimmee, Florida. It will be a live event, as well as a virtual experience.
As of Aug. 30, all individuals attending and participating in World Workplace live will need to show proof of full vaccination OR negative PCR test within 72 hours of arriving at the event. Details on this process are underway and will be shared as soon as possible. Masks are required to be worn by all individuals, regardless of COVID-19 vaccination status in all indoor public spaces. Click here for health and safety updates.
World Workplace will be offering nearly 50 educational sessions with CEUs, 3 keynote speakers, a welcome reception, an expo hall, education arenas and IFMA's Awards of Excellence. The full event is $935 for members or $545 for one day if registered ahead of the event. Click here for registration.
If you cannot attend in person, there is a virtual experience. For $149, it includes: live-streamed education sessions straight from World Workplace, opening keynote session, experts Assessment Panel, virtual facility tour, Live regional discussion groups and access to the virtual platform through Nov. 26, 2021. Virtual attendees are not eligible for CEUs. Click here for the virtual schedule.
With nearly 50 education sessions, there is a lot to learn at this year's World Workplace. Here are a few we are excited to check out:
1 to 4:15 p.m., Monday, Oct. 25, Deeper Dive: The Disaster Experience – When Your Facility Gets Hacked. Speaker(s): Bob Mellinger, CBCV, Founder and President, Attainium Corp
9:45 to 10:45 a.m. Tuesday, Oct. 26, Work on the Move 3: Building Better Workplaces after the Pandemic.Speaker(s): Lisa Whited, Senior Associate, Advanced Workplace Associates Arnold Levin, SW Regional Consulting Practice Leader, Gensler Michael Schley, IFMA Fellow, Founder, FM:Systems Pat Turnbull, IFMA Fellow, LEED AP, MA, President & COO, Workplace IQX LLC
11 a.m. to 12 p.m.. Tuesday, Oct. 16, Building a Better Business Case for Your Facilities Master Plan.Speaker(s):Thomas Mitchell, CFM, CFMJ, IFMA Fellow, IFMA FELLOW, FM3IS Associates, L.L.C.
1:30 to 2:30 p.m., Tuesday, Oct. 26, A Parallel Springboard to Accomplishing Fine-tuned Control of Workplace Health and Wellbeing. Speaker(s): Matthew Schottenfeld, FITWEL, NAB, Associate Director for Business Management, Innovative Workplace Institute Young Lee, Research Fellow, University College London
8 to 9 a.m., Wednesday, Oct. 27, Today, Tomorrow and Beyond – Waste Management. Speaker(s):Alexa Stone, SFP, LEED AP O+M, ENV SVP, President, ecoPreserve – Building Sustainability Debbie Jaslow Shatz, Facilities and Sustainability, Consultant Jessica Wright, LEED AP BD+C, Florida Water AP, TRUE Advisor, Resource Lifecycle Practice Lead, ecoPreserve LLC Jeff Benavidas, LEED AP O+M, GGP, ISSP-SPC, NABCEP-PVA, Chief of Sustainability and Resiliency, Orange County Government
8 to 9 a.m., Wednesday, Oct. 27, The Experts' Assessment: Lessons Learned and New Insights. Speaker(s): Lynn Baez, CFM, SFP, FMP, Director, Facilities Operations-Bay Area, Google Peter Ankerstjerne, MBA, COP, FRICS, IFMA Fellow, IFMA Chair, Chief Strategy Officer, Planon Jeffrey Saunders, CEO, Nordic Foresight Luis Vina Polanco, LatAm Alliance Director, CBRE Kay Sargent, ASID, IIDA, CID, LEED® AP, MCR/w, WELL AP, Senior Principal | Director of WorkPlace, HOK Marie Puybaraud, Director Global WorkPlace Innovation, Johnson Controls Mark Wartenberg, Senior Director, Workplace Design and Connectivity, Nike
3:15 to 4:15 p.m. Wednesday, Oct. 27, Keeping and Attracting FM Talent. Speaker(s): Diane Levine, MCR, IFMA Fellow, Executive Director, IFMA Foundation Dean Stanberry, CFM, LEED AP O+M, 2nd Vice-Chair, IFMA Global Board of Directors, GSA Carolyn McGary, CFM, FMP, SFP, WonderWoman of FM, Electronic Metrology Laboratory, LLC (EML)
12 to 12:30 p.m. Thursday, Oct. 28, Stop the Spread: Improve IAQ & Protect Building Occupants from Airborne Microbes Using UV Air Disinfection. Speaker(s):Eric Nelson, Environmental Application Engineer, Heraeus Noblelight America LLC